Now Playing Onstage in Portland - Week of 8/03/2014
View All Show Listings for Portland
Click Here to View BroadwayWorld.com Portland Calendar
AVENUE Q
ALBANY CIVIC THEATRE
7/18-8/9/2014
AVENUE Q is a gut-bustingly hilarious modern musical focusing on a group of unique 20-somethings making their way in the big city, seeking their purpose in life. Although the show addresses humorous adult issues, it is similar to a beloved children's show; a place where puppets are friends, Monsters are good and life lessons are learned.Winner of the Tony "Triple Crown" for Best Musical, Best Score and Best Book, AVENUE Q is part flesh, part felt, and packed with heart. AVENUE Q is a laugh-out-loud musical that tells the timeless story of a recent college grad named Princeton who moves into a shabby New York apartment all the way out on Avenue Q. He soon discovers that although the residents seem nice, it's clear that this is not your ordinary neighborhood. Together, Princeton and his new-found friends struggle to find jobs, dates, and their ever-elusive purpose in life.Puppet RentalBe sure to visit MTI's Prop Shop to see our AVENUE Q puppets to rent!AVENUE Q NEW YORKVisit the official "Avenue Q New York" for NYC ticketing and more information.
Click Here for More Information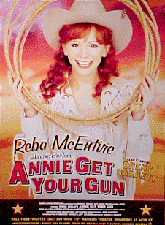 ANNIE GET YOUR GUN (STONE)
Camelot Theatre
8/7-8/10/2014
ANNIE GET YOUR GUN scored a bulls eye when it returned to Broadway in 1999, starring
Bernadette Peters
and sporting a revised libretto by Tony, Oscar and Emmy winner
Peter Stone
. As Newsday reported, Stone's revisions 'are sweetly ingenious, and the show is a dream.' Stone reshaped the 1946 book to create a Wild West show-within-a-show that frames the ageless 'Anything You Can Do I Can Do Better' love story of sharpshooters
Annie Oakley
and
Frank Butler
. Stone has added a secondary romance between the younger sister of Frank's bothersome assistant Dolly, and a boy who is (to Dolly's horror) part Native American. 'The book has been updated in ways that pass p.c. muster,' reported Time Magazine, 'without losing all the fun.' Joined to the new book, of course, is that amazing
Irving Berlin
score, featuring hit after hit after hit. '
Irving Berlin
's greatest achievement in the theater,' wrote the New York Post, ANNIE GET YOUR GUN 'will always be a musical for the ages, one of the Broadway theater's enduring triumphs.'Music and Lyrics by
Irving Berlin
; Original Book by
Herbert Fields
&
Dorothy Fields
; As Revised by
Peter Stone
Click Here for More Information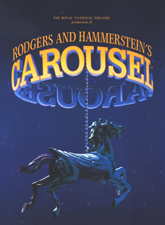 CAROUSEL
Clackamas Community College
7/31-8/24/2014
In a Maine coastal village toward the end of the 19th century, the swaggering, carefree carnival barker, Billy Bigelow, captivates and marries the naive millworker, Julie Jordan. Billy loses his job just as he learns that Julie is pregnant and, desperately intent upon providing a decent life for his family, he is coerced into being an accomplice to a robbery. Caught in the act and facing the certainty of prison, he takes his own life and is sent 'up there.' Billy is allowed to return to earth for one day fifteen years later, and he encounters the daughter he never knew. She is a lonely, friendless teenager, her father's reputation as a thief and bully having haunted her throughout her young life. How Billy instills in both the child and her mother a sense of hope and dignity is a dramatic testimony to the power of love. It's easy to understand why, of all the shows they created, CAROUSEL was Rodgers & Hammerstein's personal favorite.Music by Rodgers, Richard; Book by
Oscar Hammerstein
II; Lyrics by
Oscar Hammerstein
II; Based on the Play LILIOM by Ferenc Molnar; As adapted by
Benjamin F. Glazer
; Original Dances by
Agnes de Mille
Click Here for More Information
AIN'T MISBEHAVIN'
OREGON CABARET THEATRE
6/4-8/31/2014
The outrageously prodigious comic and musical soul of 1930's Harlem lives on in this rollicking, swinging, finger-snapping revue that is still considered one of Broadway's best. The inimitable Thomas "Fats" Waller rose to international fame during the Golden Age of the Cotton Club, honky tonk dives along Lenox Avenue, rent parties, stride piano players and that jumpin' new beat, Swing. Although not quite a biography, AIN'T MISBEHAVIN' evokes the delightful humor and infectious energy of this American original as a versatile cast struts, strums and sings the songs he made famous in a career that ranged from uptown clubs to downtown Tin Pan Alley to Hollywood and concert stages in the U.S., Canada and Europe.Assembled under the expert eye of director/lyricist
Richard Maltby
, Jr., AIN'T MISBEHAVIN' is one of the most popular, well-crafted revues of all time. Sometimes sassy, sometimes sultry, with moments of devastating beauty, AIN'T MISBEHAVIN' is simply unforgettable.
Click Here for More Information
INTO THE WOODS
COASTER THEATRE
6/20-9/7/2014
The Brothers Grimm
hit Broadway with an epic fairytale where worlds collide.
James Lapine
and
Stephen Sondheim
take everyone's favorite storybook characters and brings them together for a timeless yet relevant piece and rare modern classic.The story follows a Baker and his wife who wish to have a child, Cinderella who wishes to attend the King's Festival, and Jack who wishes his cow would give milk. When the Baker and his wife learn that they cannot have a child because of a Witch's curse, the two set off on a journey to break the curse. Everyone's wish is granted, but the consequences of their actions return to haunt them later with disastrous results.One of Sondheim's most popular works, INTO THE WOODS is a musically sophisticated show with the opportunity to feature actors adept at dark comedy. Designers will especially enjoy highlighting the fantastical elements of this magical word.
Click Here for More Information
View All Show Listings for Portland
Click Here to View BroadwayWorld.com Portland Calendar
Related Articles
From This Author BWW