Now Playing Onstage in Phoenix - Week of 3/02/2014
View All Show Listings for Phoenix
Click Here to View BroadwayWorld.com Phoenix Calendar
INTO THE WOODS
MESA COMMUNITY COLLEGE
2/27-3/8/2014
The Brothers Grimm
hit Broadway with an epic fairytale where worlds collide.
James Lapine
and
Stephen Sondheim
take everyone's favorite storybook characters and brings them together for a timeless yet relevant piece and rare modern classic.The story follows a Baker and his wife who wish to have a child, Cinderella who wishes to attend the King's Festival, and Jack who wishes his cow would give milk. When the Baker and his wife learn that they cannot have a child because of a Witch's curse, the two set off on a journey to break the curse. Everyone's wish is granted, but the consequences of their actions return to haunt them later with disastrous results.One of Sondheim's most popular works, INTO THE WOODS is a musically sophisticated show with the opportunity to feature actors adept at dark comedy. Designers will especially enjoy highlighting the fantastical elements of this magical word.
Click Here for More Information
DISNEY'S CINDERELLA KIDS
MUSICAL THEATRE OF ANTHEM
3/5-3/9/2014
The timeless fairy tale meets the magic of Disney in this adaptation of the treasured animated film. Poor Cinderella is endlessly mistreated by her wicked stepmother and stepsisters, and denied a chance to go to the Royal Ball. With a little help from her mice friends, and a lot of help from her Fairy Godmother, Cinderella goes to the ball, meets the Prince, and falls in love! With a beautiful score including "A Dream Is a Wish Your Heart Makes" and the classic "Bibbidi-Bobbidi-Boo," Disney's CINDERELLA KIDS will charm its way into your heart, and remind you that dreams really can come true.
Click Here for More Information
DR. SEUSS' THE CAT IN THE HAT
CHILDSPLAY, INC
1/26-3/9/2014
From the moment his tall, red-and-white-striped hat appears around the door, Sally and her brother know that THE CAT IN THE HAT is the funniest, most mischievous cat they have ever met.With the trickiest of tricks and craziest of ideas, he is certainly fun to play with. And he turns a rainy afternoon into an amazing adventure. But what will mum find when she gets home...? The National Theatre's production of
Dr. Seuss
's THE CAT IN THE HAT is a lively, engaging "play with sound effects" for performance by adults for young children. Not a word has been touched or added to
Dr. Seuss
's classic, ensuring anyone who's read the story will find themselves transported into the world they've always imagined.
Click Here for More Information
SHREK
CHRISTIAN YOUTH THEATRE
3/5-3/9/2014
SHREK THE MUSICAL, based on the Oscar® winningDreamWorks film that started it all, brings the hilarious story ofeveryone's favorite ogre to dazzling new life on the stage. Ina faraway kingdom turned upside down, things get ugly when an unseemlyogre "" not a handsome prince "" shows up to rescue a feisty princess.Throw in a donkey who won't shut up, a bad guy with a SHORT temper, acookie with an attitude and over a dozen other fairy tale misfits, andyou've got the kind of mess that calls for a real hero. Luckily,there's one on hand...and his name is Shrek. Full of all-new songs, great dancing and breathtaking scenery, SHREK THE MUSICAL is part romance, part twisted fairy tale and all irreverent fun for everyone!**AVAILABLE FOR LICENSES FOR PERFORMANCES BEGINNING JUNE 2013**
Click Here for More Information
MY BUDDY
Invisible Theatre Co
3/8-3/9/2014
Berger Performing Arts Center:Sandy Hackett.
Click Here for More Information
THE 25TH ANNUAL PUTNAM COUNTY SPELLING BEE
CACTUS SHADOWS HIGH SCHOOL
3/6-3/15/2014
Six young people in the throes of puberty, overseen by grown-ups who barely managed to escape childhood themselves, learn that winning isn't everything and that losing doesn't necessarily make you a loser.THE 25TH ANNUAL PUTNAM COUNTY SPELLING BEE is a hilarious tale of overachievers' angst chronicling the experience of six adolescent outsiders vying for the spelling championship of a lifetime. The show's Tony Award winning creative team has created the unlikeliest of hit musicals about the unlikeliest of heroes: a quirky yet charming cast of outsiders for whom a spelling bee is the one place where they can stand out and fit in at the same time.
Click Here for More Information
AROUND THE WORLD IN 80 DAYS
Arizona Theatre Company
3/1-3/22/2014
The Temple of Music and Art:
Mark Brown
.
Click Here for More Information
DISNEY'S ALICE IN WONDERLAND JR
HIGHLAND LAKES SCHOOL
3/10-3/28/2014
Join Alice's madcap adventures in Wonderland as she chases the White Rabbit, races the Dodo Bird, gets tied up with the Tweedles, raps with a bubble-blowing Caterpillar, and beats the Queen of Hearts at her own game! Roles are plentiful, including three Cheshire Cats and dozens of other wonderfully wacky characters. Disney's ALICE IN WONDERLAND JR. is a fast-paced stage adaptation of featuring updated dialogue and new arrangements of such classic Disney songs as "I'm Late," "The Un-birthday Song" and "Zip-A-Dee-Doo-Dah."
Click Here for More Information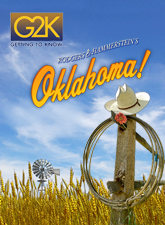 OKLAHOMA!
Hale Centre Theatre - Arizona
2/13-3/29/2014
The 'G2K' Getting To Know Series: Uniquely adapted musicals specifically for youth performers.
Rodgers & Hammerstein
's first collaboration remains, in many ways, their most innovative, having set the standards and established the rules of musical theatre still being followed today. Set in a Western Indian territory just after the turn of the century, the high-spirited rivalry between the local farmers and cowboys provides the colorful background against which Curly, a handsome cowboy, and Laurey, a winsome farm girl, play out their love story. Although the road to true love never runs smooth, with these two headstrong romantics holding the reins, love's journey is as bumpy as a surrey ride down a country road. That they will succeed in making a new life together we have no doubt, and that this new life will begin in a brand-new state provides the ultimate climax to the triumphant OKLAHOMA! In this adaptation for pre-high school students, the content has been edited to better suit younger attention spans, but all the elements that make this show a classic are still in place. You and your students will be enchanted by the timeless story and the dazzling score, while at the same time learning about theater and its production. PLEASE NOTE: All schools wishing to peruse or perform a G2K musical should apply through theMusic by Rodgers, Richard; Book and Lyrics by
Oscar Hammerstein
II; Based on the play GREEN GROW THE LILACS by
Lynn Riggs
; Original Dances by
Agnes de Mille
Click Here for More Information
PIPPIN
PHOENIX THEATRE
3/5-3/30/2014
Once upon a time, a young prince longed to discover the secret of true happiness and fulfillment. He sought it in the glories of the battlefield, the temptations of the flesh and the intrigues of political power (after disposing of his father King Charlemagne the Great). In the end, he found it in the simple pleasures of home and family. PIPPIN is a hip, tongue-in-cheek, anachronistic fairy tale that captivated Broadway audiences and continues to appeal to the young at heart everywhere (the show has become a staple on high school and college campuses). The energetic pop-influenced score by three-time Oscar®-winning composer/lyricist
Stephen Schwartz
(GODSPELL, CHILDREN OF EDEN, and the animated films Pocahontas, The Hunchback Of Notre Dame and The Prince Of Egypt) bursts with one showstopping number after another, from soaring ballads to infectious dance numbers. Featuring a strong ensemble cast and a show-stealing song-and-dance narrator, PIPPIN is equally effective as an intimate, black-box production (as envisioned by the authors) or as original director/choreographer Bob Fosse's splashy, dance-driven spectacle, which included some of the most brilliant staging in Broadway history.
Click Here for More Information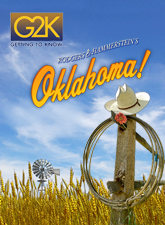 OKLAHOMA!
University of Arizona
3/9-4/6/2014
The 'G2K' Getting To Know Series: Uniquely adapted musicals specifically for youth performers.
Rodgers & Hammerstein
's first collaboration remains, in many ways, their most innovative, having set the standards and established the rules of musical theatre still being followed today. Set in a Western Indian territory just after the turn of the century, the high-spirited rivalry between the local farmers and cowboys provides the colorful background against which Curly, a handsome cowboy, and Laurey, a winsome farm girl, play out their love story. Although the road to true love never runs smooth, with these two headstrong romantics holding the reins, love's journey is as bumpy as a surrey ride down a country road. That they will succeed in making a new life together we have no doubt, and that this new life will begin in a brand-new state provides the ultimate climax to the triumphant OKLAHOMA! In this adaptation for pre-high school students, the content has been edited to better suit younger attention spans, but all the elements that make this show a classic are still in place. You and your students will be enchanted by the timeless story and the dazzling score, while at the same time learning about theater and its production. PLEASE NOTE: All schools wishing to peruse or perform a G2K musical should apply through theMusic by Rodgers, Richard; Book and Lyrics by
Oscar Hammerstein
II; Based on the play GREEN GROW THE LILACS by
Lynn Riggs
; Original Dances by
Agnes de Mille
Click Here for More Information
View All Show Listings for Phoenix
Click Here to View BroadwayWorld.com Phoenix Calendar
Related Articles
From This Author BWW