Now Playing Onstage in Phoenix - Week of 10/14/2012
View All Show Listings for Phoenix
Click Here to View BroadwayWorld.com Phoenix Calendar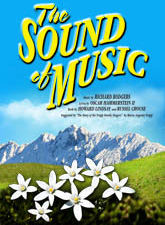 THE SOUND OF MUSIC
Xavier College Preparatory
10/17-10/20/2012
The final collaboration between Rodgers & Hammerstein was destined to become the world's most beloved musical. When a postulant proves too high-spirited for the religious life, she is dispatched to serve as governess for the seven children of a widowed naval Captain. Her growing rapport with the youngsters, coupled with her generosity of spirit, gradually captures the heart of the stern Captain, and they marry. Upon returning from their honeymoon they discover that Austria has been invaded by the Nazis, who demand the Captain's immediate service in their navy. The family's narrow escape over the mountains to Switzerland on the eve of World War II provides one of the most thrilling and inspirational finales ever presented in the theatre. The motion picture version remains the most popular movie musical of all time.Music by Rodgers, Richard; Lyrics by
Oscar Hammerstein
II; Book by
Howard Lindsay
&
Russel Crouse
; Suggested by For more information on Xavier College Preparatory, click hereFor more information on The Sound of Music, click here
Click Here for More Information
---
THE MUSIC MAN
Theater Works
10/5-10/28/2012
Stephen Sondheim
calls
Meredith Willson
's THE MUSIC MAN "my favorite musical", and he has lots of company in his opinion. This is by any account one of the great American musical theater classics – 76 Trombones, Gary, Indiana, Till There Was You – the score is filled with memorable tunes, the plot with comic and quirky characters, and the book with wit and wisdom. Come celebrate with us as we strike up the band with the biggest, brassiest musical of all!
Click Here for More Information
---
INTO THE WOODS
DESERT STAGES
10/12-11/4/2012
An ambivalent Cinderella? A blood-thirsty Little Red Ridinghood? A Prince Charming with a roving eye? A Witch...who raps? They're all among the cockeyed characters in
James Lapine
and
Stephen Sondheim
's fractured fairy tale. When a Baker and his Wife learn they've been cursed with childlessness by the Witch next door, they embark on a quest for the special objects required to break the spell, swindling, lying to and stealing from Cinderella, Little Red, Rapunzel and Jack (the one who climbed the beanstalk). Everyone's wish is granted at the end of Act One, but the consequences of their actions return to haunt them later, with disastrous results. What begins a lively irreverent fantasy in the style of The Princess Bride becomes a moving lesson about community responsibility and the stories we tell our children. One of Sondheim's most popular works, INTO THE WOODS is a timeless yet relevant piece and a rare modern classic.
Click Here for More Information
---
PROOF
Theatre Artists Studio
10/19-11/4/2012
A Pulitzer Prize-winning play about a young woman who may or may not have inherited her father's mathematical genius . . . and madness. A haunting, compelling look at the fragility of life, truth and relationships.
Click Here for More Information
---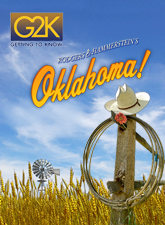 OKLAHOMA!
Arizona Broadway Theatre
10/19-11/18/2012
The 'G2K' Getting To Know Series: Uniquely adapted musicals specifically for youth performers.
Rodgers & Hammerstein
's first collaboration remains, in many ways, their most innovative, having set the standards and established the rules of musical theatre still being followed today. Set in a Western Indian territory just after the turn of the century, the high-spirited rivalry between the local farmers and cowboys provides the colorful background against which Curly, a handsome cowboy, and Laurey, a winsome farm girl, play out their love story. Although the road to true love never runs smooth, with these two headstrong romantics holding the reins, love's journey is as bumpy as a surrey ride down a country road. That they will succeed in making a new life together we have no doubt, and that this new life will begin in a brand-new state provides the ultimate climax to the triumphant OKLAHOMA! In this adaptation for pre-high school students, the content has been edited to better suit younger attention spans, but all the elements that make this show a classic are still in place. You and your students will be enchanted by the timeless story and the dazzling score, while at the same time learning about theater and its production. PLEASE NOTE: All schools wishing to peruse or perform a G2K musical should apply through theMusic by Rodgers, Richard; Book and Lyrics by
Oscar Hammerstein
II; Based on the play GREEN GROW THE LILACS by
Lynn Riggs
; Original Dances by
Agnes De Mille
For more information on Arizona Broadway Theatre, click hereFor more information on Oklahoma!, click here
Click Here for More Information
---
View All Show Listings for Phoenix
Click Here to View BroadwayWorld.com Phoenix Calendar
Related Articles
From This Author BWW