Click Here for More Articles on STUDENT CENTER - HIGH SCHOOL EDITION

BWW Feature: Cast of SDOHS HOW TO SUCCEED Choreographs, Blocks, and Designs Their Way to Opening Weekend!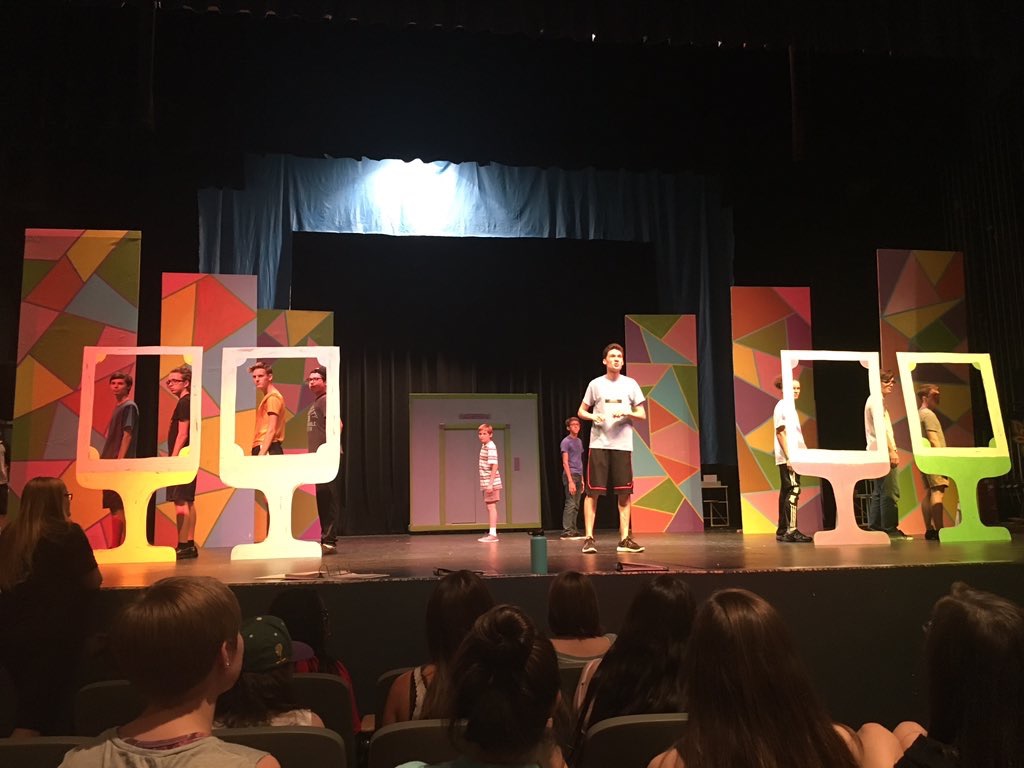 As Sandra Day O'Connor High School's Summer Intensive comes to an end, it means that their production of How to Succeed in Business Without Really Trying debuts in less than one week! Their shows are Friday and Saturday (July 7th and 8th) at 2:00pm, and an additional show on Friday at 6:30pm. and the cost of tickets is completely free! Junior Cat Birkenfeld advises to "make sure that if you attend the show you get there in plenty of time! Our summer shows are free and usually have a big turnout!"
Everyone in the cast seems to possess mutual feelings about the week, from being excited about their progress with Act Two, to having bittersweet feelings about closing out the intensive with such a close and talented cast.
Cat also mentioned that "a definite pro is that most people within our camp are maintaining a positive attitude despite the overall stress and pressure of putting on such a large and intense show in such a small amount of time. It is so inspiring to see the amount of maturity and cooperation those at our camp show every day and it reminds me of why I fell in love with theatre in the first place".
Regarding the highlights of the show, Cat Birkenfeld and Amy Alley pointed to One Griffin, who is a senior playing Bud Frump, and his determination to perfect his role. Amy describes his as "hilarious and dynamic" with a "rich voice". Cat describes his role as "difficult for anyone to play" but he pulls it off amazingly. Another favorite of Amy's was seeing Brenna (Hedy LaRue) and Jacob (J.B. Biggly) perform "Heart of Gold" together. She said that "the blocking was so clever, along with good comedic timing".
Students attribute other remarkable performances throughout the show to Ryan Ardelt and Jacob Shaffer, who both self-choreographed Grand Old Ivy, as well as Jacob Shaffer and Emily Sheppard for blocking several scenes themselves. Students work throughout various aspects of the show themselves, from blocking, to choreography, to tech, to costuming. It really is amazing what a small group of high school and junior high students can accomplish in a period of only five weeks!
Sawyer Jenkins said that Cinderella Darling, choreographed by Senior Serenity Mitchell, has a "really fun tap number that everyone will love". Serenity Mitchell added that she was "really proud of how it turned out!"
Several cast members mentioned that they are excited for the dresses in Paris Original! Sophomore Amy Alley, who plays Rosemary, added that "they're [the dresses] really cute and i'm excited to wear them onstage with all the other girls. I love that song because my friend Cat has a really good solo, Serenity's solo is amazing, Nicole Roush's solo is hilarious and Olivia Hsu is also super funny".
Heading over to the tech department, Cat Birkenfeld pointed out the hard work of the "techies". Every piece of the show is handmade by the students, including props, sets, and backdrops! Cat hopes that those who work behind the scenes "receive as much recognition as those who shine on stage because they are absolutely so deserving of it. I am proud to be a part of such a diverse program where those who don't enjoy the spotlight as much can use their talents towards bettering our department and the shows we put on in other ways!"
FUN FACT: Throughout the show, several students have quick changes, including Taylor Underwood and Sawyer Jenkins, who change from secretaries to scrubwomen. Taylor said that in 45 seconds or less, the girls will "get to the opposite side of the stage and change into jumpsuits before we have to jump on stage during a blackout and be prepared for our scene. It's a lot but it'll be super exciting!"
To wrap things up, Cat Birkenfeld said that she's never "seen such an inclusive and positive show. Everyone is so supportive and I just appreciate everyone's kind words and hard work more than I could ever explain. This show means a lot to me and I hope that people will take a little time out of their busy lives to come see it because it is well worth it!"
I'm so grateful for all the time that I have spent talking to various students in the cast, and can't wait to attend their shows next weekend! Keep updated by watching on the BroadwayWorld Blog for one last interview with this cast, or come see the show July 7th at 8th at Sandra Day O'Connor High School in Phoenix, Arizona! Tickets are free and show times are 2:00pm both days, plus a 6:30pm show on Friday.
Related Articles
Emma Suttell is a sophomore in Phoenix, Arizona who is actively involved in the theatre community and journalism industry. She has been performing since 2009 (read more...)