Now Playing Onstage in Philadelphia - Week of 6/01/2014
View All Show Listings for Philadelphia
Click Here to View BroadwayWorld.com Philadelphia Calendar
DISNEY'S THE JUNGLE BOOK KIDS
WOLF PERFORMING ARTS CENTER
6/7-6/7/2014
The jungle is jumpin' with jazz is this exciting Disney classic! Join Mowgli, Baloo, King Louie and the gang as they swing their way through madcap adventures and thwart the ferocious tiger, Shere Khan. Specially adapted from the beloved film, this musical includes all your favorite Disney tunes, like "The Bare Necessities," and "I Wan'na Be Like You." With colorful characters and that toe-tapping jungle rhythm, Disney's THE JUNGLE BOOK KIDS is sure to be a crowd-pleaser for audiences of all ages.
Click Here for More Information
HONK! JR
KENNEDY DANCE CENTRE
6/7-6/7/2014
In the London season featuring the appearance of THE LION KING, HONK! became a stand-out by winning the 2000 Olivier Award (the British equivalent of the Tony® Award) for Best New Musical. HONK! JR. is a contemporary retelling of
Hans Christian Andersen
's The Ugly Duckling with a JOSEPH...DREAMCOAT-esque score that everyone will enjoy. HONK! JR. can be performed with simple sets and costumes. No feathers or fur necessary--making it the perfect Broadway Junior musical!
Click Here for More Information
DISNEY'S CAMP ROCK THE MUSICAL
CENTER FOR THEATER ARTS
6/5-6/7/2014
Disney's CAMP ROCK: The Musical, based on the hit Disney Channel Original Movies Camp Rock and Camp Rock 2: The Final Jam (starring teen idols
Demi Lovato
and the
Jonas Brothers
) will fire up your stage with over a dozen songs, including "This Is Me," "Can't Back Down," "It's On," and "We Rock."A classic story of rivalry and power, Disney's CAMP ROCK: The Musical opens with Mitchie and her friends arriving at Camp Rock, ready to spend another summer jamming out and having the time of their lives. But the new, flashy Camp Star across the lake now threatens Camp Rock's very existence. To keep the doors open, Mitchie steps up, rallies her fellow Camp Rockers, and gets them into top shape for the ultimate showdown! Disney's CAMP ROCK: The Musical features a large ensemble cast with many featured roles. Whether your students are singers, actors, dancers, or triple threats, everyone has an opportunity to shine in this high-energy show!
Click Here for More Information
HAIRSPRAY
TOTEM POLE PLAYHOUSE
5/24-6/8/2014
The 1950's are out and change is in the air! HAIRSPRAY, winner of 8 Tony Awards including Best Musical, is a family-friendly musical piled bouffant high with laughter, romance, and deliriously tuneful songs.It's 1962 in Baltimore, and the lovable plus-size teen Tracy Turnblad has only one desire -- to dance on the popular Corny Collins Show. When her dream comes true, Tracy is transformed from social outcast to sudden star. She must use her newfound power to dethrone the reigning Teen Queen, win the affections of heartthrob Link Larkin, and integrate a TV network, all without denting her 'do!HAIRSPRAY is ideal for a large cast of strong singers and dancers. It provides great opportunities in terms of set design, costuming, and lighting choices.
Click Here for More Information
9 TO 5, THE MUSICAL
MON RIVER ARTS
5/30-6/8/2014
9 TO 5: THE MUSICAL, with music and lyrics by
Dolly Parton
and book by
Patricia Resnick
, is based on the 1980 hit movie Nine to Five.Pushed to the boiling point by their boss, three female co-workers concoct a plan to get even with the sexist, egotistical, lying, hypocritical bigot they call their boss. They conspire to take control of their company and learn there's nothing they can't do -- even in a man's world. Set in the late 1970s, 9 TO 5: THE MUSICAL is a hilarious story of friendship and revenge in the Rolodex era. Outrageous, thought-provoking, and even a little romantic, 9 TO 5: THE MUSICAL is about teaming up and taking care of business.This high-energy show is ideal for a large, mostly female cast. With its jubilant score and easily relatable characters, 9 TO 5: THE MUSICAL is the perfect show for community theaters or high schools.
Click Here for More Information
CIVIL WAR
HARRISBURG CHRISTIAN PERFORMING ARTS CENTER
6/6-6/8/2014
Drawing on letters, diaries, firsthand accounts, and the words of Abraham Lincoln,
Frederick Douglass
and
Walt Whitman
, THE CIVIL WAR is a thrilling, gut-wrenching and awe-inspiring "dramatic theatrical concert" that covers the enormous emotional landscape of the most difficult test our nation has ever endured. This epic thematic revue puts a human face on the greatest tragedy of American history. It explores the experiences of the soldiers and leaders who fought for their way of life. It also examines the lives of the lovers and families they left behind, as well as the hopes and fears of the slaves whose freedom was at stake. It passionately asks us to consider our beliefs about freedom, honor and faith.THE CIVIL WAR calls for a large, predominantly male cast. The score provides many solo opportunities for strong singers.
Click Here for More Information
THE 25TH ANNUAL PUTNAM COUNTY SPELLING BEE
POINT PARK UNIVERSITY
5/22-6/8/2014
Six young people in the throes of puberty, overseen by grown-ups who barely managed to escape childhood themselves, learn that winning isn't everything and that losing doesn't necessarily make you a loser.THE 25TH ANNUAL PUTNAM COUNTY SPELLING BEE is a hilarious tale of overachievers' angst chronicling the experience of six adolescent outsiders vying for the spelling championship of a lifetime. The show's Tony Award winning creative team has created the unlikeliest of hit musicals about the unlikeliest of heroes: a quirky yet charming cast of outsiders for whom a spelling bee is the one place where they can stand out and fit in at the same time.
Click Here for More Information
SINGIN' IN THE RAIN
PITTSBURGH CIVIC LIGHT OPERA
5/30-6/8/2014
You remember the plot. You love the characters. You know "the song." It's no less than the stage adaptation of one of the most celebrated and beloved films of all time.1920's Hollywood is the setting for this zany, light-hearted romantic comedy about the early days of sound film, when many a movie studio found itself scrambling to salvage the career of its chipmunk-voiced silent picture star.The MGM classic has been faithfully and lovingly adapted by Broadway legends
Betty Comden
and
Adolph Green
from their original award-winning screenplay. Each unforgettable scene, song and dance, is accounted for, including the showstopping title number, complete with an onstage rainstorm! Hilarious situations, snappy dialogue, and a hit-parade score of Hollywood standards make SINGIN' IN THE RAIN the perfect entertainment for any fan of the golden age of movie musicals.
Click Here for More Information
THE WIZARD OF OZ
Kimmel Center [Academy Of Music]
6/3-6/8/2014
Andrew Lloyd Webber
's reworked stage musical The Wizard of Oz is set to launch a North American tour in fall of 2013. After its run at the
Ed Mirvish
theatre in Toronto this December, The Wizard of Oz will take its entire cast across Canada and into the United States, hitting cities such as Chicago and Los Angeles.
Andrew Lloyd Webber
a€™s new production of The Wizard of Oz is an adaptation of the all-time classic, totally reconceived for the stage by the award-winning creative team of the revival of The Sound of Music. Developed from the ever popular MGM screenplay, this new production contains all the songs from the Oscar-winning movie score, all the favourite characters and iconic moments, plus a few surprises along the way, including new songs by
Tim Rice
and
Andrew Lloyd Webber
.
Click Here for More Information
AVENUE Q
SPLIT STAGE PRODUCTIONS
6/5-6/14/2014
AVENUE Q is a gut-bustingly hilarious modern musical focusing on a group of unique 20-somethings making their way in the big city, seeking their purpose in life. Although the show addresses humorous adult issues, it is similar to a beloved children's show; a place where puppets are friends, Monsters are good and life lessons are learned.Winner of the Tony "Triple Crown" for Best Musical, Best Score and Best Book, AVENUE Q is part flesh, part felt, and packed with heart. AVENUE Q is a laugh-out-loud musical that tells the timeless story of a recent college grad named Princeton who moves into a shabby New York apartment all the way out on Avenue Q. He soon discovers that although the residents seem nice, it's clear that this is not your ordinary neighborhood. Together, Princeton and his new-found friends struggle to find jobs, dates, and their ever-elusive purpose in life.Puppet RentalBe sure to visit MTI's Prop Shop to see our AVENUE Q puppets to rent!AVENUE Q NEW YORKVisit the official "Avenue Q New York" for NYC ticketing and more information.
Click Here for More Information
FIDDLER ON THE ROOF
VIVIANA THEATRE COMPANY
6/6-6/15/2014
In the little village of Anatevka, Tevye, a poor dairyman, tries to instill in his five daughters the traditions of his tight-knit Jewish community in the face of changing social mores and the growing anti-Semitism of Czarist Russia. Rich in historical and ethnic detail, FIDDLER ON THE ROOF has touched audiences around the world with its humor, warmth and honesty. The universal theme of tradition cuts across barriers of race, class, nationality and religion, leaving audiences crying tears of laughter, joy and sadness.The show features a star turn in Tevye, among the most memorable roles in musical theatre. Original director/choreographer
Jerome Robbins
' staging is legendary, and available from MTI in a comprehensive choreographic guide. Its celebrated score by
Jerry Bock
and
Sheldon Harnick
, features songs loved the world over: "Sunrise, Sunset," "If I Were A Rich Man" and "Matchmaker," to name a few. FIDDLER ON THE ROOF is simply Broadway at its very best.
Click Here for More Information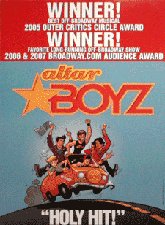 ALTAR BOYZ
Genesius Theatre
6/6-6/15/2014
ALTAR BOYZ is a foot-stomping, rafter-raising, musical comedy about a fictitious Christian boy-band on the last night of their national 'Raise the Praise' tour. The Boyz are five all-singing, all-dancing heartthrobs from Ohio: Matthew, Mark, Luke, Juan and Abraham. With their tight harmonies and spectacular choreography, the ALTAR BOYZ will delight your audiences. As they perform their signature hits such as 'Rhythm In Me,' 'The Calling,' and 'I Believe,' the Boyz question their loyalty to each other and ask whether or not faith is really holding them together. They finally deliver a message of unity, that 'there is no star as bright as its constellation, no harmony in a single voice.'Book by
Kevin Del Aguila
; Music and Lyrics by
Gary Adler
&
Michael Patrick Walker
; Conceived By
Marc Kessler
&
Ken Davenport
Click Here for More Information
SHREK
DUTCH APPLE DINNER THEATRE
5/15-6/20/2014
SHREK THE MUSICAL, based on the Oscar® winningDreamWorks film that started it all, brings the hilarious story ofeveryone's favorite ogre to dazzling new life on the stage. Ina faraway kingdom turned upside down, things get ugly when an unseemlyogre "" not a handsome prince "" shows up to rescue a feisty princess.Throw in a donkey who won't shut up, a bad guy with a SHORT temper, acookie with an attitude and over a dozen other fairy tale misfits, andyou've got the kind of mess that calls for a real hero. Luckily,there's one on hand...and his name is Shrek. Full of all-new songs, great dancing and breathtaking scenery, SHREK THE MUSICAL is part romance, part twisted fairy tale and all irreverent fun for everyone!**AVAILABLE FOR LICENSES FOR PERFORMANCES BEGINNING JUNE 2013**
Click Here for More Information
THE MUSIC MAN
STEEL RIVER PLAYHOUSE
6/5-6/22/2014
An affectionate paean to Smalltown, U.S.A. of a bygone era,
Meredith Willson
's THE MUSIC MAN follows fast-talking traveling salesman Harold Hill as he cons the people of River City, Iowa into buying instruments and uniforms for a boys' band he vows to organize - this despite the fact he doesn't know a trombone from a treble clef. His plans to skip town with the cash are foiled when he falls for Marian the librarian, who transforms him into a respectable citizen by curtain's fall. Perfect for professional theatres, community groups, summer stock and schools alike, this award-winning, critically acclaimed Broadway classic is an all-American institution, thanks to is quirky characters, charmingly predictable dramatic situations, and one-of-a-kind, nostalgic score of rousing marches, barbershop quartets and sentimental ballads which have become popular standards. The cast features a soaring soprano ingenue, parts for young performers and children, and one of the musical theatre's treasures, a tour de force leading role for a charismatic actor who doesn't need to be a trained singer. By turns wicked, funny, warm, romantic and touching, THE MUSIC MAN is family entertainment at its best.
Click Here for More Information
DR. SEUSS' THE CAT IN THE HAT
Arden Theatre Co
4/16-6/22/2014
dir:
Doug Hara
,
Steve Pacek
.
Click Here for More Information
THE FULL MONTY
FORGE THEATRE
6/6-6/29/2014
Seeing how much their wives enjoy watching male strippers during their "Girls' Night Out," unemployed steelworkers in Buffalo, New York come up with a bold way to make some quick cash. In the process they find renewed self-esteem, the importance of friendship and the ability to have fun.As the guys work through their fears, self-consciousness, feelings of worthlessness and anxieties (over everything from being overweight to child custody, bigotry to being gay), they come to discover that not only are they stronger as a group, but that the strength they find in each other gives them the individual courage to face their demons and overcome them.There is great heart to THE FULL MONTY, and the ultimate themes expressed in the show, about taking charge of one's life and following one's dreams are great lessons for all of us. And truth be told, through creative directing and staging, the final impact of THE FULL MONTY can be achieved without ever losing your jockey shorts!
Click Here for More Information
LES MISERABLES
FULTON THEATRE
5/31-6/29/2014
This international smash-hit may be the most popular musical in the world. In 19th century France, Jean Valjean is released from 19 years of unjust imprisonment, but finds nothing in store for him but mistrust and mistreatment. He breaks his parole in hopes of starting a new life, initiating a life-long struggle for redemption as he is relentlessly pursued by police inspector Javert, who refuses to believe Valjean can change his ways. Finally, during the Paris student uprising of 1832, Javert must confront his ideals after Valjean spares his life and saves that of the student revolutionary who has captured the heart of Valjean's adopted daughter. His world-view shattered, Javert commits suicide, and Valjean at last attains the peace he has sought for so long.Epic, grand and uplifting, LES MISÉRABLES packs an emotional wallop that has thrilled audiences all over the world. The sung-through pop opera is ideal for a cast of exceptional singers and overflows with melodies that are already standards. A spectacle on Broadway and in London, LES MISÉRABLES is equally effective with a minimal set; it is its powerful affirmation of the human spirit that has made LES MISÉRABLES a popular masterpiece.
Click Here for More Information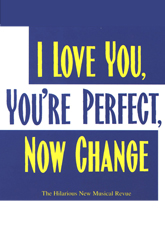 I LOVE YOU, YOU'RE PERFECT, NOW CHANGE
Walnut Street Theatre
4/29-6/29/2014
This celebration of the mating game takes on the truths and myths behind that contemporary conundrum know as 'the relationship.' Act I explores the journey from dating and waiting to love and marriage, while Act II reveals the agonies and triumphs of in-laws and newborns, trips in the family car and pick-up techniques of the geriatric set. This hilarious revue pays tribute to those who have loved and lost, to those who have fallen on their face at the portal of romance, to those who have dared to ask, 'Say, what are you doing Saturday night?'Book and Lyrics by
Joe DiPietro
; Music by
Jimmy Roberts
Click Here for More Information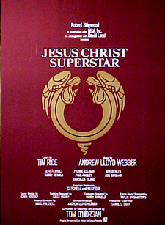 JESUS CHRIST SUPERSTAR
Erie Playhouse
6/5-6/29/2014
It seems especially fitting that the first rock opera, created as a concept album at the end of the turbulent '60s, should have at its center a social and political rebel. Jesus' meteor-like rise in renown provides, as the title suggests, a parallel to contemporary celebrity worship. As his radical teachings are evermore embraced, Judas increasingly questions the enlightened motives of this new prophet, resulting in betrayal. Christ's final days are dramatized with emotional intensity, thought-provoking edge and explosive theatricality. Propelled by a stirring score, by turns driving and majestic, satirical and tender, JESUS CHRIST SUPERSTAR illuminates the transcendent power of the human spirit with a passion that goes straight to the heart.Lyrics by
Tim Rice
; Music by
Andrew Lloyd Webber
Click Here for More Information
HOW TO SUCCEED IN BUSINESS...TRYING
WALNUT STREET THEATRE
5/13-7/13/2014
Power, sex, ambition, greed... it's just another day at the office. From the authors of GUYS AND DOLLS comes one of the most delightfully irreverent musicals of all time. A satire of big business and all it holds sacred, HOW TO SUCCEED IN BUSINESS WITHOUT REALLY TRYING follows the rise of J. Pierrepont Finch, who uses a little handbook called "How To Succeed In Business Without Really Trying" to climb the corporate ladder from lowly window washer to high-powered executive, tackling such familiar but potent dangers as the aggressively compliant "company man," the office party, backstabbing co-workers, caffeine addiction and, of course, true love.Winner of the 1962 Pulitzer Prize for Drama, HOW TO SUCCEED melds wit, comedy, and romance together to perfection. This show requires a large cast, featuring many roles for all types of performers.
Click Here for More Information
RING OF FIRE: THE MUSIC OF JOHNNY CASH
Pittsburgh Civic Light Opera
5/21-8/17/2014
Click Here for More Information
DISNEY'S CINDERELLA KIDS
MEDIA THEATRE FOR THE PERFORMING ARTS SCHOOL
6/7-8/24/2014
The timeless fairy tale meets the magic of Disney in this adaptation of the treasured animated film. Poor Cinderella is endlessly mistreated by her wicked stepmother and stepsisters, and denied a chance to go to the Royal Ball. With a little help from her mice friends, and a lot of help from her Fairy Godmother, Cinderella goes to the ball, meets the Prince, and falls in love! With a beautiful score including "A Dream Is a Wish Your Heart Makes" and the classic "Bibbidi-Bobbidi-Boo," Disney's CINDERELLA KIDS will charm its way into your heart, and remind you that dreams really can come true.
Click Here for More Information
RING OF FIRE: THE MUSIC OF JOHNNY CASH
Shawnee Playhouse
6/4-8/30/2014
Click Here for More Information
View All Show Listings for Philadelphia
Click Here to View BroadwayWorld.com Philadelphia Calendar
Related Articles
From This Author BWW