Date Of Birth:
May 10, 1838
Date Of Death:
April 26, 1865 (26)
Latest News on John Wilkes Booth

Date of Birth: May 10, 1838
Date of Death: April 26, 1865 (26)
Latest News on John Wilkes Booth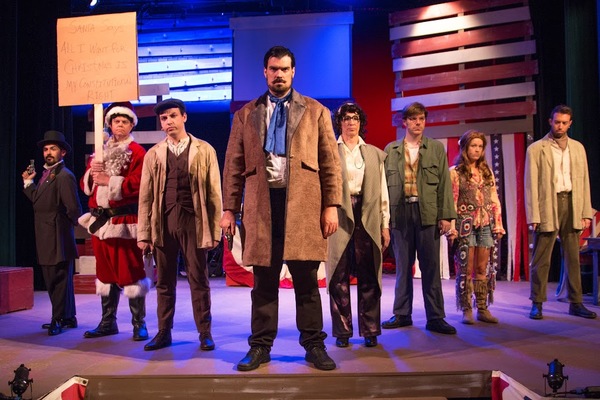 Caption:
Assassins (L to R) Charles Guiteau (Vincent Perez), Samuel Byck (Michael German), Leon Czolgosz (Ryan Peterson), John Wilkes Booth (Chris Kerrigan) Sara Jane Moore (Kathleen Silverman), John Hinckley (Kevin Ellis), Lynette Fromme (Jackee Bianchi), Giussep
From:
BWW Review: ASSASSINS Musically Explores the Minds of Those Who Attempted to Assassinate the President of the United States
The great genius of contemporary musical theater, creator of Sweeney Todd, Into the Woods and Company, Stephen Sondheim leads audiences on a tuneful revue of presidential assassins and would-be killers from John Wilkes Booth to John Hinckley. The performance is guided by the Proprietor (brilliantly portrayed by Will Shure) who takes you through a most unusual musical history lesson in the form of a carnival game called "Shoot the Prez - Win a Prize" during which the sounds of each era accompany riveting portrayals of history's most impassioned and deranged. Thought-provoking and darkly delightful, ASSASSINS won five Tony Awards in its first revival on Broadway and remains one of the most controversial Broadway musicals ever written.
Date Taken:
2016-09-28
View More Pictures Of: