Latest News on Cathy Cilento
Cathy Cilento News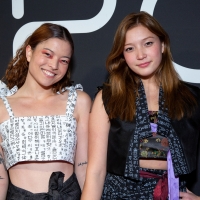 Photos: Stars Walk the Red Carpet to Celebrate KPOP Opening Night
by Jennifer Broski - Nov 21, 2022
KPOP officially celebrates its opening night on November 27, but the party came early last night at the Circle in the Square Theatre. BroadwayWorld was there to celebrate and you can check out photos from the starry red carpet arrivals here!
Photo Coverage: Inside HOLLER IF YA HEAR ME's Opening Night Theatre Arrivals
by Jennifer Broski - Jun 20, 2014
HOLLER IF YA HEAR ME, written by Todd Kreidler and directed by Kenny Leon, blazes to life in a non-biographical story about friendship, family, revenge, change and hope. Inner city lives struggle for peace against the daily challenges they face in this entertaining and original musical. Through the poetry of one of the 20th century's most influential and culturally prominent voices, we are given a window into realities of the streets still relevant today. The show opened last night, June 19 at the Palace Theatre (1564 Broadway at 47th Street), and BroadwayWorld was there for all of the festivities. Check out photos from the star-studded theatre arrivals below!