Maltz Jupiter Theatre Kicks Off Season with STEEL MAGNOLIAS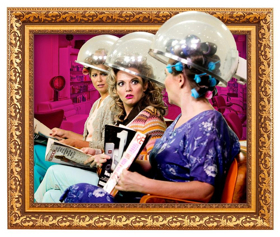 Have you ever had friends who were more like family? The ones that knew everything about you, loved you anyway and gave you strength when you had none?
Those are the fierce friends of Robert Harling's treasured play Steel Magnolias, which for more than 30 years has stood as an empowering testament to the enduring strength of female friendship.
Written as a tribute to Harling's sister, mother and the women who supported them through his sister's death, the play broke records at the Lucille Lortel Theatre in Manhattan, where it ran for nearly three years. Productions in dozens of countries followed, as well as a smash hit film adaptation starring Sally Field and Julia Roberts.
And now, an all-female cast and creative team is bringing the unforgettable story of boundless love between friends to the Maltz Jupiter Theatre's stage (October 28 - November 11).
Led by Tony Award®-nominated director Marcia Milgrom Dodge (Broadway's Ragtime; winner of multiple Carbonell Awards for direction and choreography for her work at the Theatre), the team boasts the talents of set designer Narelle Sissons (whose work Theatre audiences may remember from The King and I), lighting designer Marcia Madeira (Tony®-nominated for Nine; the Theatre's production of Guys and Dolls), costume designer Robin L. McGee (the Theatre's productions of Billy Elliot The Musical, Frost/Nixon, Glengarry Glen Ross and Dial M for Murder), wig designer Amber Jasmin Morrow (Emmy Award-honored for SaturdayNight Live), dialect coach Jennifer Burke (many of the Theatre's productions, including An Inspector Calls and Disney Newsies The Musical), stage manager Lori Lundquist (whose Broadway credits include Fosse and The Best Man) and assistant stage manager Rose Figueroa (whose credits include Ronia, The Robber's Daughter and I Love You, You're Perfect, Now Change). The Theatre's Carbonell Award-winning resident sound designer Marty Mets will provide the play's sound.
"We're ecstatic to be kicking off the Maltz Jupiter Theatre's 2018/19 season with Steel Magnolias, which is a wonderful, heartfelt story about the power of friendship," said Andrew Kato, the Theatre's producing artistic director and chief executive. "Since the show features an all-female cast, director Marcia Milgrom Dodge led a conscious effort to hire a female-driven creative team for this show - and she has truly hired some of the most talented, creative artists in each of their fields. We can't wait for audiences to experience the magic of this production."
Set in Louisiana in the flamboyant '80s, the play follows the intertwined lives of the women of Truvy's beauty salon, each of whom are quick with a quip and unafraid to show their eccentric personalities. But when the threat of tragedy begins to wilt their delicate Louisiana charm, the women reveal they are stronger than despair. Balanced between witty comedy and heartfelt drama, Steel Magnolias captures the complexities of six women's lives as they navigate love, loss and the ties that bind them together.
"Steel Magnolias continues to resonate so strongly with audiences because it's a play about family. That's never going to go out of style," Milgrom Dodge said. "Some families are created biologically, and other families are made up of people who give each other permission to be themselves. Totally. The women in Steel Magnolias share their deepest pains, their momentous joys and their heaviest burdens, creating everlasting friendship."
With a cast of six, the Theatre's production will feature two-time Tony Award® nominees Crista Moore (M'Lynn, Tony® nominated for Broadway's Gypsy and Big The Musical) and Alison Fraser (Clairee, Tony® nominated for The Secret Garden and Romance/Romance). The play will also feature Paige Silvester as Shelby (recently seen in the national tours of The Sound of Music and Evita), as well as several well-known South Florida performers: four-time Carbonell Award winner Barbara Bradshaw (Ouiser, who Theatre audiences know from Agatha Christie: The Mousetrap, Barefoot in The Park, Deathtrap and the ARC New Works Theatre Festival readings of Captiva and Coral Gables), Carbonell Award winner Kim Cozort Kay (Truvy, whose credits include the national tour of Death of a Salesmanand the Theatre's production of Born Yesterday) and Taylor Jackson (Annelle, whose professional credits include Rock of Ages and The Who's Tommy, as well as the Theatre's production of Hairspray).

Steel Magnolias is sponsored by Priscilla Heublein. Single tickets start at $60. For tickets and showtimes, call (561) 575-2223 or visit www.jupitertheatre.org. For more information on bringing your group to the Theatre, contact community relationships ambassador Cheryl McDermott at (561) 972-6117.
the Maltz Jupiter Theatre
The not-for-profit Maltz Jupiter Theatre has become one of Florida's preeminent professional theatres, committed to production and education through its collaborations with local and national artists. Currently the state's largest award-winning regional theatre, the Theatre draws 100,000 people annually, serves a subscription base of more than 8,540 and has world-class classroom facilities in support of its Goldner Conservatory of Performing Arts, which serves hundreds of youth and adults. The Theatre is a member of the prestigious League of Resident Theatres and has earned numerous Carbonell Awards, South Florida's highest honor for artistic excellence, including the prestigious Bill Von Maurer Award for Theatrical Excellence. For more information about the Theatre's upcoming shows and Conservatory, visit www.jupitertheatre.org or call the box office at (561) 575-2223.
Photo by Jason Nuttle