CAN'T LIVE WITHOUT YOU To Debut At The Willow Theatre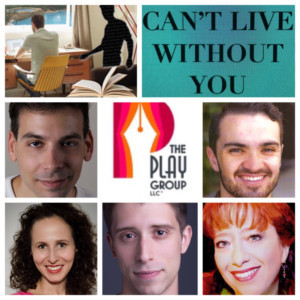 'Can't Live Without You' was written by Philip Middleton Williams and is directed by Jerry Jensen. It is making its South Florida debut at the Willow Theatre at Sugar Sand Park in Boca Raton, FL (300 S. Military Trail) and runs March 30, 31 and April 7 at 2 PM and on March 30, April 5 and 6 at 8 PM. Tickets are available by calling the Willow Theatre Box Office at 561-347-3941 or by visiting the theatre's website at www.willowtheatre.org Tickets are also available at the theatre box office prior to each performance.
'Can't Live Without You' started out thanks to writers block on the novel 'Bobby Cramer' in December 2001, but when the novel's author Philip Middleton Williams got the idea of a character coming back to visit his creator, the play was written in less than three weeks, start to finish. It had its first reading under the direction of Kenneth N. Kurtz at the University of Miami Theatre Department in November 2005 with Ross Evans, Rebecca Voss, Mark Mochabee, Maha McCain, and Chris Teutsch reading the roles. In April 2007, the play had another table reading at the William Inge Theatre Festival with student actors from around the country reading the roles. One of them was Rachel Charlop-Powers, who was so taken by the play that she took it to New York and submitted it to the Manhattan Repertory Theatre for their WinterFest Short Play Festival in January 2008. The play opened off-off-Broadway on January 23, 2008 and ran in repertory for six performances. It was directed by Adam J. Natale with the cast of Will Poston, Rachel Charlop-Powers, Tom Pitulik, Mary Fassino, and Gary Lee Mahmoud. In 2017 the play was submitted to The Playgroup, LLC's New Play Contest and was selected for production at the Willow Theatre in Boca Raton, Florida, as part of the 2018-2019 season
"Sometimes an old dream, like an old friend, can show up when you need it the most." The play centers around Donny Hollenbeck (Anthony Wolff) who thinks he has created the perfect life for himself. He has a lucrative writing career, a nice girlfriend (Leslie Zivin Kandel), a go-getter realtor with ambitions beyond the next closing, and a great-looking home in Florida. But when Bobby Cramer (Robert Ayala), a character from a novel he abandoned years ago, pays Donny a visit, he starts to realize where his dreams took a wrong turn. Rounding out the cast are AJ Ruiz who portrays Nick Wilson, the handsome realtor-in-training who works with Anna and has an interesting pastime, and Carla Zackson Heller who plays Barbara Solomon, Donny's tough-as-nails/sweet-as-candy literary agent.
Jerry Jensen (Director) collaborated with playwright Philip Middleton Williams on three one acts for New Theatre's Miami 1-Acts: 'Last Exit,' 'A Life Enriching Community' and 'Which Way to the Beach.' Jerry's directed shows for nine local theater companies including: Neil Simon's 'Biloxi Blues' and 'Rumors,' 'The Lion in Winter,' 'A Thousand Clowns,' 'Cat on a Hot Tin Roof,' 'My Fair Lady,' 'All The Great Books (Abridged),' 'The Cocktail Hour,' 'The Dining Room,' 'Private Lives,' 'It's Only a Play!,' Love! Valour! Compassion!,' 'Kindertransport,' and 'The Goodbye Girl - The Musical.' He's also been in high demand as Production Stage Manager for over two dozen productions, including 'Hair' for MNM Productions at the Kravis Center, 'The Addams Family Musical' and 'Murdered to Death' at Evening Star Productions, Island City Stage's revival of 'The Timekeepers' at Levis JCC; 3 shows for the B'Nai Torah Theater Arts Series; a full season at The Plaza Theatre, and two seasons for twelve New Theatre productions, including several world premieres. As Executive Director of the Wichita Center for the Arts, he oversaw the Midwest Premiers of Stephen Schwartz's 'Children of Eden' and 'Rags' and the World Premiere of John Caird's eventual Tony-nominated Broadway musical 'Jane Eyre.' Additionally, he's acted in over 60 shows in 9 states, locally in '12 Angry Men,' 'Doubt,' 'Bent,' 'Footloose,' and '1776.'
Philip Middleton Williams (playwright) has a BFA in acting from the University of Miami, an MFA in playwriting from the University of Minnesota, and a PhD in playwriting and dramatic criticism from the University of Colorado-Boulder. His first play, 'The Hunter,' was produced at the University of Minnesota as part of his MFA requirements. 'Dark Twist' was produced in a reading by the Actors Ensemble Theatre of Boulder, Colorado. 'The Purer, Brighter Years' premiered in a staged reading at the Old Town Playhouse in Traverse City, Michigan. 'Here's Hoping,' commissioned for the Troupe Teen Theatre Company, was presented in Petoskey, Michigan. 'All Together Now' won first place in the 2016 Playgroup LLC playwriting contest and was produced as part of the Willow Theatre 2017-2018 season in Boca Raton, Florida. 'Can't Live Without You' was his first play to receive a New York production at the Manhattan Repertory Theatre in January 2008 and was chosen by The Playgroup for their 2018-2019 season at The Willow Theatre.
Other works include 'Ask Me Anything,' directed by William Roudebush, 'Last Exit' and 'A Life Enriching Community,' directed by Jerry Jensen, and "Which Way to The Beach," directed by Steven A. Chambers at the New Theatre's Miami 1-Acts Festivals. 'A Moment of Clarity' was a 2017 finalist in the City Theatre National Award for Short Playwriting. His work has also been seen in the South Florida One-Minute Play Festivals, the Midwest Dramatist Conference 2017 and 2018, The William Inge Theatre Festival New Play Lab 2016 and 2017, Odenbear Theatre of Taos, New Mexico, Theatre Roulette of Columbus, Ohio, and the 2018 Short+Sweet Festival of Sydney, Australia.
In 1992 he was appointed to the national advisory board of the William Inge Theatre Festival. He has written numerous articles on the works of Inge and Lanford Wilson and contributed to The Facts on File Companion to American Drama edited by Jackson R. Bryer and Mary C. Hartig. His doctoral thesis, 'A Comfortable House - Lanford Wilson, Marshall W. Mason and The Circle Repertory Theatre,' was published by McFarland and Company in 1993.
He is a member of the Dramatists Guild.
Related Articles View More Palm Beach

Stories

Shows
More Hot Stories For You