BWW Review: LA CAGE AUX FOLLES at MNM Productions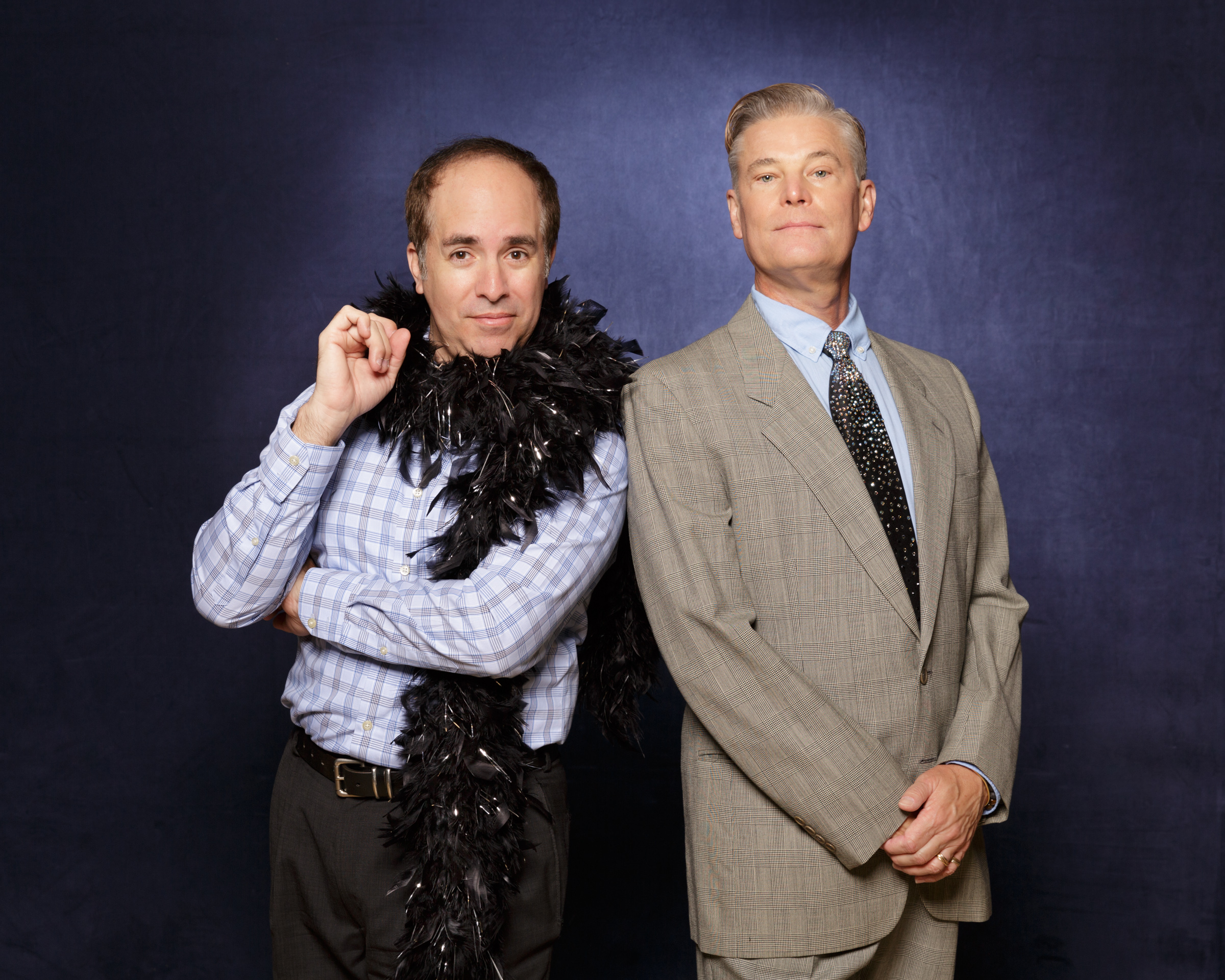 The Best of Times is Now!
MNM Productions presents La Cage aux Folles, featuring music and lyrics by Jerry Herman and a book by Harvey Fierstein. The musical is based on the 1973 French play La Cage aux Folles by Jean Poiret. The phrase La cage aux folles literally means "the cage of mad women". A French-Italian film of the same name was made in 1978, with subsequent sequel films La Cage aux Folles II in 1980, and La Cage aux Folles 3: 'Elles' se mariant in 1985. An American film adaptation of the play called The Birdcage was made in 1996 starring Nathan Lane and Robin Williams.
La Cage aux Folles opened on Broadway on August 21, 1983, at the Palace Theatre where it ran for 1,761 performances. The show, starring Gene Barry and George Hearn, won six Tony Awards. It was an old-fashioned production in the best sense, with elaborate costumes, exquisite sets, glamorous chorus members, crowd-pleasing choreography and a lush score. It rightfully remains a great American Broadway classic adored by audiences everywhere.
The musical focuses on same sex couple Georges and Albin, who live in Saint-Tropez on the French Riviera. Georges is the manager of a nightclub called "La Cage aux Folles" featuring the very finest in drag entertainment. His star attraction is Zaza, who is also his long-time love and life partner, Albin. Their lives are filled with the busy club, its many customers, and its flamboyant chorus of performers called "Les Cagelles." Conflict begins in their personal lives when Georges' twenty-four-year-old son, Jean-Michel, brings home his fiancée Anne. Georges and Albin, who have raised Jean-Michel as father and mother, are saddened to lose their little boy to marriage, but welcome Anne into their hearts. The problem is Anne's ultra-conservative parents. Her father is a politician running for office using a moral platform solidly against the way of life shared by Georges, Albin and all around them. With the prospective in-laws coming to meet them, they scramble to disguise the colorful lives they have created for ones they hope will be acceptable to Anne's parents. In the end they celebrate with pride, who and what they are as exemplified in the most famous song in the show, "I Am What I Am."
Michael Ursua plays Albin/Zsa-Zsa with both heart and depth, and graces the character with an unusually good singing voice. He is never campily over-the-top, as is so easily done with the role. I would have liked just a few more happily hyper moments in his portrayal to highlight the theatrically bipolar nature of the Zsa Zsa side of Albin. His singing voice meshes beautifully with that of his co-star Larry Alexandre as Georges. A dashing Alexander, though stiff in his opening scene, warms into the role - his own singing voice as lovely in solo moments as it is in duets with Ursua. Haing two strong leads is essential to this show, and Ursua and Alexander fit snugly together like hand in glove as Albin and Georges.
Supporting actor Elijah Word is delightfully funny as their butler/maid Jacob, finding fresh ways to insert his own personality into this comic role. I found myself looking forward to his entrances, as he always made me smile. Aaron Bower is the quintessential Jacqueline. She is stylish, quick-witted, knowing, and possessed of confidence and flair. She is so exactly as Jacqueline should be played, she made me realize how frequently I've seen other actresses miss the mark in this role. Patti Gardner is a hoot as the repressed Mme. Dindon, eagerly observant of all around her and easily puzzled by how she should feel about it. She makes the most of all her comedic moments.
I noted that MNM Productions has actually changed the script for this production, making Jean-Michel 26 years old instead of 24 years old. Presumably this is because the actor playing the role is older. This didn't work for me because the character is scripted as being young and callow, but we forgive his immaturity because of his chronological age. Making the character older makes his actions less forgivable, and in turn, makes him less likable. I also did not care for the choreography for "With Anne on My Arm". Traditionally, the actress playing Anne is a dancer who is also one of Les Cagelles. She enters wearing a cute, flowy skirt, and charmingly chaines turns her way through the number as Jean-Michel sings. This production has Anne dancing a duet with Jean-Michel where he turns and lifts her while singing. In this case the two actors are singers who move well, rather than dancers, so a better choice could have been made.
The audience can't help but be fascinated by Les Cagelles in any production of this show. While some productions have as many as twelve Les Cagelles, this production has six. I especially enjoyed the antics of the Germanic, whip-wielding Hanna played by Alex Jorth. Admittedly, you will be able to sort out the real women from the men rather quickly, but that doesn't diminish the fun of watching then dance and costume-change their way through the show as they display their array of sequins, feathers and beads. Having seen many productions of La Cage aux Folles I can say that the Cagelles costumes and wigs for this production need some tweaking. It is simply essential to the glamour and visual interest they present.
There are many good things in this production of La Cage aux Folles, and MNM Productions is blessed to have strong leads and humorous supporting character actors. There is also a live, seven-piece band ably led by music director Paul Reekie. The separate Les Cagelle dance sections of the show are well executed. However, the steps are too large and too far center, blocking full use of the depth of the center of the stage for choreographed numbers. The cautious looks on the faces of Les Cagelles in their opening scene as they descended those steps made me concerned for their safety. The steps also seemed to be the reason for cramming Les Cagelles far stage right for their book scenes supposedly done back-stage. We lose the faces of the actors saying their lines, and it is uncomfortable to look at actors attempt to do those scenes with no room. Actors entering and exiting as assorted townspeople between the first row and the stage also doesn't work. Again we can't see them, and the lighting has not been adjusted or focused appropriately to highlight this staging choice.
Speaking of lighting, while it was fine for the main book scenes, and all of Albin's numbers, there was far too many dark spots during the Les Cagelles dance numbers. It changes the feel of the club in which they are performing, making it seedier and less glamorous. After all this is supposed to be "the jewel of the Riviera" not the Kit Kat Club in Cabaret. Another scenic note: In the second act Mme. Dindon says "My, what a beautiful crucifix!" as she indicates a four-foot tall bare cross hung on the wall. Crucifixes and crosses are two different things. A crucifix is an image of a crucified Jesus on the cross. No Jesus = no crucifix. Her character being religious, would never have made that mistake in terminology. As stated previously, there are many good things about this production. MNM hopefully will be able to iron out what they can with the technical aspects of this show, and continue to grow by leaps and bounds with each new production. "The Best of Times" can always be had with the colorful characters of La Cage aux Folles and the memorable melodies of Jerry Herman.
Jerry Herman was the first composer-lyricist in history to have three musicals run more than 1,500 performances on Broadway with Hello, Dolly! (2,844), Mame (1,508) and La Cage aux Folles (1,761). He won Tony Awards for Hello, Dolly!, and La Cage aux Folles and a special Lifetime Achievement Tony Award in 2009 for his body of work. His other musicals include Milk and Honey (1961), Dear World (1969), Mack & Mabel (1974), The Grand Tour (1979), and A Day in Hollywood / A Night in the Ukraine (1980). His many honors include a star on the Hollywood Walk of Fame and the Jerry Herman Ring Theatre, named after him by his alma mater, the University of Miami, in Miami, Florida.
This MNM production La Cage aux Folles will be appearing through October 22, 2017 at the Marshall E. Rinker Playhouse of the Kravis Center for the Performing Arts. The Kravis Center for the Performing Arts is located at 701 Okeechobee Blvd. in West Palm Beach, FL. For tickets and information, you may contact them by phone at 561-832-7469, (561-832-SHOW), or 1-800-572-8471 or online at www.kravis.org.
Cast:
Chantal/Derma: AJ Cola

Hanna: Alex Jorth*

Mercedes/Odette: Frank Vomero

Phaedra/Poppie: Keagan Tanner

Paulette: Christie Rohr

Angelique: Ashley Rubin
Ensemble:
Crew:
Director/Choreographer: Kimberly Dawn Smith

Music Director: Paul Reekie

Stage Manager: Mikel Gambuto*
*Indicates member of Actors' Equity Association, the union of professional actors and stage mangers in the United States
Photo: Michael Ursua and Larry Alexander / Pic by: Jacek Gancarz
John Lariviere currently headlining throughout South Florida at local theatres and clubs. In August of 2016, John performed for the second year at the Florida (read more...)