Now Playing Onstage in Omaha - Week of 6/08/2014
View All Show Listings for Omaha
Click Here to View BroadwayWorld.com Omaha Calendar
ANNIE JR
LINCOLN COMMUNITY PLAYHOUSE
6/13-6/15/2014
Leapin' Lizards! The popular comic strip heroine takes center stage in one of the world's best-loved musicals. With equal measures of pluck and positivity, little orphan ANNIE charms everyone's hearts, despite a next-to-nothing start in 1930s New York City. She is determined to find her parents, who abandoned her years ago on the doorstep of a New York City Orphanage run by the cruel, embittered Miss Hannigan. With the help of the other girls in the Orphanage, ANNIE escapes to the wondrous and magical world of NYC. In adventure after fun-filled adventure, ANNIE foils Miss Hannigan's evil machinations and befriends President Franklin Delano Roosevelt. She finds a new home and family in billionaire Oliver Warbucks, his personal secretary
Grace Farrell
, and a lovable mutt named Sandy.ANNIE JR. is ideal for productions involving different grade levels, or for middle schools where students may be maturing at different rates. The cast size and age range of the parts are flexible and the bright, tuneful score is easy to sing and filled with familiar numbers.
Click Here for More Information
TARZAN
OMAHA THEATRE COMPANY FOR YOUNG PEOPLE
6/6-6/22/2014
Based on Edgar Rice Burrough's Tarzan of the Apes and the smash-hit 1999 Disney animated film, TARZAN tells the story of an infant boy orphaned on the shores of West Africa. Taken in and raised by a tribe of gorillas, the young boy strives for acceptance by his ape father while grappling with his uniqueness. When a human expedition enters their territory, Tarzan - now a man - encounters strangers like himself for the first time. TARZAN features music and lyrics by pop icon
Phil Collins
, including the Grammy and Oscar winning song, "You'll Be in My Heart", and book by Tony Award-winning playwright,
David Henry Hwang
.
Click Here for More Information
TARZAN®
The Rose Theater
6/6-6/22/2014
After a storm leaves Tarzan orphaned in the jungle, he is adopted by a caring family of apes. As he grows, he realizes he is not like them-a fact his gorilla father never lets him forget. When humans arrive in the jungle, Tarzan is suddenly caught between two worlds in this beautiful adaptation of the Disney film.
Click Here for More Information
LES MISERABLES
THEATRE WEST
6/11-6/28/2014
This international smash-hit may be the most popular musical in the world. In 19th century France, Jean Valjean is released from 19 years of unjust imprisonment, but finds nothing in store for him but mistrust and mistreatment. He breaks his parole in hopes of starting a new life, initiating a life-long struggle for redemption as he is relentlessly pursued by police inspector Javert, who refuses to believe Valjean can change his ways. Finally, during the Paris student uprising of 1832, Javert must confront his ideals after Valjean spares his life and saves that of the student revolutionary who has captured the heart of Valjean's adopted daughter. His world-view shattered, Javert commits suicide, and Valjean at last attains the peace he has sought for so long.Epic, grand and uplifting, LES MISÉRABLES packs an emotional wallop that has thrilled audiences all over the world. The sung-through pop opera is ideal for a cast of exceptional singers and overflows with melodies that are already standards. A spectacle on Broadway and in London, LES MISÉRABLES is equally effective with a minimal set; it is its powerful affirmation of the human spirit that has made LES MISÉRABLES a popular masterpiece.
Click Here for More Information
YOUNG FRANKENSTEIN
OMAHA COMMUNITY PLAYHOUSE
5/30-6/29/2014
IT'S ALIVE! From the creators of the record-breaking Broadway sensation THE PRODUCERS comes this monster new musical comedy.With such memorable tunes as "The Transylvania Mania," "He Vas My Boyfriend" and "Puttin' On The Ritz," YOUNG FRANKENSTEIN is scientifically-proven, monstrously good entertainment"¦and the only place you'll witness a singing and dancing laboratory experiment in the largest tuxedo ever made.
Click Here for More Information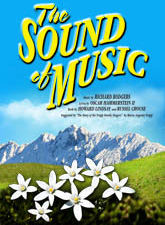 THE SOUND OF MUSIC
Post Playhouse
6/13-8/9/2014
The final collaboration between Rodgers & Hammerstein was destined to become the world's most beloved musical. When a postulant proves too high-spirited for the religious life, she is dispatched to serve as governess for the seven children of a widowed naval Captain. Her growing rapport with the youngsters, coupled with her generosity of spirit, gradually captures the heart of the stern Captain, and they marry. Upon returning from their honeymoon they discover that Austria has been invaded by the Nazis, who demand the Captain's immediate service in their navy. The family's narrow escape over the mountains to Switzerland on the eve of World War II provides one of the most thrilling and inspirational finales ever presented in the theatre. The motion picture version remains the most popular movie musical of all time.Music by Rodgers, Richard; Lyrics by
Oscar Hammerstein
II; Book by
Howard Lindsay
&
Russel Crouse
; Suggested by `The
Trapp Family Singers
` by
Maria Augusta Trapp
Click Here for More Information
SCHOOLHOUSE ROCK LIVE!
POST PLAYHOUSE INC
5/30-8/9/2014
A pop culture phenomenon comes to the musical stage!The Emmy Award-winning 1970's Saturday morning cartoon series that taught history, grammar, math, and more through clever, tuneful songs is not only making a small-screen comeback, it's lighting up stages everywhere -- from school multi-purpose rooms to university and regional theatres all around the country.SCHOOLHOUSE ROCK LIVE! follows Tom, a nerve-wracked school teacher who is nervous about his first day of teaching. He tries to relax by watching TV when various characters representing facets of his personality emerge from the set and show him how to win his students over with imagination and music, through such songs as "Just A Bill," "Lolly, Lolly, Lolly," and "Conjunction Junction."With its minimal band, set, costume and flexible cast requirements, SCHOOLHOUSE ROCK LIVE! may be performed in virtually any space, bringing its infectious zest to a cross-generational audience.
Click Here for More Information
View All Show Listings for Omaha
Click Here to View BroadwayWorld.com Omaha Calendar
Related Articles
From This Author BWW