Now Playing Onstage in Omaha - Week of 6/01/2014
View All Show Listings for Omaha
Click Here to View BroadwayWorld.com Omaha Calendar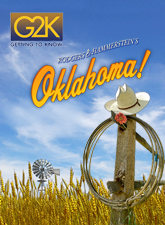 G2K OKLAHOMA!
Theatre Arts for Kids @ Christ Lutheran
6/6-6/7/2014
The 'G2K' Getting To Know Series: Uniquely adapted musicals specifically for youth performers.
Rodgers & Hammerstein
's first collaboration remains, in many ways, their most innovative, having set the standards and established the rules of musical theatre still being followed today. Set in a Western Indian territory just after the turn of the century, the high-spirited rivalry between the local farmers and cowboys provides the colorful background against which Curly, a handsome cowboy, and Laurey, a winsome farm girl, play out their love story. Although the road to true love never runs smooth, with these two headstrong romantics holding the reins, love's journey is as bumpy as a surrey ride down a country road. That they will succeed in making a new life together we have no doubt, and that this new life will begin in a brand-new state provides the ultimate climax to the triumphant OKLAHOMA! In this adaptation for pre-high school students, the content has been edited to better suit younger attention spans, but all the elements that make this show a classic are still in place. You and your students will be enchanted by the timeless story and the dazzling score, while at the same time learning about theater and its production. Music by Rodgers, Richard; Book and Lyrics by
Oscar Hammerstein
II; Based on the play GREEN GROW THE LILACS by
Lynn Riggs
; Original Dances by
Agnes de Mille
Click Here for More Information
33 VARIATIONS
The BLUEBARN theatre
5/8-6/8/2014
A mother coming to terms with her daughter. A composer coming to terms with his genius. Drama, memory, and music combine to transport you from present-day New York to 19th-century Austria, in this extraordinary new American play about passion, parenthood and the moments of beauty that can transform a life. 33 Variations is an elegant waltz between past and present, fact and speculation, a mother and daughter, art and life.
Click Here for More Information
LES MISERABLES
Beatrice Community Players
5/30-6/8/2014
Discover this epic musical masterpiece in a whole new way. Jean Valjean's life-long struggle for redemption while pursued by the dogged Inspector Javert against the backdrop of tumultuous 19th century France has amazed audiences all over the world. Now feel the passion up close in our intimate staging of this timeless classic featuring songs like "I Dreamed a Dream," "Bring Him Home," "On My Own," and "Do You Hear the People Sing."
Click Here for More Information
LES MISERABLES
COMMUNITY PLAYERS INC
5/30-6/8/2014
This international smash-hit may be the most popular musical in the world. In 19th century France, Jean Valjean is released from 19 years of unjust imprisonment, but finds nothing in store for him but mistrust and mistreatment. He breaks his parole in hopes of starting a new life, initiating a life-long struggle for redemption as he is relentlessly pursued by police inspector Javert, who refuses to believe Valjean can change his ways. Finally, during the Paris student uprising of 1832, Javert must confront his ideals after Valjean spares his life and saves that of the student revolutionary who has captured the heart of Valjean's adopted daughter. His world-view shattered, Javert commits suicide, and Valjean at last attains the peace he has sought for so long.Epic, grand and uplifting, LES MISÉRABLES packs an emotional wallop that has thrilled audiences all over the world. The sung-through pop opera is ideal for a cast of exceptional singers and overflows with melodies that are already standards. A spectacle on Broadway and in London, LES MISÉRABLES is equally effective with a minimal set; it is its powerful affirmation of the human spirit that has made LES MISÉRABLES a popular masterpiece.
Click Here for More Information
TARZAN
OMAHA THEATRE COMPANY FOR YOUNG PEOPLE
6/6-6/22/2014
Based on Edgar Rice Burrough's Tarzan of the Apes and the smash-hit 1999 Disney animated film, TARZAN tells the story of an infant boy orphaned on the shores of West Africa. Taken in and raised by a tribe of gorillas, the young boy strives for acceptance by his ape father while grappling with his uniqueness. When a human expedition enters their territory, Tarzan - now a man - encounters strangers like himself for the first time. TARZAN features music and lyrics by pop icon
Phil Collins
, including the Grammy and Oscar winning song, "You'll Be in My Heart", and book by Tony Award-winning playwright,
David Henry Hwang
.
Click Here for More Information
TARZAN®
The Rose Theater
6/6-6/22/2014
After a storm leaves Tarzan orphaned in the jungle, he is adopted by a caring family of apes. As he grows, he realizes he is not like them-a fact his gorilla father never lets him forget. When humans arrive in the jungle, Tarzan is suddenly caught between two worlds in this beautiful adaptation of the Disney film.
Click Here for More Information
YOUNG FRANKENSTEIN
OMAHA COMMUNITY PLAYHOUSE
5/30-6/29/2014
IT'S ALIVE! From the creators of the record-breaking Broadway sensation THE PRODUCERS comes this monster new musical comedy.With such memorable tunes as "The Transylvania Mania," "He Vas My Boyfriend" and "Puttin' On The Ritz," YOUNG FRANKENSTEIN is scientifically-proven, monstrously good entertainment"¦and the only place you'll witness a singing and dancing laboratory experiment in the largest tuxedo ever made.
Click Here for More Information
SCHOOLHOUSE ROCK LIVE!
POST PLAYHOUSE INC
5/30-8/9/2014
A pop culture phenomenon comes to the musical stage!The Emmy Award-winning 1970's Saturday morning cartoon series that taught history, grammar, math, and more through clever, tuneful songs is not only making a small-screen comeback, it's lighting up stages everywhere -- from school multi-purpose rooms to university and regional theatres all around the country.SCHOOLHOUSE ROCK LIVE! follows Tom, a nerve-wracked school teacher who is nervous about his first day of teaching. He tries to relax by watching TV when various characters representing facets of his personality emerge from the set and show him how to win his students over with imagination and music, through such songs as "Just A Bill," "Lolly, Lolly, Lolly," and "Conjunction Junction."With its minimal band, set, costume and flexible cast requirements, SCHOOLHOUSE ROCK LIVE! may be performed in virtually any space, bringing its infectious zest to a cross-generational audience.
Click Here for More Information
View All Show Listings for Omaha
Click Here to View BroadwayWorld.com Omaha Calendar
Related Articles
From This Author BWW