Now Playing Onstage in Oklahoma - Week of 7/07/2013
View All Show Listings for Oklahoma
Click Here to View BroadwayWorld.com Oklahoma Calendar
THE KING AND I
Civic Center Music Hall - Thelma E. Gaylord Performing Arts Theatre
7/9-7/13/2013
Considered one of the greatest musicals of all time, THE KING AND I is a delight for the whole family! With beloved songs like "Shall We Dance" and "Getting to Know You," see Anna and the King of Siam struggle towards mutual respect in this unique love story.
Click Here for More Information
RING ROUND THE MOON
Oklahoma Shakespeare In The Park
6/27-7/13/2013
Set in a romantic French garden, the story centers on twin brothers. When one brother thinks his twin is entering a loveless marriage, he plans an evening of charades to save his sibling. What follows is a night of mistaken identities and misguided love affairs with unexpectedly happy results. Filled with charm and sparkling wit, Ring Round the Moon is a lavish romp where fairy-tale dreams come true.
Click Here for More Information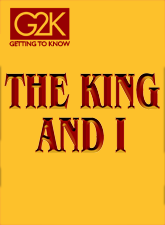 THE KING AND I
Lyric Theatre of Oklahoma
7/9-7/14/2013
The 'G2K' Getting To Know Series: Uniquely adapted musicals specifically for youth performers. East versus West makes for a dramatic, richly textured and ultimately uplifting tale of enormous fascination. It is 1862 in Siam when an English widow,
Anna Leon
owens, and her young son arrive at the Royal Palace in Bangkok, having been summoned by the King to serve as tutor to his many children and wives. The King is largely considered to be a barbarian by those in the West and he seeks Anna's assistance in changing his image, if not his ways. With both keeping a firm grip on their respective traditions and values, Anna and the King grow to understand and, eventually, respect one another, in a truly unique love story. In this adaptation for pre-high school students, the content has been edited to better suit younger attention spans, but all the magic and beauty of the original are still in place. You and your students will be enchanted by the timeless story and the dazzling score, while at the same time learning about theater and its production. PLEASE NOTE: All schools wishing to peruse or perform a G2K musical should apply through theMusic by Rodgers, Richard; Book and Lyrics by
Oscar Hammerstein
II
Click Here for More Information
OUT OF STERNO
Carpenter Square Theatre
6/28-7/20/2013
"Out of Sterno" is a coming-of-age play in an Alice in Wonderland world. It explores the triumph and heartbreak of growing up, and the contradictory societal pressures women face just trying to make it across town! Dotty's life in Sterno with her husband Hamel is absolutely perfect! It's a fairy tale, it really is. True, in their seven years of marriage Hamel has forbidden her to leave their tiny apartment or speak to anyone, but Dotty is so very happy to spend her days watching video re-enactments of the day they first met. When a phone call from a mysterious woman threatens to tear her world asunder, Dotty must venture out into the vast city of Sterno, and try to discover what it is to be a "real" woman.
Click Here for More Information
GREATER TUNA
CityRep
5/31-7/21/2013
CitySpace: -
Ed Howard
,
Joe Sears
,
Jaston Williams
; dir: Steve Emerson.
Click Here for More Information
9 TO 5: THE MUSICAL
The Poteet Theatre
7/12-8/4/2013
Pushed to the boiling point by their boss, three female co-workers concoct a plan to get even with the sexist, egotistical, lying, hypocritical bigot they call their boss. They conspire to take control of their company and learn there's nothing they can't do -- even in a man's world. Set in the late 1970s, 9 TO 5: THE MUSICAL is a hilarious story of friendship and revenge in the Rolodex era. Outrageous, thought-provoking, and even a little romantic, 9 TO 5: THE MUSICAL is about teaming up and taking care of business.
Click Here for More Information
View All Show Listings for Oklahoma
Click Here to View BroadwayWorld.com Oklahoma Calendar
Related Articles
From This Author BWW