Driving Miss Daisy at Gallery Players
Dates

2/20/2021 - 3/7/2021

Theatre


Brooklyn,NY




Gallery Players
Alfred Uhry

Driving Miss Daisy portrays the relationship between an elderly Southern woman, Daisy and her chauffeur, Hoke Colburn, over a period of three decades from the 1940's to the 1970's. When Daisy's son, Boolie (portrayed by David Key), hires a new African American chauffeur for his Southern born and bred (and prejudiced) mother, ideas about tolerance, prejudice and friendship are put to the ultimate test in this wonderful American Pulitzer Prize winning- drama.

News About Driving Miss Daisy at Gallery Players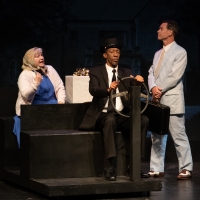 Photo Coverage: First look at Gallery Players' DRIVING MISS DAISY
September 12, 2019
Set in Atlanta, 1948, this Pulitzer Prize winning play and Academy Award winner for Best Picture is the uplifting story of Daisy, a retired Jewish schoolteacher, and her African-American chauffeur, Hoke. As different as they first seem, their time together reveals a deep affection for each other, born in part from their shared experiences as minorities in a post-war South that simmers with violence. By turns hilarious and deeply moving, the relationship between Daisy and Hoke is a testament to the life-altering power of friendship. One-act play appropriate for middle school and up. Performances are Sept 14th thru the 22nd. Gallery Players, 1125 College Ave., Columbus, Ohio 43209. Please visit jccgalleryplayers.org to get specific show times and purchase tickets.