Evening Crane Theatre To Host Gothic Banquet For A Ghost In The Mirror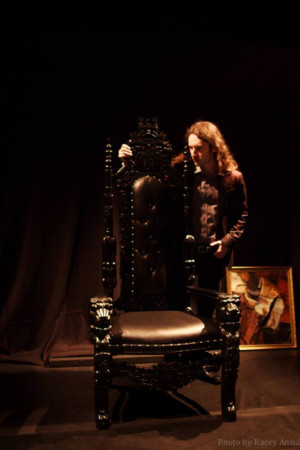 "I have heard it said dead faces sometimes appear in mirrors to reveal the fates of the living..."
So begins the strange encounter between Violet Begonne, widow and mistress of a crumbling castle, her several dinner guests, and a ghost in a mirror, in the new play Enoptromancy, Or When We Meet As One, coming to Theatre 80 St. Marks Off-Broadway on April 23rd in a world premiere production by The Evening Crane Theatre.
Set in the dining chamber of a gothic castle, the play finds eight characters assembled for a funeral dinner after the sudden death of their old friend, Nicholas Begonne. At table is the hostess Violet, her loyal yet brooding Mastiff, the senescent and cryptic figure of Dust, the Songstress, the Ferrywoman, the King without a grave, and the dead man's lawyer, the Duchess Anemoon. By evening's end, Violet and her guests find themselves unexpectedly confronted by a visage of the dead and several unnerving questions of fate.
The cast is led by Hannah Hasseloey as Violet Begonne, Matthew Tiemstra as the Mastiff, Johnny Segalla as the Dead King, and Elizabeth Cardaropoli as the Duchess Anemoon. Erin Noll plays Dust, and Storm Garner rejoins the company as the Songstress, having previously played the arch-villain Stralenheim in The Evening Crane Theatre's 2016 production of Lord Byron's Werner, or The Inheritance. The cast is completed by Arianna Wellmoney as Jane Begonne, Christopher Ellis as the Apparition in the Mirror, and Jake Minter as Balthazar.
Playwright/director Michael Seebold describes the show as "between ghost story and dark romance," and recommends audiences come prepared for an evening of theatre at once eerie and lyrical. The production is the latest in an ongoing series of original plays and revivals of nineteenth-century scripts from The Evening Crane Theatre, following their 2016-2017 season of the verse plays of Lord Byron Off-Broadway, and their Halloween 2017 NYC premiere of the award-winning show The Spyglass Seven, which found the ghost of Edgar Allan Poe resurrected from the grave for one night in a cemetery and revisited by the spirits of several of the poet's contemporaries.
Enoptromancy, Or When We Meet As One opens April 23rd at 7 PM at Theatre 80 St. Marks. Doors at 6:30. Tickets start at $10 and are on sale now at: https://theatre80.wordpress.com/evening-crane-theatre-presents-enoptromancy-or-when-we-meet-as-one/
For more information on The Evening Crane Theatre, future casting calls, and updates on forthcoming productions, follow them on Facebook: https://www.facebook.com/eveningcrane/
More Hot Stories For You