Now Playing Onstage in New Orleans - Week of 10/14/2012
View All Show Listings for New Orleans
Click Here to View BroadwayWorld.com New Orleans Calendar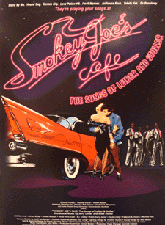 SMOKEY JOE'S CAFE - THE SONGS OF LEIBER AND STOLLER
Northwestern State University
10/11-10/20/2012
Leiber and Stoller, as much as anyone, virtually invented rock 'n' roll, and now their songs provide the basis for an electrifying entertainment that illuminates a golden age of American culture. In an idealized '50's setting, the classic themes of love won, lost and imagined blend with hilarious set-pieces and slice-of-life emotions. Featuring nearly 40 of the greatest songs ever recorded, SMOKEY JOE'S CAFE isn't just great pop music - it's compelling musical theatre.Words and Music by Leiber & StollerFor more information on Northwestern State University, click hereFor more information on Smokey Joe's Cafe - The Songs of Leiber and Stoller, click here
Click Here for More Information
---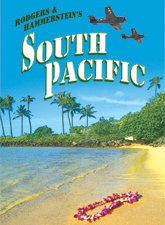 SOUTH PACIFIC
Barbe High School
10/11-10/20/2012
Set in an island paradise during World War II, two parallel love stories are threatened by the dangers of prejudice and war. Nellie, a spunky nurse from Arkansas, falls in love with a mature French planter, Emile. Nellie learns that the mother of his children was an island native and, unable to turn her back on the prejudices with which she was raised, refuses Emile's proposal of marriage. Meanwhile, the strapping Lt. Joe Cable denies himself the fulfillment of a future with an innocent Tonkinese girl with whom he's fallen in love out of the same fears that haunt Nellie. When Emile is recruited to accompany Joe on a dangerous mission that claims Joe's life, Nellie realizes that life is too short not to seize her own chance for happiness, thus confronting and conquering her prejudices.Music by Rodgers, Richard; Lyrics by
Oscar Hammerstein
II; Book by
Oscar Hammerstein
II &
Joshua Logan
; Adapted from the Pulitzer Prize winning novel For more information on Barbe High School, click hereFor more information on South Pacific, click here
Click Here for More Information
---
FRECKLEFACE STRAWBERRY THE MUSICAL
THEATRE 13
10/12-10/21/2012
Freckleface Strawberry was just like every other girl ? except she had bright red hair and something worse?FRECKLES!FRECKLEFACE STRAWBERRY THE MUSICAL, based on the beloved New York Times Best Selling book by celebrated actress
Julianne Moore
, is a brand new family musical. You and your family can step inside the book's pages with Freckleface and friends as they learn to love the skin they're in. And what a story you'll see! Freckleface Strawberry will do anything to get rid of her freckles ? from scrubbing them with soap, to caking on makeup, and even wearing a ski mask to school! Will her schoolmates realize it's her under the mask? Will Freckleface be brave enough to finally face her complexion in the mirror?With the help of her loveable schoolmates including an amazingly talented ballerina, a cutie jock, a charming ditz, and a totally kooky teacher, Freckleface learns that everyone is different - and that's what makes everyone special!With soaring live music, awesome dancing? and a freckleface full of laughs, your whole family will love this brand new musical for all ages . . . freckles or not!
Click Here for More Information
---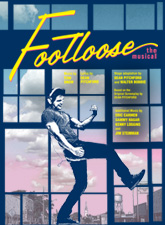 FOOTLOOSE
Pineville High School
10/18-10/21/2012
One of the most explosive movie musicals in recent memory bursts onto the live stage with exhilarating results. When Ren and his mother move from Chicago to a small farming town, Ren is prepared for the inevitable adjustment period at his new high school. What he isn't prepared for are the rigorous local edicts, including a ban on dancing instituted by the local preacher, determined to exercise the control over the town's youth that he cannot command in his own home. When the reverend's rebellious daughter sets her sights on Ren, her roughneck boyfriend tries to sabotage Ren's reputation, with many of the locals eager to believe the worst about the new kid. The heartfelt story that emerges is of a father longing for the son he lost and of a young man aching for the father who walked out on him. To the rockin' rhythm of its Oscar and Tony-nominated top 40 score (the soundtrack album reached number one on the Billboard charts and has sold over 15 million copies!) and augmented with dynamic new songs for the stage musical, FOOTLOOSE celebrates the wisdom of listening to young people, guiding them with a warm heart and an open mind.Music by
Tom Snow
; Stage Adaptation by
Dean Pitchford
and
Walter Bobbie
; Lyrics by
Dean Pitchford
; Based on the original screenplay by
Dean Pitchford
; Additional Music by
Eric Carmen
,
Sammy Hagar
,
Kenny Loggins
and
Jim Steinman
For more information on Pineville High School, click hereFor more information on Footloose, click here
Click Here for More Information
---
PIPPIN
SLIDELL LITTLE THEATRE
10/12-10/28/2012
Once upon a time, a young prince longed to discover the secret of true happiness and fulfillment. He sought it in the glories of the battlefield,
The Temptations
of the flesh and the intrigues of political power (after disposing of his father King Charlemagne the Great). In the end, he found it in the simple pleasures of home and family. PIPPIN is a hip, tongue-in-cheek, anachronistic fairy tale that captivated Broadway audiences and continues to appeal to the young at heart everywhere (the show has become a staple on high school and college campuses). The energetic pop-influenced score by three-time Oscar®-winning composer/lyricist
Stephen Schwartz
(GODSPELL, CHILDREN OF EDEN, and the animated films Pocahontas, The Hunchback Of Notre Dame and The Prince Of Egypt) bursts with one showstopping number after another, from soaring ballads to infectious dance numbers. Featuring a strong ensemble cast and a show-stealing song-and-dance narrator, PIPPIN is equally effective as an intimate, black-box production (as envisioned by the authors) or as original director/choreographer Bob Fosse?s splashy, dance-driven spectacle, which included some of the most brilliant staging in Broadway history.
Click Here for More Information
---
View All Show Listings for New Orleans
Click Here to View BroadwayWorld.com New Orleans Calendar
Related Articles
From This Author BWW