Now Playing Onstage in New Jersey - Week of 12/02/2012
View All Show Listings for New Jersey
Click Here to View BroadwayWorld.com New Jersey Calendar
XANADU
EDISON HIGH SCHOOL
11/30-12/7/2012
XANADU follows the journey of a magical and beautiful Greek muse, Kira, who descends from the heavens of Mt. Olympus to Venice Beach, California in 1980 on a quest to inspire a struggling artist, Sonny, to achieve the greatest artistic creation of all time - the first ROLLER DISCO! (Hey, it's 1980!) But, when Kira falls into forbidden love with the mortal Sonny, her jealous sisters take advantage of the situation and chaos abounds. This hilarious, roller skating, musical adventure about following your dreams despite the limitations others set for you, rolls along to the original hit score composed by pop-rock legends
Jeff Lynne
and
John Farrar
, and includes, "Magic", "All Over The World", "Suddenly", "I'm Alive", "Evil Woman", "Have You Never Been Mellow" and "Xanadu", to name a few, and is based on the
Universal Pictures
' cult classic movie of the same title, which starred
Olivia Newton-John
and
Gene Kelly
. It's hilarity on wheels for adults, children and anyone who has ever wanted to feel inspired, as one of Broadway's master storytellers,
Douglas Carter Bean
e, weaves a moving, electrifying tale of endless fun that will keep you in stitches, while the original, legendary chart-topping tunes lift you out of your seat. You'll want to keep the music in your head, and XANADU in your heart, forever.
Click Here for More Information
A RAISIN IN THE SUN
Philip J. Levin Theater
11/30-12/8/2012
By
Lorraine Hansberry
Friday, November 30-Sunday, December 9 Performances: Tuesdays through Saturdays at 8 p.m. and Sundays at 2 p.m.
Click Here for More Information
HONK! JR
PORCH LIGHT PRODUCTIONS
12/7-12/8/2012
In the London season featuring the appearance of THE LION KING, HONK! became a stand-out by winning the 2000 Olivier Award (the British equivalent of the Tony® Award) for Best New Musical. HONK! JR. is a contemporary retelling of
Hans Christian Andersen
's The Ugly Duckling with a JOSEPH...DREAMCOAT-esque score that everyone will enjoy. HONK! JR. can be performed with simple sets and costumes. No feathers or fur necessary--making it the perfect Broadway Junior musical!
Click Here for More Information
DAMN YANKEES
ST AUGUSTINE PREPARATORY SCHOOL
12/6-12/8/2012
Faust meets professional baseball in the Broadway classic DAMN YANKEES. Middle-aged baseball fanatic Joe Boyd trades his soul to the Devil, also known as Mr. Applegate, for a chance to lead his favorite team to victory in the pennant race against the New York Yankees. As young baseball sensation Joe Hardy, he transforms the hapless Washington Senators into a winning team, only to realize the true worth of the life he's left behind. Joe ultimately outsmarts Applegate, returns to his former self, and shepherds the Senators to the World Series.Light, fast-paced and devilishly clever, DAMN YANKEES is a home-run hit featuring all-American subject matter and an irreverent sense of humor. The perfect choice for a high school's spring musical or community theatre production, DAMN YANKEES is sure to please.
Click Here for More Information
ANNIE WARBUCKS
MOORESTOWN THEATER COMPANY
11/30-12/8/2012
The world's favorite orphan returns in ANNIE WARBUCKS, the sequel to the international smash hit ANNIE. All the ingredients that made ANNIE so successful are here once again, with an old-fashioned romance thrown in for good measure!The action picks up where ANNIE left off: Christmas morning, 1933. Amidst celebration, Child Welfare Commissioner, Harriet Doyle, arrives to inform Daddy Warbucks that he must marry within the next sixty days or he will lose the newly-adopted Annie from his family. Daddy Warbucks' whirlwind search for a bride uncovers not only a plot by Doyle and her daughter to strip him of his fortune, but also his true feelings for secretary
Grace Farrell
.This family-friendly musical is a wonderful opportunity to showcase a diverse cast of characters with strong vocal and acting abilities. The show also includes a large featured ensemble, making it the perfect choice for middle schools, high schools, and community theaters!
Click Here for More Information
SEUSSICAL
WYCKOFF FAMILY YMCA
12/6-12/9/2012
Now one of the most performed shows in America, SEUSSICAL is a fantastical, magical, musical extravaganza! Tony winners
Lynn Ahrens
and
Stephen Flaherty
(LUCKY STIFF, MY FAVORITE YEAR, ONCE ON THIS ISLAND, and RAGTIME) have lovingly brought to life all of our favorite
Dr. Seuss
characters, including Horton the Elephant, The Cat in the Hat, Gertrude McFuzz, lazy Mayzie, and a little boy with a big imagination--Jojo. The colorful characters transport us from the Jungle of Nool to the Circus McGurkus to the invisible world of the Whos.The Cat in the Hat tells the story of Horton, an elephant who discovers a speck of dust containing Whos, including Jojo, a Who child sent off to military school for thinking too many "thinks." Horton faces a double challenge--not only must he protect the Whos from a world of naysayers and dangers, but he must guard an abandoned egg, left to his care by the irresponsible Mayzie La Bird. Although Horton faces ridicule, danger, kidnapping, and a trial, the intrepid Gertrude McFuzz never loses faith in him. Ultimately, the powers of friendship, loyalty, family, and community are challenged and emerge triumphant.SEUSSICAL is fun for the whole family! Performers of all ages will be excited to portray the characters from the familiar
Dr. Seuss
fables. This musical provides wonderful creative opportunities for set, lighting, and costume design.More Ahrens and FlahertyFor complet
Click Here for More Information
ANNIE JR
ART HOUSE PRODUCTIONS
12/6-12/9/2012
Leapin' Lizards! The popular comic strip heroine takes center stage in one of the world's best-loved musicals. With equal measures of pluck and positivity, little orphan ANNIE charms everyone's hearts, despite a next-to-nothing start in 1930s New York City. She is determined to find her parents, who abandoned her years ago on the doorstep of a New York City Orphanage run by the cruel, embittered Miss Hannigan. With the help of the other girls in the Orphanage, ANNIE escapes to the wondrous and magical world of NYC. In adventure after fun-filled adventure, ANNIE foils Miss Hannigan's evil machinations and befriends President Franklin Delano Roosevelt. She finds a new home and family in billionaire Oliver Warbucks, his personal secretary
Grace Farrell
, and a lovable mutt named Sandy.ANNIE JR. is ideal for productions involving different grade levels, or for middle schools where students may be maturing at different rates. The cast size and age range of the parts are flexible and the bright, tuneful score is easy to sing and filled with familiar numbers.
Click Here for More Information
LA DISPUTE
Mason Gross School of the Arts
12/4-12/9/2012
Directed by
Moritz von Stuelpnagel
Click Here for More Information
HOW TO SUCCEED IN BUSINESS...TRYING
BAYONNE HIGH SCHOOL
12/7-12/9/2012
Power, sex, ambition, greed... it's just another day at the office. From the authors of GUYS AND DOLLS comes one of the most delightfully irreverent musicals of all time. A satire of big business and all it holds sacred, HOW TO SUCCEED IN BUSINESS WITHOUT REALLY TRYING follows the rise of J. Pierrepont Finch, who uses a little handbook called "How To Succeed In Business Without Really Trying" to climb the corporate ladder from lowly window washer to high-powered executive, tackling such familiar but potent dangers as the aggressively compliant "company man," the office party, backstabbing co-workers, caffeine addiction and, of course, true love.Winner of the 1962 Pulitzer Prize for Drama, HOW TO SUCCEED melds wit, comedy, and romance together to perfection. This show requires a large cast, featuring many roles for all types of performers.
Click Here for More Information
DISNEY'S CAMP ROCK THE MUSICAL
CRANFORD DRAMATIC CLUB
12/7-12/9/2012
Disney's CAMP ROCK: The Musical, based on the hit Disney Channel Original Movies Camp Rock and Camp Rock 2: The Final Jam (starring teen idols
Demi Lovato
and the
Jonas Brothers
) will fire up your stage with over a dozen songs, including "This Is Me,"? "Can't Back Down,"? "It's On,"? and "We Rock."?A classic story of rivalry and power, Disney's CAMP ROCK: The Musical opens with Mitchie and her friends arriving at Camp Rock, ready to spend another summer jamming out and having the time of their lives. But the new, flashy Camp Star across the lake now threatens Camp Rock's very existence. To keep the doors open, Mitchie steps up, rallies her fellow Camp Rockers, and gets them into top shape for the ultimate showdown! Disney's CAMP ROCK: The Musical features a large ensemble cast with many featured roles. Whether your students are singers, actors, dancers, or triple threats, everyone has an opportunity to shine in this high-energy show!
Click Here for More Information
A YEAR WITH FROG AND TOAD
HACKENSACK CULTURAL ARTS CENTER
11/30-12/10/2012
Arnold Lobel
's well-loved characters hop from the page to the stage in Robert and
Willie Reale
's Tony-nominated musical A YEAR WITH FROG AND TOAD. This whimsical show follows two great friends -- the cheerful, popular Frog and the rather grumpy Toad -- through four, fun-filled seasons.Waking from hibernation in the Spring, Frog and Toad plant gardens, swim, rake leaves, go sledding, and learn life lessons along the way. The two best friends celebrate and rejoice in their differences that make them unique and special. Part vaudeville, part make believe, all charm, A YEAR WITH FROG AND TOAD tells the story of a friendship that endures, weathering all seasons.The jazzy, upbeat score of A YEAR WITH FROG AND TOAD bubbles with melody and wit, making it an inventive, exuberant, and enchanting musical for the whole family. It is a perfect show to be performed by an ensemble group of actors and can be produced with either simple or extravagant staging and sets.
Click Here for More Information
BIG
Haddonfield Plays and Players
11/29-12/16/2012
When frustrated adolescent Josh Baskin wishes he were "big" and wakes up the next morning a 30-year-old man, he discovers there's much more to being an adult than he's bargained for--and learns we must all grow up at our own pace, in our own time. Performances: Thursday, November 29 at 7:30pm Friday, November 30 at 8:00pm Saturday, December 1 at 8:00pm Sunday, December 2 at 2:00pm Friday, December 7 at 8:00pm Saturday, December 8 at 8:00pm Sunday, December 9 at 2:00pm Wednesday, December 12 at 8:00pm Friday, December 14 at 2:00pm Saturday, December 15 at 8:00pm
Click Here for More Information
THE LION, THE WITCH AND THE WARDROBE
Sommerset Valley Players
11/30-12/16/2012
For more information, visit the website.
Click Here for More Information
A CLASSIC CHRISTMAS
Broadway Theatre of Pitman
12/7-12/16/2012
This Holiday season, bring your entire family to the Theatre to spend an entertaining night with us as we relive some of the famous Christmas specials of the 50's, 60's and beyond and pay homage to those memorable television specials. Featuring your favorite actors and songs from our Broadway Theatre family over the years, some of the classics you will be hearing include Silver Bells The Christmas Waltz, a new twist on Jingle Bell Rock, a very special encore performance from Tom and the Guzziettes and many more. Our Broadway Theatre family looks forward to spending another wonderful Christmas with your family, so please join us for what is guaranteed to be a fun-filled festive evening.
Click Here for More Information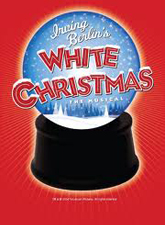 WHITE CHRISTMAS
Surflight Theatre
11/23-12/21/2012
Based on the beloved, timeless film, this heartwarming musical adaptation features seventeen
Irving Berlin
songs and a book by
David Ives
and
Paul Blake
. Veterans Bob Wallace and Phil Davis have a successful song-and-dance act after World War II. With romance in mind, the two follow a duo of beautiful singing sisters en route to their Christmas show at a Vermont lodge, which just happens to be owned by Bob and Phil's former army commander. The dazzling score features well known standards including Blue Skies, I Love A Piano, How Deep Is the Ocean and the perennial favorite, White Christmas. WHITE CHRISTMAS is an uplifting musical worthy of year-round productions.Music and Lyrics by
Irving Berlin
; Based Upon the
Paramount Pictures
Film Written For the Screen by
Norman Krasna
,
Norman Panama
and
Melvin Frank
; Book by
David Ives
&
Paul Blake
For more information on Surflight Theatre, click hereFor more information on White Christmas, click here
Click Here for More Information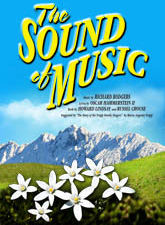 THE SOUND OF MUSIC
Paper Mill Playhouse
11/23-12/30/2012
The final collaboration between Rodgers & Hammerstein was destined to become the world's most beloved musical. When a postulant proves too high-spirited for the religious life, she is dispatched to serve as governess for the seven children of a widowed naval Captain. Her growing rapport with the youngsters, coupled with her generosity of spirit, gradually captures the heart of the stern Captain, and they marry. Upon returning from their honeymoon they discover that Austria has been invaded by the Nazis, who demand the Captain's immediate service in their navy. The family's narrow escape over the mountains to Switzerland on the eve of World War II provides one of the most thrilling and inspirational finales ever presented in the theatre. The motion picture version remains the most popular movie musical of all time.Music by Rodgers, Richard; Lyrics by
Oscar Hammerstein
II; Book by
Howard Lindsay
&
Russel Crouse
; Suggested by For more information on
Paper Mill Playhouse
, click hereFor more information on The Sound of Music, click here
Click Here for More Information
View All Show Listings for New Jersey
Click Here to View BroadwayWorld.com New Jersey Calendar
Related Articles
From This Author BWW