Haley Ostir Joins JERSEY BOYS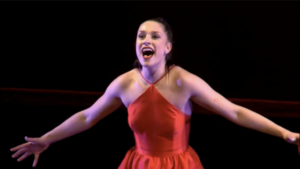 Haley Ostir is a success story.
The Canadian-born triple threat is currently working with the original Broadway team to be a part of national tours, cruise lines ... and the current Off-Broadway run of the Broadway smash, Jersey Boys.
The Boston Conservatory graduate studied voice with Lisa Sheldon and then appeared in numerous regional productions including Disney's Beauty and the Beast before her audition was seen by Frankie Valli himself.
It wasn't immediate. After many callbacks, she didn't make the cut but six months later she received a chance to audition again, this time she made it to the finals. Six more months went by and just as she thought it was over, she received a call saying she made the cast.
Now, she finds herself working with members of the original Broadway production for the tour and off-Broadway run - Danny Austin, Richard Hester, , Bryan Hindle, Jenn Rapp and director, Des McAnuff. "I feel incredibly lucky to be learning from the best and on such an incredible show" she said.
Haley attributes her success to the Alliance of Alien Artists. "It's honestly nice to be a part of a community of artists like me, dealing with the same things... It's a place for me to go for advice, questions that need answers, a support system or seek out other performance opportunities."