Click Here for More Articles on THE BOOK OF MORMON
BWW Review: THE BOOK OF MORMON Returns to Columbus and They're Still Something Incredible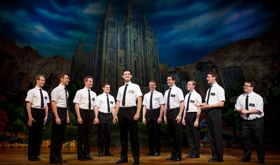 Hello, again. Columbus was glutton for punishment when THE BOOK OF MORMON returned to the Ohio Theatre for another blasphemous yet gut-wrenchingly hilarious week of musical theatre genius. This time, the audience was snickering and giggling while they shuffled in their seats before the show even began. They knew they were about to embark on a show that can say "F-You, God" and still have the Mormon church take out a full page ad in the Playbill. This is the brilliance of South Park writers, Trey Parker and Matt Stone, along with AVENUE Q co-creator Robert Lopez, who can cleverly win over people of all faith by poking fun at the Mormons with crass language that borders sacrilege. Why? Because at its core is a heartfelt story of brotherhood and self-discovery with lovable young men finding their way in a world ruled by uniformity and restriction.
THE BOOK OF MORMON follows two new randomly selected Mormon missionaries from Salt Lake City who are sent out to a remote village in Uganda to teach their faith and baptize new members into the church. Tall, handsome yet narcissistic Elder, Kevin Price (played by Kevin Clay), along with short, stout but lovable Elder, Arnold Cunningham (Conner Peirson) venture out into a land plagued with poverty, famine, and scrotum-threatening disease.
The two meet up with other members of the Mormon church who have been unsuccessful at converting the village for three months. Price and Cunningham then set out on a spiritual and emotional transformational journey where not only do they convert the African village to Mormonism, but they themselves discover a personal transformation of their own.
I had the privilege of seeing this production in Columbus four years ago, and was thrilled to witness this New Era of young missionaries return to the Buckeye state. Dynamic duo Kevin Clay and Conner Peirson are absolutely brilliant in their respective roles and have incredible chemistry together. Peirson especially brought down the house with his teddy-bear appeal, impressive chops, and pure comedic genius.
This cast is truly exceptional and deserves the highest praise. Kayla Pecchioni radiates as the naive and eager Nabulungi who believes wholeheartedly in Cunningham's warped version of the Mormon faith. Andy Huntington Jones steals the scene as Elder McKinley, who leads the evangelists as the suppressed gay missionary in the big dance number, "Turn It Off," and Ron Bohmer excels in multiple roles as Joseph Smith and Price's Dad.
THE BOOK OF MORMON is a shocking jolt of musical theatre with catchy songs, clever humor, and a tender journey of brotherhood. Although the language is rude, harsh, and downright insulting at times, this is one of the most creatively spectacular shows you will ever witness.
This is your last chance to catch THE BOOK OF MORMON in Columbus! Tickets are available at the CAPA Ticket Center (39 E. State St.), all Ticketmaster outlets, by visiting ticketmaster.com, or by calling 614.469.0939. Group orders of 10 or more may be placed by calling 614.719.6900.
Related Articles
Christina Mancuso, a mother of 3, has traveled to well over 70 cities on various Broadway National Tours. She is now residing in her hometown (read more...)