BWW Review: BOOK OF MORMON Wows 'em in Nashville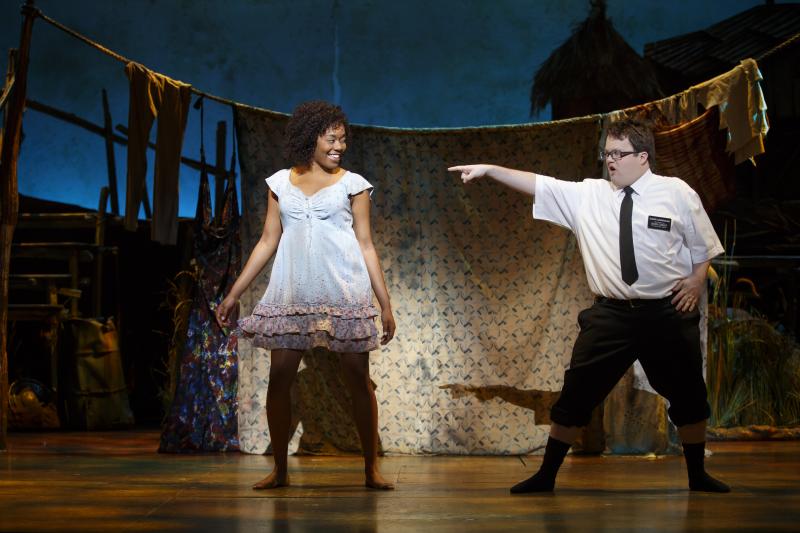 You gotta admit: A lot has changed in this world since Nashville audiences were first treated to The Book of Mormon two years ago. The extended run in 2014 at Tennessee Performing Arts Center set records for ticket sales, garnered great critical acclaim and knocked the socks off the thousands of people witnessing the bold, brash and irreverent musical for the very first time.
Now, through Sunday at least, audiences have a chance to board the theatrical transport machine once more, to be whisked away to the fierce and fanciful world created by Trey Parker, Robert Lopez and Matt Stone in their proudly profane and amazingly entertaining musical. The Book of Mormon is still just as good - maybe even better - in 2016 and the show may just be what you need to slough off the ravages of a seemingly never-ending presidential election. From the very first moments of the show, you'll find yourself alternately laughing and guffawing, awestruck by the creative team's efforts while you marvel at the fresh-faced and energetic cast's total commitment to delivering the goods.
If you are a newcomer to the show, be forewarned: Everything you have read about the show or been told about it by friends is probably true, but you are far more likely to be surprised - perhaps even shocked - by what transpires on the expansive Andrew Jackson Hall stage over two-plus hours of fast-paced action. Yes, the subject matter is sort of controversial: It's an in-your-face tale of two young Mormon missionaries sent to Uganda to score some converts to their faith, which, if you peruse the religion's Wikipedia page, will leave you scratching your head about its genesis (not to be confused with the Old Testament book of Genesis, however!). And while BOM pokes (ha! I said "poke") fun at religious convention and conservative thought, it somehow manages to remain somewhat respectful to its subject matter and sweetly sentimental in unexpected ways.
First and foremost, BOM is in many ways a straight-forward Broadway musical, following the conventions of musical theater with an apparent love of the genre (seriously, who knew the guys who created South Park were such musical theater aficionados?) and a clear understanding of what works - and that which does not - in telling a comedic, if thoroughly compelling, story set to music that allows its characters to burst forth in song when their emotions overwhelm them and the only way to express what's happening in their hearts and minds is to sing an upbeat little ditty or heartfelt ballad or in a big, ballsy and brassy production number complete with cute chorus boys tap-dancing their butts off.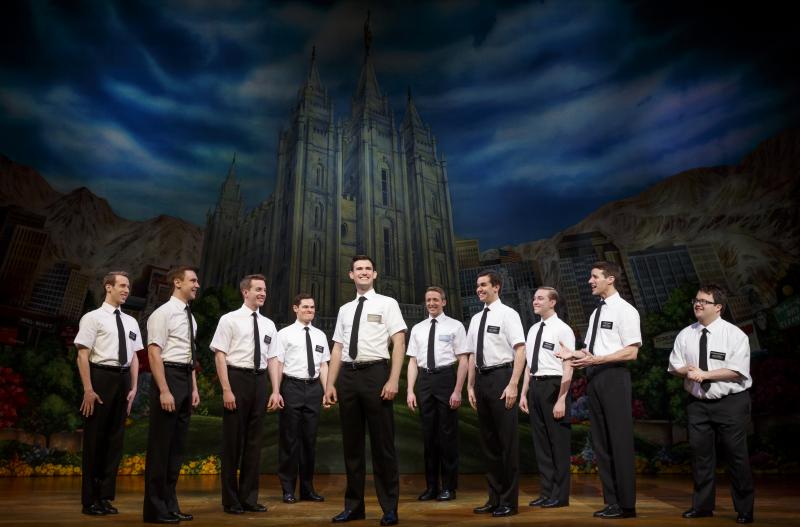 Among the many attributes that sets BOM apart from other musicals - both contemporary and otherwise - is the never-say-die, hold-nothing-back attitude with which the show is infused by its creators. They push the proverbial envelope, to be sure, ripping it to shreds in the process with their colorful use of language that both shocks and cajoles, lulling you into a sense of theatrical transformation that is nothing short of delightful. If you don't leave the theatre, wanting more from this superb cast and crew and the creative team who bring them all together, you obviously didn't pay close enough attention to what was happening before your very eyes.
BOM tells the tale of two Mormon missionaries: Elder Kevin Price (played to perfection by Gabe Gibbs, who has stage presence to spare and a voice to raise the rafters), the ambitious and driven poster boy of the Mormon faith, who is paired for his two-year stint in Uganda with Elder Arnold Cunningham (the gleefully weird anti-Kevin, played with equal ardor by Cody Jamison Strand, whose raucous performance was justifiably acclaimed in 2014, as well). Although the Elders Price and Cunningham are generally well-meaning and kind to a fault, they are ill-prepared to the realities of life modern-day Africa, which is rife with famine, poverty and disease, torn apart by feuding warlords (chief among them, a certain General Butt-Fucking Naked, played by the masterful David Aron Damane, who blusters about ordering the village's women to submit to clitoral circumcision) and the myriad issues that confront Third World inhabitants in the 21st century.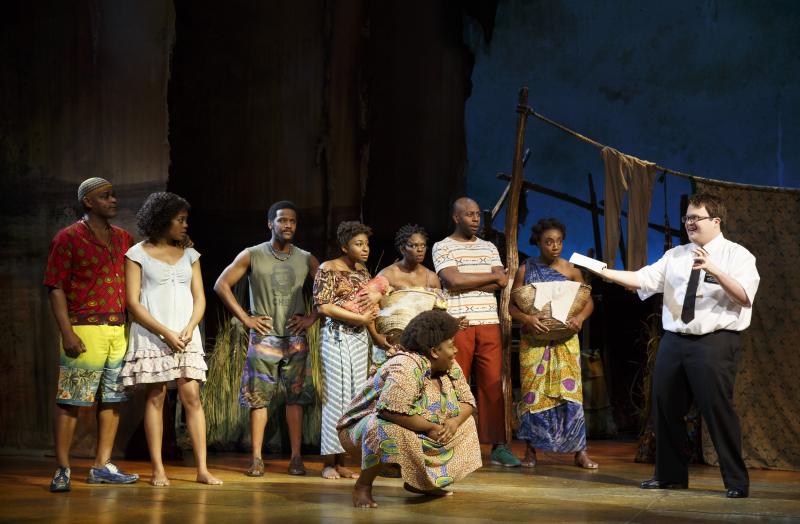 Belmont University musical theater alum Candace Quarrels plays Nabalungi (also variously called "Neosporin," "Neutragena," and "Nostradamus" by Cunningham), the beautiful young villager who greets the Mormon missionaries upon their arrival. Quarrels delivers a riveting performance, managing to convey the genuine hardship of her character's life while showing her hope for something better, underscoring even the most far-fetched dialogue with sincerity and grace and showing off her powerful vocal chops with confidence.
The foul-mouthed villagers (whom we initially meet via the production number "Hasa Diga Ibowe" - which translates to something so profane that we'd be burned at the stake if we told you what it was) include Nabalungi's protective father Mafala (Sterling Jarvis), and the village medico (Johnny Brantley) with maggots in his scrotum, along with a colorful assortment of other characters.
Among the other members of the Mormon mission, who have been unsuccessful in converting even one Ugandan to their church, Daxton Bloomquist leads the way with his flamboyant performance as Elder McKinley, backed up by a chorus of wide-eyed, brightly smiling, All-American types who can stop the show with "Turn it Off," while displaying a great deal of showbiz pizzazz.
Directed by Parker and Broadway veteran Casey Nicholaw (The Drowsy Chaperone, Spamalot), the action in BOM is always moving forward, with transitions that guarantee the collective attention of the audience never wavers, and Nicholaw's showstopping choreography lends a very real sense of entertainment magic that delights and engages. Musical theater has never felt more alive and exciting than it does in Book of Mormon.
Visually, the show gives its audiences much to take in, thanks to the eye-popping costume design by Ann Roth, the Tony Award-winning scenic design by Scott Pask, Brian MacDevitt's terrific - and Tony Award-winning - lighting design (which also scored a Tony win).
The Book of Mormon. Book, music and lyrics by Trey Parker, Robert Lopez and Matt Stone. Directed by Casey Nicholaw and Trey Parker. Music supervision and vocal arrangements by Stephen Oremus. Choreographed by Casey Nicholaw. The Second National Touring Company at the Tennessee Performing Arts Center, Nashville. Through Sunday, November 20. For ticket information, call (615) 782-4040 or go online to www.tpac.org.
photos by Joan Marcus

Related Articles View More NationalTours

Stories

Shows
Jeffrey Ellis is a Nashville-based writer, editor and critic, who's been covering the performing arts in Tennessee for more than 35 years. In 1989, Ellis (read more...)