BWW REVIEW: Women Rule THE KING AND I Tour Now in Worcester
Music by Richard Rodgers; book and lyrics by Oscar Hammerstein II; based upon the novel Anna and the King of Siam by Margaret Landon; directed by Bartlett Sher; choreographer, Christopher Gattelli (based on the original choreography by Jerome Robbins); music supervisor, Ted Sperling; sets, Michael Yeargan; costumes, Catherine Zuber; lighting, Donald Holder; sound, Scott Lehrer; associate director, Sari Ketter; wig and hair design, Tom Watson; associate choreographer, Greg Zane; orchestrations, Robert Russell Bennett; music coordinator, David Lai; music conductor, Gerald Steichen; dance and incidental music arrangements, Trude Rittmann; production stage manager, Peyton Taylor Becker
Cast (principals and featured members):
Jose Llana, King of Siam; Elena Shaddow, Anna Leonowens; Joan Almedilla, Lady Thiang; Brian Rivera, Kralahome; Q Lim, Tuptim; Kavin Panmeechao, Lun Ta; Charlie Oh, Prince Chulalongkorn; Rhyees Stump, Louis Leonowens; Baylen Thomas, Captain Orton/Sir Edward Ramsey; Darren Lee, Phra Alack; Keira Belle Young, Princess Ying Yaowalak; Saki Masuda, Jeoffrey Watson, Royal Court Dancers; Rie Hatanaka, Kelli Youngman, Fan Dancers
Performances and Tickets:
Now through May 20, Hanover Theatre for the Performing Arts, 2 Southbridge Street, Worcester, Mass.; tickets are $51-$91 and available by calling the box office at 877-571-7469 or online at www.thehanovertheatre.org.
Two hours, 55 minutes with one intermission
The national tour of the 2015 Tony Award-winning revival of THE KING AND I, now brightening the Hanover Theatre for the Performing Arts in Worcester, is a perfectly respectable production. The timeless and soaring Rodgers and Hammerstein score is beautifully sung and impeccably played by the 16-piece orchestra, and design elements (especially Catherine Zuber's elegant period costumes) effectively juxtapose the traditions of 1860s Siam against the encroaching modernization of the West. But something is off balance in this Bartlett Sher directed re-visioning. The women, not the King, rule.
From the first sprightly notes of "I Whistle a Happy Tune" to the song's final somber reprise, the British schoolteacher Anna Leonowens (the warm and charming Elena Shaddow) is a smoldering, confident presence. Brought to Siam by the King (a quick-witted Jose Llana) to equip his many wives and children with a more scientific, global perspective, this Miss Anna never seems afraid, even when first disembarking with her young son Louis (Rhyees Stump) into the land that her British peers say is ruled by a barbarian.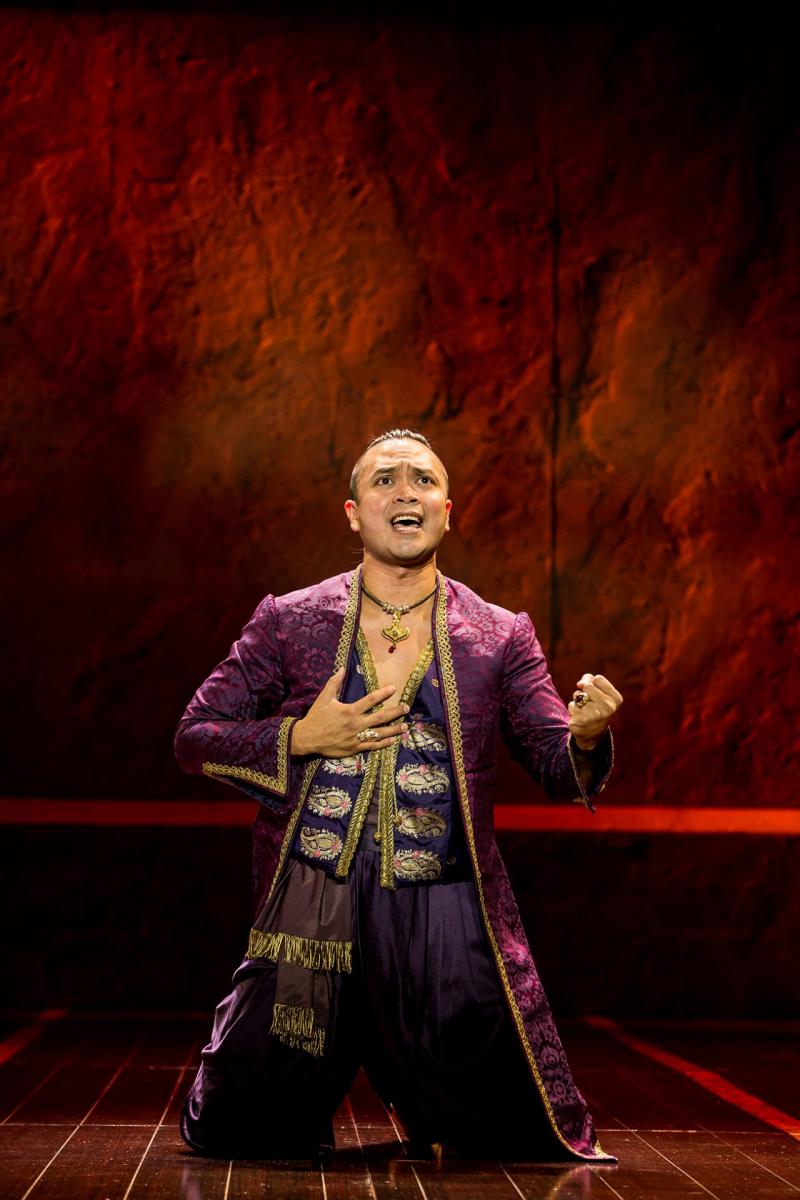 Similarly, the King's "head wife" Lady Thiang (a potent Joan Almedilla), although always deferential in her husband's presence, seems nevertheless to be humoring rather than obeying him. Whether in conversation with Anna or exchanging knowing nods and glances with the King's advisor the Kralahome (Brian Rivera), Lady Thiang appears to be the true power behind the throne.
Even Tuptim (the exquisite Q Lim), the slave girl sent to the King as a present from the King of Burma, is a feminist force. Her latent simmering intensity occasionally erupts into passionate outrage whenever she is faced with the possibility of being separated forever from her lover Lun Ta (Kavin Panmeechao). Despite her very real fear of the consequences of defying the King, she persists in testing his authority anyway. Her dramatic narration of the ballet "The Small House of Uncle Thomas" - her not so subtle protest against slavery - is so commanding that it becomes the centerpiece of the entire show.
The elevation of the personal stakes for these women on the verge of a cultural revolution does inject this revival of THE KING AND I with a welcomed modern sensibility. But something's lost when something's gained, and in this case it is the King who suffers.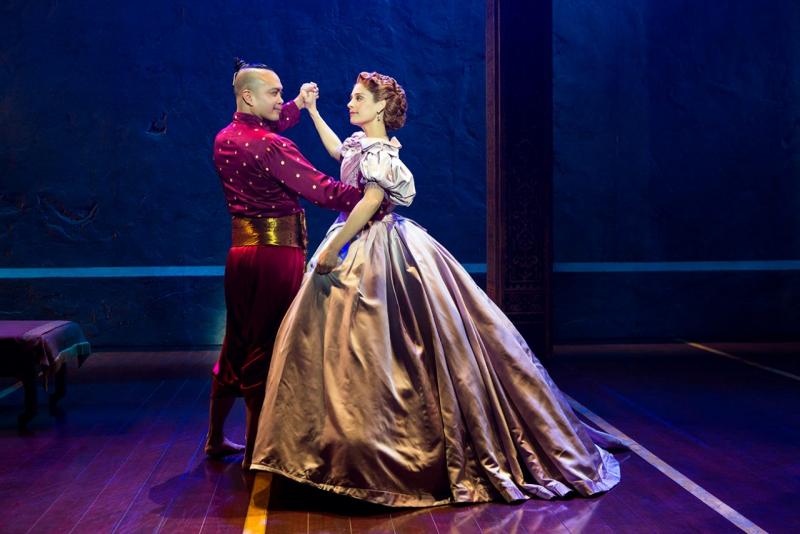 In Llana's portrayal, the King is an affable sort whose attempts to rule with an iron fist seem more like vain protestations than strict orders. This approach is certainly endearing, but a slower melting of his stern autonomy in the face of Anna's exasperating determination would raise the temperature between them considerably. It would also make their pivotal moment of discovery during "Shall We Dance?" more heated romantically.
Despite the fact that its view of Siam is tinged with the chauvinism of British Imperialism, THE KING AND I has endured as an audience favorite since its Broadway debut in 1951. With a score that includes "Hello, Young Lovers," "Getting to Know You," "We Kiss in a Shadow," and "Something Wonderful," it is one of Rodgers and Hammerstein's all-time greats.
This national tour may not soar and enthrall the way its lavish Tony Award-winning Broadway revival reputedly did. But the power trio of Elena Shaddow, Joan Almedilla and Q Lim make it well worth seeing - and hearing.
PHOTOS Courtesy of Hanover Theatre: Elena Shaddow as Anna Leonowens and Jose Llana as the King; Elena Shaddow; Jose Llana; Jose Llana and Elena Shaddow