BWW Interview: Katie Davis Shines as 'Star To Be' in ANNIE Tour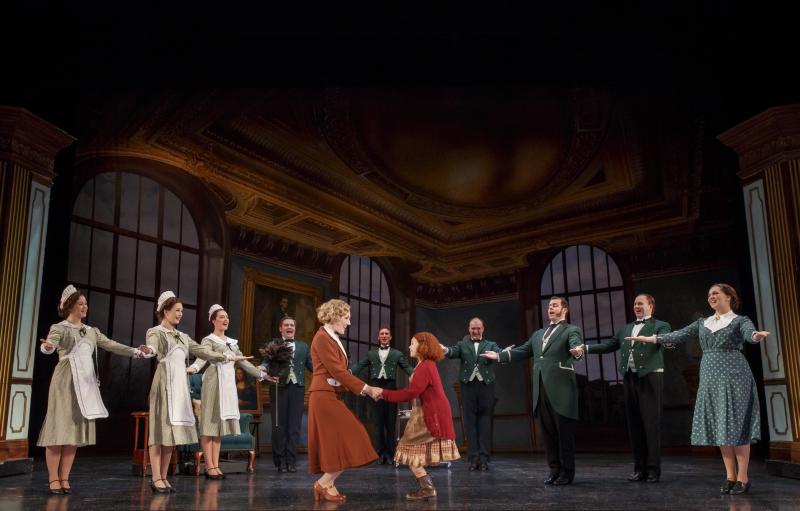 KATIE DAVIS (FAR LEFT)
(CENTER): CASEY PRINS (Grace Farrell) AND TORI BATES (ANNIE) AND COMPANY
© Joan Marcus
Leapin Lizards! The timeless musical Annie, a young orphan with red hair as fiery as her spirit, returns to a stage near you in this new incarnation of the iconic original. Directed by its original Tony Award® Winning Lyricist Martin Charnin, and a beloved book and score by Thomas Meehan, Charles Strouse, and Martin Charnin, this production is a must-see.
Katie Davis, a recent graduate from Belmont University's Musical Theatre program, is "Star To Be", a featured ensemble role, a young and optimistic actress who just moved to the dazzling "NYC". Davis has been noted as being a "standout" ensemble member from the Chicago Theatre Review. I was lucky enough to sit down and check in with Katie on how her experience being on the Annie National Tour is going.
Christopher Castanho: This is your first national tour, how is it going so far?
Katie Davis: I'm loving it, it's so fun. My favorite thing touring with Annie is traveling with the kids because they do such a great job at keeping everything fun and light hearted. They keep everything fresh and happy. They have energy for days.
CC: I saw on your snapchat story, you got a backrub from the actress playing Annie.
KD: [Laughs] She is a literal masseuse, it's a hidden talent. Tori [Bates] who plays Annie, is so wonderful. She's a literal ray of sunshine 24/7, she's everything that Annie is in real life. I've never met a kid that is so genuine, polite, and pleasant, so hardworking and positive.
CC: Happy to hear that you're enjoying your company on the tour.
KD: It's a great group, I love my roommate Caroline [Lellouche]. There are a decent amount of girls in the ensemble who just graduated [college], like me, so it's great: we stick together. It's a nice small group, the ensemble of Annie isn't huge, but we've had so much fun.
CC: It must be fun to explore all of the new places you're traveling to--
KD: It's so easy to find all of these little local restaurants and shops. We've gotten very good at it, no matter how long or short we're in a city, we will find a cool place: whether it's a coffee shop or a restaurant. It's been cool to scope out really awesome places, you see them all really fast, and then on to the next!
CC: What's your favorite location of all your stops so far?
KD: Theatre-wise, I'd say "The Fox" in St. Louis [Missouri]. That theater is huge, has so much history, and is just amazing. We got to leave our mark on the wall tags backstage and see all of the previous touring companies that have stopped in there. But city wise, I wanna say Chicago.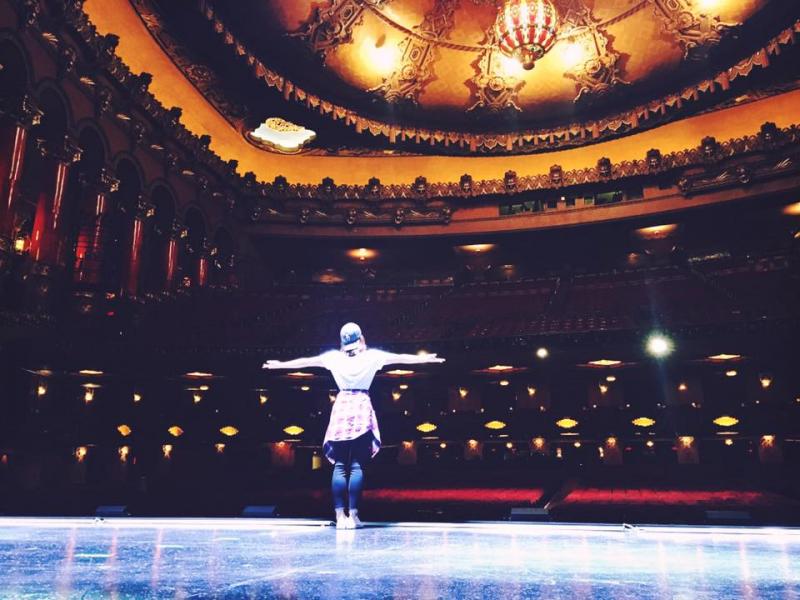 Katie Davis at the Fox Theatre in St. Louis
"Belting my face off in front of 4,500 people...I guess my job is pretty cool. #ThreeBucksTwoBagsOneMe"
CC: I saw that you were able to see one of your friends in the production of Hamilton while you were there.
KD: A dear friend of mine, from Belmont: Chris Lee is playing Lafayette and Jefferson. We left school at the same time together and actually landed these shows at the same time. I got to see his show and he got to see mine, which was so fun.
CC: What do you find challenging about being on tour?
KD: Just being in new venues keeps you on your toes. Doing the show over and over doesn't get boring because we're switching theaters so often. Every time we get to a new location I have to ask myself "Wait where's the dressing room? Which way to the stage?" We have a couple different "versions" of the show: we have an "A Show" & a "B Show", which basically refers to the amount of set we have in the show that night. In company meetings we'll get a rundown of which "version" we'll do that night, so being in a new place is the most challenging part. Story wise and integrity of the show, stays the same no matter what "version" but technical elements of the production are slightly altered depending on the venue. All of the singing, dancing, and acting remains intact and is the same, no matter what theater we're playing in! Christopher Belanger, our head carpenter, is amazing. It's Christopher's job to determine what "show" we'll be doing at each venue ahead of time. They really take care of us (company members), which I'm so thankful for.
CC: What are your role(s) or track in Annie?
KD: I am an ensemble track, so I'm in "Hooverville", I am a maid in the Warbucks house, a Boylan sister (Bonnie) on the radio show, and I am "Star To Be" in the musical number "NYC".
CC: Since you've been running (performing) the show, does your cast still formally rehearse?
KD: We do have understudy rehearsals. As to date, two of our understudies have gone on: our Warbucks understudy and our Annie understudy has gone on. In those cases, we will have some rehearsal, with the whole company, to run a few numbers for the understudies. But we haven't had full rehearsal since we opened, as we're often performing the show.
CC: So you opened in November, how long did you all rehearse before opening night? What was your rehearsal process like?
KD: We rehearsed for the month of October. The orphans had "Orphan Boot Camp", as we like to call it, a week before the rest of the adult ensemble got there. The rehearsal process was amazing, we worked with Martin Charnin, who created Annie, so that was a really cool experience to work with the person who helped shape the original concept and production.
CC: So you must definitely be bonding with all of the cast, being on the road together.
KD: All of the adult female ensemble members and the orphan members have a big sister/little sister thing going on, and it's been so fun. We all have a "lil sis" and we always check in with them, making sure they're doing okay. My little orphan sis's name is Katie [Wylie] and she's perfect! Working with the dogs- who play Sandy- is also really great.
CC: How many dogs share the role of Sandy?
KD: We have two dogs, their names are Macy and Sunny, both sharing the role as they're in every single show. Their tracks are split up. Bill [William] Berloni trained them, he and his company have trained tons of "Broadway animals" having worked with the dogs on tour for "Finding Neverland" and more. All of his dogs are rescue dogs, which I think is really cool. Macy and Sunny are on top of their game, never having missed any performances. This is actually Sunny's third year on tour with Annie. Tori [Bates] works so well with them and they use all positive reinforcement when training the dogs.
CC: Annie is a very classic musical, so what does the story of Annie mean to you?
KD: To me, Annie is a story of optimism, and the idea of optimism through the eyes of children, which is something that everyone needs. Annie is a girl who just doesn't give up, and as cheesy as it sounds, [laughs] she affects so many people around her because she's so willing to 'stick up her chin' and know that we all have to hang in there and take one day at a time, stay positive. Which definitely reminds me of how Tori (Annie) really embodies her spirit. I think that the show is often coined a classic because the relevance of its morals will never fade.
---
Catch Katie on the National Tour of "Annie" until June of 2017 by getting tickets: HERE. On behalf of the Annie company, she will also be singing the national anthem this Friday, December 16th, for the NBA game in Memphis.
ANNIE has a book by Thomas Meehan, music by Charles Strouse and lyrics by Martin Charnin. All three authors received 1977 Tony Awards® for their work. Choreography is by Liza Gennaro, who incorporates selections from her father Peter Gennaro's 1977 Tony Award®-winning choreography.
The celebrated design team includes scenic design by Tony Award® winner
Beowulf Boritt
(Act One,The Scottsboro Boys, Rock of Ages), costume design by Costume Designer's Guild Award winner
Suzy Benzinger
(Blue Jasmine, Movin' Out, Miss Saigon), lighting design by Tony Award® winner
Ken Billington
(Chicago, Annie, White Christmas) and sound design by Tony Award® nominee Peter Hylenksi (Rocky, Bullets Over Broadway, Motown). The lovable mutt "Sandy" is once again trained by Tony Award® Honoree
William Berloni
(Annie, A Christmas Story, Legally Blonde). Musical supervision and additional orchestrations are by
Keith Levenson
(Annie, She Loves Me, Dreamgirls).Casting is by Joy Dewing CSA, Joy Dewing Casting (Soul Doctor, Wonderland, The Wizard of Oz).
Be sure to follow Katie on her Website, FaceBook and Instagram.
Related Articles View More NationalTours

Stories

Shows