BWW Interview: Jose Llana of THE KING AND I Brings More Than a Great Show to Omaha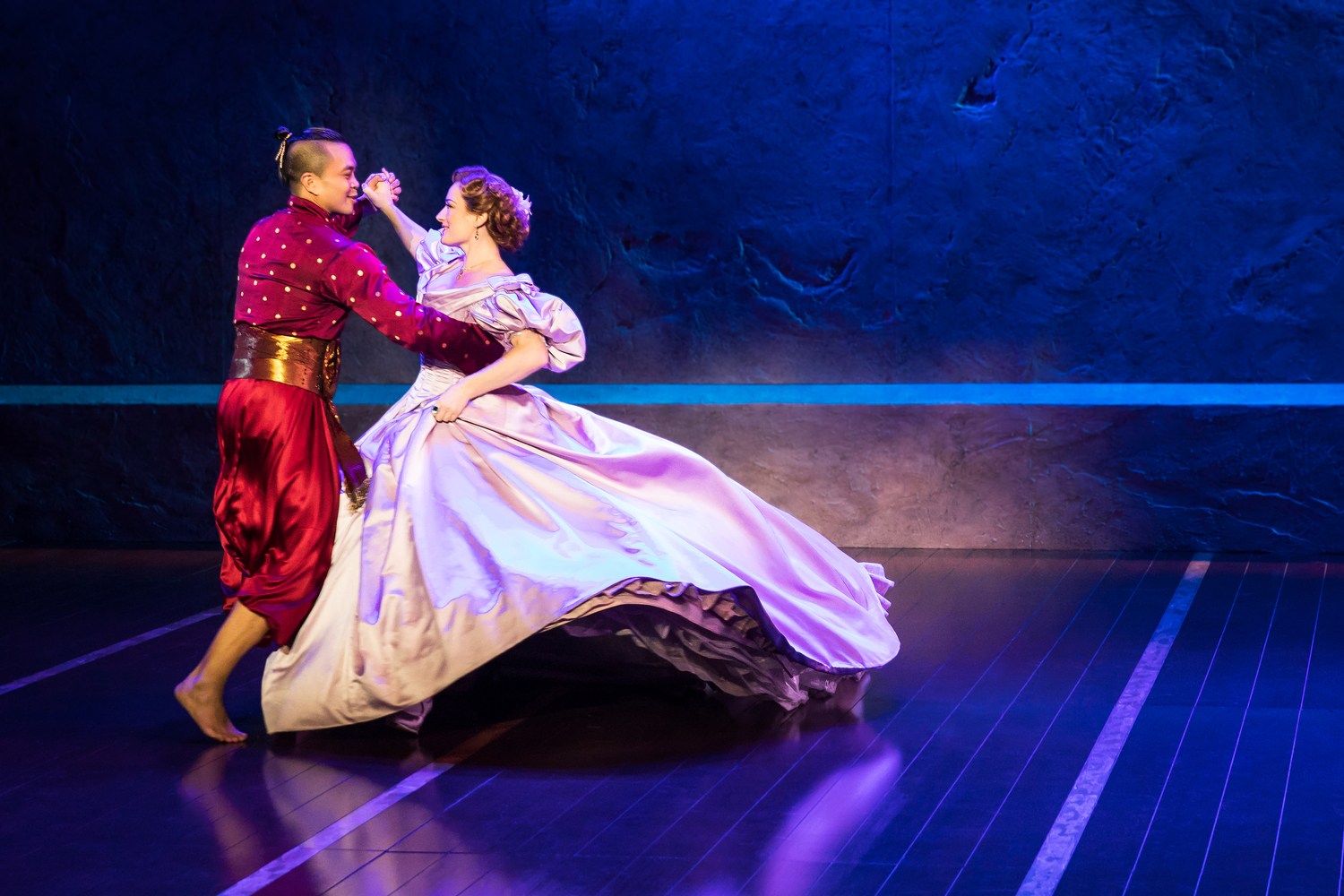 THE KING AND I, winner of four 2015 Tony Awards, including Best Revival of a Musical, premieres in Omaha January 16-21 at the Orpheum Theatre.
Jose' Llana, returning to the role of the King of Siam after two starring engagements at the Lincoln Center Theater, spoke with me last week about the show and the timeliness of its message.
Llana has had a versatile career path, playing everything from a 14 year old Chip Tolentino in THE 25TH ANNUAL PUTNAM COUNTY SPELLING BEE (Drama Desk Award) to the royal head of Siam, along with other notable roles in such productions as RENT and FLOWER DRUM SONG.
Do you find it difficult to play a part made famous by the iconic Yul Brynner? Are you similar to him in your portrayal of the King of Siam or are you totally different?
I don't think it's difficult. I think the answer for any actor playing a role is to go to the script. I've had a lot of help from Bartlett Sher, our director, and by going back to the original text and finding inspiration from what I thought Rodgers and Hammerstein wanted to say about the king. I understand that Mr. Brynner put his stamp on the part, but I think it's everyone's goal when you bring back a part that's been celebrated to do your own thing with it.
THE KING AND I is based on the 1944 book, "Anna and the King of Siam," written by Margaret Landon and based on the memoirs of Anna Leonowens, a real British schoolteacher. Did you ever read the book?
Yes, I did.
From this book, several adaptations have been done, including stage and film musicals, a TV series, an animated musical, and a movie. Were any of these instrumental in your vision for the role of the king?
The adaptations? No, I don't think so. I didn't see most of them. But Rodgers and Hammerstein took a lot of liberties adapting from the original text. They took the framework of it and took a lot of liberties taken with the history. Obviously, her ability to sway the King was not as dramatic in real history. King Mongkut was a very important figure in Siamese history. Mongkut went on to become the most important king of contemporary Thai history. If you traveled to Thailand today, you would find Chulalongkorn (son of King Mongkut) University. Their ability to ward off Western colonization was one of the most important aspect of their most recent history. This story is very much a dramatization of that. I think it's important when you're dramatizing something that happened in history, that adaptation ... to be art. Rodgers and Hammerstein wanted to tell their own specific story. In my research, I knew of the other adaptations, and I read the original book, but I really wanted to focus on what Rodgers and Hammerstein wanted to say.
One of the many good things I've read about you is how versatile you are. You received a Drama Desk Award for your performance as Chip Tolentino in THE 25TH ANNUAL PUTNAM COUNTY SPELLING BEE on Broadway. That is one of my favorite musicals because it is so funny and touching. There are obviously huge differences between boy scout Chip and the king of Siam. Are there any similarities in their personalities?
Haha! You know, that's a good question. The similarities I find in all my characters that I play is their humanity in all of them. There's a little Chip Tolentino in everybody. The good thing about playing Chip is when you're playing a 14-year-old, so much of Chip was honest ego and honest embarrassment that come with adolescence. Even now as a 41-year-old, sometimes I still wish I had some of that innocence and some of that ego that I think I've stifled as an adult. As the king, I use some of that. I use some of that brash strong will that you only have when you're a child. There's a part of me that knows that at the beginning of the story of THE KING AND I, that the king...when you're raised to be royalty, there's a little bit of Chip Tolentino in you! So, while I am proud of the versatility of my resume', I also think there's a little bit of me in every one of my parts. For me, that means that there is a little bit of commonality in all the parts.
What is your background? I see you were born in the Philippines and came to the US when you were three. Are you from a military family, by any chance, because you moved to Virginia?
(Laughs.) No, although a lot of my friends in high school were military. My mom worked first at the UN, and then at the International Monetary Fund.
How did you get into musical theatre? Is this something you've always known that you want to do? Was there a turning point where you said, "Wow. This is what I'm meant to do?"
You know, I got caught by the bug watching all the Rodgers and Hammerstein movie musicals when I was a kid. We started renting the videos. You know, you see one, and there's a little commercial in the beginning of the video. You rent OKLAHOMA and they tell you about CAROUSEL. And then it tells you there's THE KING AND I, and of course, THE SOUND OF MUSIC changed my life. The movie SOUND OF MUSIC I think I probably watched maybe 5,000 times. That gave me the bug. In grade school and middle school I was really lucky to watch a lot of touring productions in DC where I grew up. And that was it! I saw LES MIS on the road. I saw CATS. I saw PHANTOM OF THE OPERA. I mean, all the touring companies coming to the Kennedy Center and the National Theatre in Washington, DC, made me fall in love with musical theatre. Then I went to high school and started doing drama and I found my crazy, weird tribe of people that understood me. (laughs) That's why it was so important for me to take a tour, because I've been working on Broadway on and off for about 20 years now, and I'd never had the opportunity to do a real first class national tour. I now get to be part of that company that goes to a town and inspires a young kid to do what I'm doing. I think that's really special.
Do you prefer being on Broadway or national tour?
I think a little bit of both. I think, you know, it's a community. Especially with Facebook now, I'm very connected with my friends on Broadway. One of the cool things is that most every theatre has these wall tags where a company will paint a little block of their show, like a little keepsake, and the company will all sign it. I was looking at wall tags from 1975 and wall tags from 1984 and wall tags from 2002 of touring companies' shows and I'll see the signatures of my friends. I'll feel like part of the real Broadway theatre acting community.
Omaha Performing Arts is offering a Cultural Inclusion Summit with a panel of members of the cast. Registrants will attend the Tuesday, JAN 16 showing and then meet to discuss the show and inclusion issues the following day. Are you going to participate in that?
I think so. I hope so. That's exactly up my alley.
What do you expect the questions to be from the audience after seeing THE KING AND I?
I don't know. I hope they're honest. This year is a very important year. My partner and I share a major passion for politics. I grew up in Washington, DC, so I was kind of raised with the Washington Post in one hand and the New York Times in the other. We set out on this tour a week after the election happened. It's really interesting in this company of predominantly brown people...Asian American people. We have the opportunity to travel around the country and bring instant diversity to people who are not necessarily used to seeing a group of 40 Asian Americans. And so, whenever conversation occurs, I welcome it. I think it's healthy to have conversation, especially in this political climate, when the country is so divided to tell a story about a world leader extending a hand of friendship to a person from another country. That's the story we're telling and the message that we're trying to convey.
Photo of Jose Llana credit: Matthew Murphy

Related Articles View More NationalTours

Stories

Shows