Now Playing Onstage in Minneapolis - Week of 12/16/2012
View All Show Listings for Minneapolis
Click Here to View BroadwayWorld.com Minneapolis Calendar
A MIDSUMMER NIGHT'S DREAM
Park Square Theatre
11/19-12/19/2012
Enchantment, farce and Victorian lingerie fly in the adventure of four young lovers and a group of amateur actors, all bewitched by Oberon and his band of fairies who inhabit the forest. Three interlocking plots of magic, mistaken identity, dreams and love unfold under the light of the full moon.
Click Here for More Information
ANNIE
MINNETONKA COMMUNITY THEATRE
12/7-12/22/2012
Leapin' Lizards! The popular comic strip heroine takes center stage in one of the world's best-loved musicals. With equal measures of pluck and positivity, little orphan ANNIE charms everyone's hearts, despite a next-to-nothing start in 1930s New York City. She is determined to find her parents, who abandoned her years ago on the doorstep of a New York City Orphanage run by the cruel, embittered Miss Hannigan.With the help of the other girls in the Orphanage, ANNIE escapes to the wondrous and magical world of NYC. In adventure after fun-filled adventure, ANNIE foils Miss Hannigan's evil machinations and befriends President Franklin Delano Roosevelt. She finds a new home and family in billionaire Oliver Warbucks, his personal secretary
Grace Farrell
, and a lovable mutt named Sandy. ANNIE is the perfect family-friendly musical, and an ideal show for a largely female cast. Middle Schools and elementary schools should also take notice of ANNIE JR - a special version of this title expressly designed for younger performers.
Click Here for More Information
A CHRISTMAS CAROL
Commonweal Theatre Company
11/16-12/23/2012
Click Here for More Information
SINGIN' IN THE RAIN
DULUTH PLAYHOUSE INC
11/29-12/23/2012
You remember the plot. You love the characters. You know "the song." It's no less than the stage adaptation of one of the most celebrated and beloved films of all time.1920's Hollywood is the setting for this zany, light-hearted romantic comedy about the early days of sound film, when many a movie studio found itself scrambling to salvage the career of its chipmunk-voiced silent picture star.The MGM classic has been faithfully and lovingly adapted by Broadway legends
Betty Comden
and
Adolph Green
from their original award-winning screenplay. Each unforgettable scene, song and dance, is accounted for, including the showstopping title number, complete with an onstage rainstorm! Hilarious situations, snappy dialogue, and a hit-parade score of Hollywood standards make SINGIN' IN THE RAIN the perfect entertainment for any fan of the golden age of movie musicals.
Click Here for More Information
A CHRISTMAS CAROL
Guthrie Theater
11/13-12/29/2012
Joe Chvala directs this season's production of
Charles Dickens
' A Christmas Carol, the perennial favorite that received a new adaptation by Crispin Whittell in 2010 and continues the Guthrie's holiday tradition for the 38th year.
J.C. Cutler
will play the role of Ebenezer Scrooge for the second time, following last year's acclaimed performance.
Click Here for More Information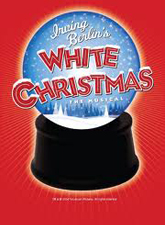 WHITE CHRISTMAS
The Play's the Thing Productions
12/14-12/30/2012
Based on the beloved, timeless film, this heartwarming musical adaptation features seventeen
Irving Berlin
songs and a book by
David Ives
and
Paul Blake
. Veterans Bob Wallace and Phil Davis have a successful song-and-dance act after World War II. With romance in mind, the two follow a duo of beautiful singing sisters en route to their Christmas show at a Vermont lodge, which just happens to be owned by Bob and Phil's former army commander. The dazzling score features well known standards including Blue Skies, I Love A Piano, How Deep Is the Ocean and the perennial favorite, White Christmas. WHITE CHRISTMAS is an uplifting musical worthy of year-round productions.Music and Lyrics by
Irving Berlin
; Based Upon the
Paramount Pictures
Film Written For the Screen by
Norman Krasna
,
Norman Panama
and
Melvin Frank
; Book by
David Ives
&
Paul Blake
For more information on The Play's the Thing Productions, click hereFor more information on White Christmas, click here
Click Here for More Information
CHRISTMAS ON THE RANCH, A COWBOY MUSICAL
Plymouth Playhouse
11/14-1/13/2013
An All-New Cowboy Christmas Musical starring Monica Heuser and the band Tree Party as "The Bunkhouse Boys." Written by
Greta Grosch
with musical arrangements by
Dennis Curley
It's Christmas Eve, 1961 at the bunkhouse and barn of the Lazy Melody Ranch, home of Miss Monica, in Cody Township, somewhere in the North Dakota Badlands. You will delight in the wit and wisdom of colorful characters like Mayor Cody, Sheriff Andy, Long Tall Joey, Little Jenna, Cowboy Travis and Dusty the spittoon spittin' cowhand. You will sing along to some of your favorite Christmas classics and discover some new favorites like Christmas Time's A Comin', Two Step Round The Christmas Tree, Man With A Bag and Rootin' Tootin'
Santa Claus
PLUS hear winning Cowboy Poetry poems. So come gather 'round the stove with some old and new friends, and celebrate this festive time of year, the Cowboy way. Great entertainment for the entire family and friends.
Click Here for More Information
THE SERVANT OF TWO MASTERS
Guthrie Theater
12/1-1/20/2013
A classic comic masterpiece, directed by former Guthrie company member
Christopher Bayes
and starring comedic genius
Steven Epp
(Theatre de la Jeune Lune), The Servant of Two Masters makes its way to the Guthrie following critically acclaimed runs at Yale Repertory and
Shakespeare Theatre Company
. Chock-full of mistaken identities and broken engagements, mayhem erupts when the wily and chronically hungry servant Truffaldino hatches a zany scheme to double his wages (and his meals) by serving two masters at once. The Washington Post hailed this Servant as "deliriously happy-making" and a "bowlful of joy!"
Click Here for More Information
View All Show Listings for Minneapolis
Click Here to View BroadwayWorld.com Minneapolis Calendar
Related Articles
From This Author BWW