Now Playing Onstage in Milwaukee, WI - Week of 10/21/2012
View All Show Listings for Milwaukee, WI
Click Here to View BroadwayWorld.com Milwaukee, WI Calendar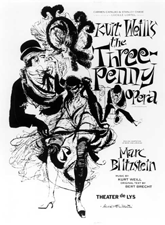 THE THREEPENNY OPERA
University of Wisconsin - Parkside
10/18-10/28/2012
Brecht and Weill turned to
John Gay
's 18th-century 'The Beggar's Opera' to fashion this savage, biting commentary on bourgeois capitalism and modern morality. Set in Victorian London, the bitter tale is told of the predatory outlaw known as Mack the Knife. He secretly marries the daughter of Soho's underworld boss, but is soon betrayed by his sinister in-laws and sent to prison. After being freed by the police chief's daughter, he is again betrayed- this time by a prostitute-and sentenced to death. At the final hour he manages a reprieve from
Queen V
ictoria herself, thus providing a menacing finale of ferocious irony.Book and Lyrics by
Bertolt Brecht
; Music by
Kurt Weill
; English adaptation by
Marc Blitzstein
For more information on University of Wisconsin - Parkside, click hereFor more information on The Threepenny Opera, click here
Click Here for More Information
---
THE MOUNTAINTOP
Milwaukee Repertory Theater
9/26-11/4/2012
On the eve of his assassination, D
R. Martin
Luther King, Jr., cools down in a lonely Memphis hotel room after delivering the speech of a lifetime—when an unexpected visit from a feisty, young hotel maid pushes King into a confrontation with his doubts, fears, and haunting premonitions. A soul-stirring hit in London and on Broadway, The Mountaintop's humorous, magical storytelling fuses theatricality with spirituality to reach a summit that will leave audiences breathless.
Click Here for More Information
---
BIG THE MUSICAL
Marcus Center for the Performing Arts, Todd Wehr Theater,
10/19-11/11/2012
The 1987 hit movie bursts onstage in this vibrant, funny and touching musical. When frustrated 12-year-old Josh Baskin makes a wish to become "big" and wakes up the next morning to find his wish has literally come true, he discovers there's much more to being an adult than he's bargained for - and learns we must all grow up at our own pace, in our own time. Come see this new version of the Tony®-award nominated musical comedy, created just for our family audiences.
Click Here for More Information
---
Anne Frank
in Broadway" border="0" bheight="100" width="100" align="right">
THE DIARY OF
Anne Frank
Milwaukee Repertory Theater
10/23-12/2/2012
Anne Frank
's remarkable diary has become an essential tool for understanding one of the darkest periods of our history—and one of the most beautiful, haunting stories in our shared experience. A testament to the human spirit and its young author's "boundless desire for all that is beautiful and good," the play illuminates Anne's unwavering belief in justice and love during more than two years in hiding during World War II. This moving, true story is essential viewing for every generation.
Click Here for More Information
---
BLUES IN THE NIGHT
Milwaukee Repertory Theater
10/19-12/23/2012
The universal language of the blues speaks eloquently in this scorching, Tony-nominated musical! The twenty-six hot, torchy numbers that tell the sweet, sexy, and sorrowful stories of four colorful inhabitants of a 1930s Chicago saloon will leave you energized, inspired, and ready to wail. This dynamite revue features blues classics from
Duke Ellington
,
Benny Goodman
,
Bessie Smith
, and many more, packed into a larger-than-life score that'll bring down the house!
Click Here for More Information
---
View All Show Listings for Milwaukee, WI
Click Here to View BroadwayWorld.com Milwaukee, WI Calendar
Related Articles
From This Author BWW