Now Playing Onstage in Maine - Week of 8/03/2014
View All Show Listings for Maine
Click Here to View BroadwayWorld.com Maine Calendar
AS YOU LIKE IT
Fenix Theatre Company
7/17-8/9/2014
AS YOU LIKE IT by W. Shakespeare Directed by
Peter Brown
, director of Fenix Theatre's celebrated "A Midsummer Night's Dream" Thursday, Friday and Saturday evenings July 17th to August 9th at 6:30pm except Saturday July 26, we will be performing on SUNDAY July 27th at 6:30pm instead. All performances are in the wading pool and ravine area of Deering Oaks in Portland Maine, all shows are FREE to the Public! Fenix Theatre Co./ Shakespeare in the Park encourages you to bring a blanket or lawn chair, some food and beverage and bug spray. Please come early and SIT CLOSE, actors are not amplified (we can't afford it) and we usually get a lot of folks coming to see the shows so the earlier you get there the better seating you'll get. As You Like It is one of the great comedy plays by
William Shakespeare
. The heroine Rosalind, one of his most inspiring characters, is the daughter of a banished duke who falls in love with Orlando the disinherited son of one of the duke's friends. When she is banished from the court by her usurping uncle, Duke Frederick , Rosalind takes on the appearance of a boy calling herself Ganymede. She travels with her cousin Celia and the jester Touchstone to the Forest of Arden, where her father and his friends live in exile. Themes about life and love, including aging, the natural world, and death are included in the play. New friends are made and families are reunited, love happens and we all have a wonderful night of theatre in our beautiful park.
Click Here for More Information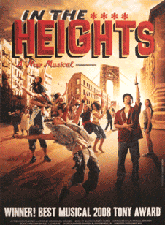 IN THE HEIGHTS
Acting Manitou
8/9-8/9/2014
IN THE HEIGHTS tells the universal story of a vibrant community in New YorkMusic and Lyrics by
Lin-Manuel Miranda
; Book by Quiara Alegria Hudes; Conceived By
Lin-Manuel Miranda
Click Here for More Information
DISNEY'S PETER PAN JR
OGUNQUIT PLAYHOUSE CHILDRENS THEATRE
8/9-8/10/2014
Click Here for More Information
FOOTLIGHT FOLLIES
Maine State Music Theatre
8/11-8/11/2014
MSMT presents the FOOTLIGHT FOLLIES, an evening of songs, skits and silliness combining the best of talents provided by community members, our own MSMT acting company, staff and Board of Trustees and surprise guests. It's non-stop FUN starting at 6:45 when our 7 outside stages of entertainment come alive with an eclectic display of talent! FOOTLIGHT FOLLIES is an evening of "theatre" with virtually no rules, featuring skits, singing, dancing, music, comedy and more. Don't miss this one-of-a-kind, laugh-a-minute evening.
Click Here for More Information
MONTY PYTHON'S SPAMALOT
Hackmatack Playhouse
7/30-8/16/2014
Lovingly ripped off from the classic film comedy "Monty Python and the Holy Grail", Spamalot retells the legend of King Arthur and his knights of the Round Table, and features a bevy of beautiful show girls, cows, a killer rabbit and many French people. Did we mention the bevy of beautiful show girls? Winner of three 2005 Tony Awards!
Click Here for More Information
LEGALLY BLONDE
ARUNDEL BARN PLAYHOUSE
8/5-8/16/2014
Harvard's beloved blonde takes the stage by pink storm in this fun, upbeat musical about self-discovery. Based on the adored movie, LEGALLY BLONDE: THE MUSICAL stays true to form with a peppy score and playful book. This musical is ridiculously enjoyable from start to finish.Elle Woods appears to have it all. Her life is turned upside-down, however, when her boyfriend dumps her so he can start getting serious about his life and attend Harvard Law. Determined to get him back, Elle uses her charm to get into Harvard Law. At school, she struggles with peers, professors, and Warner Huntington. With the help of Paulette and Emmett, though, Elle quickly realizes her potential and sets out to prove herself to the world.This musical is relatively new to the theatre world, catering to the present-day's generation and culture. LEGALLY BLONDE: THE MUSICAL is perfect for high school and community theatre, featuring a large ensemble and several big song-and-dance numbers.
Click Here for More Information
HAIRSPRAY
Community Little Theatre
8/7-8/17/2014
The 1950's are out and change is in the air! HAIRSPRAY, winner of 8 Tony Awards including Best Musical, is a family-friendly musical piled bouffant high with laughter, romance, and deliriously tuneful songs. It's 1962 in Baltimore, and the lovable plus-size teen Tracy Turnblad has only one desire -- to dance on the popular Corny Collins Show. When her dream comes true, Tracy is transformed from social outcast to sudden star. She must use her newfound power to dethrone the reigning Teen Queen, win the affections of heartthrob Link Larkin, and integrate a TV network, all without denting her 'do!
Click Here for More Information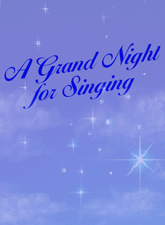 A GRAND NIGHT FOR SINGING
Quisisana
6/19-8/21/2014
Taste and imagination, the two key ingredients for a first-rate revue, abound in this fresh take on the Rodgers & Hammerstein canon conceived by Tony Award winner
Walter Bobbie
. Over three decades after the duo's final collaboration, THE SOUND OF MUSIC, took the Great White Way by storm, it was in fact this new R&H musical that opened the 1994 Broadway season with flair and distinction, garnering wildly enthusiastic notices as well as earning two Tony nominations, including Best Musical. Here at R&H, our founding fathers probably never imagined 'Shall We Dance?' as a comic pas de deux for a towering beauty and her diminutive admirer, nor did they suspect that one day a lovelorn young lad might pose the musical question, 'How do you solve a problem like Maria?' But that's precisely the kind of invention lavished upon this new revue, with innovative musical arrangements including a sultry Andrews Sisters-esque 'I'm Gonna Wash That Man Right Out-a My Hair,' a swingin' 'Honeybun' worthy of the Modernaires, and a jazzy 'Kansas City' which leaves no question about how terrifically up to date the remarkable songs of R&H remain.Music by Rodgers, Richard; Lyrics by
Oscar Hammerstein
II; Music Arrangements by
Fred Wells
; Conceived By
Walter Bobbie
Click Here for More Information
FOOTLOOSE
Maine State Music Theatre
8/6-8/23/2014
One of the most explosive movie musicals in recent memory bursts onto the Pickard stage with this exhilarating show. When Ren and his mother move from Chicago to a small farming town, Ren is prepared for the inevitable adjustment period at his new high school. What he isn't prepared for are the rigorous local edicts, including a ban on dancing instituted by the local preacher, determined to exercise the control over the town's youth that he cannot command in his own home. The heartfelt story that emerges is of a father longing for the son he lost and of a young man aching for the father who walked out on him. To the rockin' rhythm of its Oscar and Tony-nominated top 40 score, FOOTLOOSE celebrates the wisdom of listening to young people, guiding them with a warm heart and an open mind.
Click Here for More Information
CHILDREN OF EDEN
BOOTHBAY PLAYHOUSE
8/6-8/23/2014
From
Stephen Schwartz
and
John Caird
comes a joyous and inspirational musical about parents, children and faith... not to mention centuries of unresolved family business! Freely based on the story of Genesis, CHILDREN OF EDEN is a frank, heartfelt and often humorous examination of the age-old conflict between parents and children. Adam, Eve, Noah and the "Father" who created them deal with the headstrong, cataclysmic actions of their respective children. The show ultimately delivers a bittersweet but inspiring message: that "the hardest part of love... is letting go."A large cast is needed to take on the story of the Old Testament in this moving, foot-stomping musical. CHILDREN OF EDEN is a wonderful show to perform for children and students.
Click Here for More Information
DISNEY'S THE LITTLE MERMAID JR
KIDS CURTAIN CALL
7/1-8/26/2014
In a magical kingdom fathoms below, the beautiful young mermaid Ariel longs to leave her ocean home to live in the world above. But first, she'll have to defy her father King Triton, make a deal with the evil sea witch Ursula, and convince Prince Eric that she's the girl with the enchanting voice. Adapted from Disney's 2008 Broadway production, Disney's THE LITTLE MERMAID JR. features the hit songs "Part of Your World," "She's in Love," and the Oscar-winning "Under the Sea."
Click Here for More Information
View All Show Listings for Maine
Click Here to View BroadwayWorld.com Maine Calendar
Related Articles
From This Author BWW