Now Playing Onstage in Maine - Week of 3/09/2014
View All Show Listings for Maine
Click Here to View BroadwayWorld.com Maine Calendar
ENJOY
Bates College - Schaeffer Theatre
3/6-3/10/2014
A contemporary Japanese play about Japan's Lost Generation. In playwright
Toshiki Okada
's black comedy his character's follow inarticulate narrative loops highlighting the pathos of inaction wrought upon over-educated Japanese 20-30 somethings during the "lost decade", a period of great economic stagnation in Japan.
Click Here for More Information
LONESTAR
Collins Center for the Arts
3/12-3/12/2014
Multi-platinum country-music quartet! A twenty-year anniversary is cause for celebration, and Lonestar is marking this career milestone in more ways than one. Reunited with original lead singer
Richie McDonald
, the multi-platinum country music quartet is working hard on a brand new album and embarking on an extensive anniversary tour, with over 90 dates scheduled in North America alone. "Twenty years ago, when we put this little band together to play in some bars and make a little money, I dreamed it pretty good," admits keyboard player and songwriter Dean Sams. "But I never dreamed it quite this good." Known for merging their country roots with strong melodies and rich vocals, Lonestar has amassed RIAA-certified sales in excess of ten million album units since their national launch in 1995 and achieved ten #1 country hits including "No News," "Come Crying To Me," and their crossover smash "Amazed" (which was also #1 on the Billboard Hot 100, the first record since 1983's "Islands in the Stream" to top both charts). The band's awards include a 1999 ACM Single of The Year for "Amazed" (the song also won the Song of the Year award) and the 2001 CMA Vocal Group of the Year.
Click Here for More Information
RICHARD SHINDELL
One Longfellow Square
3/13-3/13/2014
An expatriate New Yorker now living in Buenos Aires, Argentina, Richard Shindell is a meticulous craftsman of song whose six studio albums and one live recording have been revered by critics and fans alike. Innovative, original and occasionally spiritual, Shindell's songs weave tales that interchangeably champion the downtrodden, exalt the disaffected or wax empathetic to those lost to society's fringes. From his first record, Sparrow's Point (1992) to the newest album Vuelta (2004), Shindell has demonstrated a penchant for songwriting at once passionate and profound. His songs are often slowly and painstakingly crafted until honed to perfection. Conversely, he is also capable of writing tunes that are simply clever and amusing. Shindell's songwriting is truly eclectic, ranging from lighthearted ballads and adulterous love songs, to dirges and diatribes that skillfully skewer politics, prejudice, war and religion. He has a unique ability to morph into the soul of the many and varied personalities he casts as narrators in certain songs--songs that are veritable novellas framed in haunting acoustic melodies, sometimes including cryptic, revelations through the eyes of a woman.
Click Here for More Information
SO PERCUSSION: "WHERE (WE) LIVE"
Portland Ovations
3/13-3/13/2014
Praised by the New Yorker for their "exhilarating blend of precision and anarchy, rigor and bedlam," So Percussion redefines the modern percussion ensemble as a flexible, omnivorous entity, pushing its voice to the forefront of American musical culture. Part experimental music gig, part multimedia rock show, part happening, Where (we) Live is a freeform investigation of the places and spaces we call home. Portland photographer Bryan Graf, who shares an affinity for chance and spontaneity, will join So and the Where (we) Live collaborators to create an evening that is one-of-a-kind.
Click Here for More Information
ELIAS STRING QUARTET
Collins Center for the Arts
3/14-3/14/2014
The quartet have been chosen to participate in BBC Radio 3's prestigious New Generation Artists' scheme and are the recipients of a 2010 Borletti-Buitoni Trust Award. In April 2010, their disc of Mendelssohn, Mozart and Schubert on the Wigmore Hall Live label was given the BBC Music Magazine Newcomer Award. This year they had their debut at the Concertgebouw in Amsterdam, a week long tour in Europe with pianist Jonathan Biss, appearances at The Sage Newcastle, Bridgewater Hall Manchester and the City of London, Cheltenham and East Neuk Festivals. Future projects include a five concert series at Wigmore Hall, a US tour including their
Carnegie Hall
debut, returning to Concertgebouw, Amsterdam, and participating in Jonathan Biss's Schumann project.
Click Here for More Information
THE SECOND CITY: HAPPILY EVER LAUGHTER
Waterville Opera House
3/15-3/15/2014
Drawing on classic material from The Second City archives, as well as scenes ripped from the morning headlines, The Second City's "Happily Ever Laughter" is your chance to see comedy stars in the making in an evening of smart, cutting-edge comedy. The Second City continues to deliver the leading voices in comedy while touring the globe. With scripted and improvisational elements, audiences always enjoy being part of the show and playing along with the next generation of comic legends. Many of comedy's brightest stars have hit the road with The Second City Touring Company.
Click Here for More Information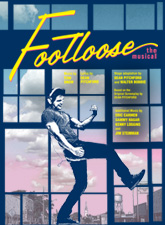 FOOTLOOSE
Poland Regional High School
3/12-3/15/2014
One of the most explosive movie musicals in recent memory bursts onto the live stage with exhilarating results. When Ren and his mother move from Chicago to a small farming town, Ren is prepared for the inevitable adjustment period at his new high school. What he isn't prepared for are the rigorous local edicts, including a ban on dancing instituted by the local preacher, determined to exercise the control over the town's youth that he cannot command in his own home. When the reverend's rebellious daughter sets her sights on Ren, her roughneck boyfriend tries to sabotage Ren's reputation, with many of the locals eager to believe the worst about the new kid. The heartfelt story that emerges is of a father longing for the son he lost and of a young man aching for the father who walked out on him. To the rockin' rhythm of its Oscar and Tony-nominated top 40 score (the soundtrack album reached number one on the Billboard charts and has sold over 15 million copies!) and augmented with dynamic new songs for the stage musical, FOOTLOOSE celebrates the wisdom of listening to young people, guiding them with a warm heart and an open mind.Music by
Tom Snow
; Stage Adaptation by
Dean Pitchford
and
Walter Bobbie
; Lyrics by
Dean Pitchford
; Based on the original screenplay by
Dean Pitchford
; Additional Music by
Eric Carmen
,
Sammy Hagar
,
Kenny Loggins
and
Jim Steinman
Click Here for More Information
Rachel Corrie
in Broadway" border="0" bheight="100" width="100" align="right">
MY NAME IS RACHEL CORRIE
Dramatic Repertory Company
3/6-3/16/2014
Casey Turner (Tigers Be Still) stars in My Name is
Rachel Corrie
- a one-woman play composed from Rachel's own journals, letters and emails. This true story is a portrait of a messy, articulate, Salvador Dali-loving chain-smoker (with a passion for the music of Pat Benatar), who left her home and school in Olympia, Washington, to work as an activist in the heart of the Israeli-Palestinian conflict. In the three sold-out London runs since its Royal Court premiere, the piece has been surrounded by both controversy and impassioned proponents, and has raised an unprecedented call to support political work and the difficult discourse it creates.
Click Here for More Information
VEILS
Portland Stage
2/25-3/16/2014
A contemporary drama about bridging the gap between the West and the Middle East. When Intisar, an African American Muslim student, arrives in Cairo for a year abroad, she hopes to finally be understood. She's quickly enlisted by her exuberant Egyptian roommate, Samar, to help create a blog debating the practice of wearing veils, but when the Arab Spring intervenes, revolution threatens to overtake their friendship.
Click Here for More Information
SHARP-DRESSED MEN
Waterville Opera House
3/7-3/16/2014
In this fast-paced comedy, three sons (whose parents fell in love back in high school, and now 20 years later decide to get married) are in charge of organizing the wedding. Everything has to be perfect! Now the wedding is only 90 minutes away, one of the brothers in monumentally hung-over, another brother is having a marital crisis, and nobody picked up the tuxes. Who thought that putting the boys in charge was a good idea?
Click Here for More Information
GOOD PEOPLE
The Public Theatre
3/14-3/23/2014
Welcome to South Boston, where this month's paycheck covers last month's bills and a night on the town means a few rounds of bingo. When "mouthy Southie" Margie, loses her job, she turns to an old boyfriend from the neighborhood, now a successful doctor, hoping he'll help her make a fresh start. This humor filled drama from Pulitzer Prize winning playwright
David Lindsay-Abaire
, is a wickedly funny, powerful and insightful story of class, luck and the question of whether you can ever leave the old neighborhood behind.
Click Here for More Information
GOD OF CARNAGE
The Bangor Opera House
3/13-3/30/2014
A comedy of manners, without the manners! When little Benjamin whacks his playmate Henry with a stick, breaking two teeth, it is important that the boys' parents set the right example by discussing the matter calmly and reasonably. After all, nothing will be gained by behaving like children. But the thin veneer of civility is stripped away with corrosive wit, revealing the savage underbelly of playground politics. TONY AWARD WINNER! Strong language.
Click Here for More Information
GOD OF CARNAGE
Penobscot Theatre
3/13-3/30/2014
Bangor Opera House:
Yasmina Reza
; trans:
Christopher Hampton
; dir:
Kappy Kilburn
.
Click Here for More Information
View All Show Listings for Maine
Click Here to View BroadwayWorld.com Maine Calendar
Related Articles
From This Author BWW