The Laramie Project at Whittier Community Theatre
Dates

2/19/2021 - 3/6/2021

Theatre


Yorba Linda,CA




Whittier Community Theatre
Moises Kaufman and the Members of Tectonic Theater Project

In October 1998 a twenty-one-year-old student at the University of Wyoming was kidnapped, severely beaten and left to die, tied to a fence in the middle of the prairie outside Laramie, Wyoming. His bloody, bruised and battered body was not discovered until the next day, and he died several days later in an area hospital. His name was Matthew Shepard, and he was the victim of this assault because he was gay. Moise?s Kaufman and fellow members of the Tectonic Theater Project made six trips to Laramie over the course of a year and a half in the aftermath of the beating and during the trial of the two young men accused of killing Shepard. They conducted more than 200 interviews with the people of the town. Some people interviewed were directly connected to the case, and others were citizens of Laramie, and the breadth of their reactions to the crime is fascinating. Kaufman and Tectonic Theater members have constructed a deeply moving theatrical experience from these interviews and their own experiences. The Laramie Project is a breathtaking theatrical collage that explores the depths to which humanity can sink and the heights of compassion of which we are capable.
News About The Laramie Project at Whittier Community Theatre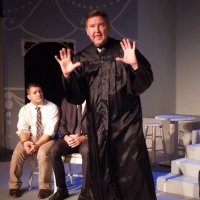 BWW Spotlight Series: Phil Brickey – Actor, Director, Rock Musician, and an Elementary Theatre Teacher Learning to Take his Classes Online
March 28, 2020
This Spotlight focuses on Phil Brickey, an actor, director, rock musician and Elementary School Theatre teacher who was one of the first directors for whom I produced a 2006 show for Kentwood Players at the Westchester Playhouse. That show was George Washington Slept Here which required a double level set to be constructed as the home being renovated had to look totally dilapidated in Act 1 and beautifully restored in Act II. Quite a feat of stagecraft thanks to set designer Grant Francis.