Now Playing Onstage in Los Angeles - Week of 11/04/2012
View All Show Listings for Los Angeles
Click Here to View BroadwayWorld.com Los Angeles Calendar
THE 25TH ANNUAL PUTNAM COUNTY SPELLING BEE
EDISON HIGH SCHOOL
11/7-11/10/2012
Six young people in the throes of puberty, overseen by grown-ups who barely managed to escape childhood themselves, learn that winning isn't everything and that losing doesn't necessarily make you a loser.THE 25TH ANNUAL PUTNAM COUNTY SPELLING BEE is a hilarious tale of overachievers' angst chronicling the experience of six adolescent outsiders vying for the spelling championship of a lifetime. The show's Tony Award winning creative team has created the unlikeliest of hit musicals about the unlikeliest of heroes: a quirky yet charming cast of outsiders for whom a spelling bee is the one place where they can stand out and fit in at the same time.
Click Here for More Information
---
AVENUE Q-SCHOOL EDITION
LINCOLN HIGH SCHOOL
11/1-11/10/2012
Winner of the Tony "Triple Crown" for Best Musical, Best Score and Best Book, AVENUE Q is part flesh, part felt and packed with heart. AVENUE Q SCHOOL EDITION is a laugh-out-loud musical that tells the timeless story of a recent college grad named Princeton who moves into a shabby New York apartment all the way out on Avenue Q. He soon discovers that although the residents seem nice, it's clear that this is not your ordinary neighborhood. Together, Princeton and his new-found friends struggle to find jobs, dates, and their ever-elusive purpose in life.Because the original AVENUE Q has some content elements that have previously made it a difficult ch
Click Here for More Information
---
SHOUT!! THE MOD MUSICAL
CASTILLEJA SCHOOL
11/8-11/10/2012
SHOUT! is the mod musical magazine that brings back the beautiful birds and smashing sounds that made England swing in the 60's. Created by
Phillip George
and
David Lowe
nstein, SHOUT! features terrific new arrangements of such classic tunes as "To Sir With Love," "Downtown," "Son of a Preacher Man," and "Goldfinger."SHOUT! travels in time from 1960 to 1970 chronicling the dawning liberation of women. Just as Dusty Springfield,
Petula Clark
, and
Cilla Black
, were independent women with major careers, English and American women were redefining themselves in the face of changing attitudes about gender. SHOUT! (and its all-female cast) reflects that through the unforgettable music of the time. With a shimmy and shake, the songs are tied together by hilarious sound bites from the period -- from 60's advertisements to letters answered by an advice columnist who thinks every problem can be solved with a "fetching new hair style and a new shade of lipstick."The songs in this delightful musical resonate with a timeless quality which appeals to every generation. A wonderful choice to showcase strong, female talent at any community theatre, high school, or college.Please note that original NY and touring sets, costumes and more for this title are available on MTI ShowSpace here. A presenters pack, with all original artwork, newspaper, magazine ads, programs, posters, merchandise and more is available to all presenters of SHOUT!
Click Here for More Information
---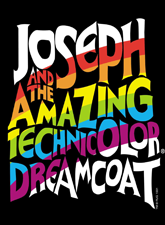 JOSEPH...DREAMCOAT (93' U.K. TOUR W/OPTIONAL `MEGAMIX`)
Contra Costa Musical Theatre
10/12-11/10/2012
The Biblical saga of Joseph and his coat of many colors comes to vibrant life in this delightful musical parable. Joseph, his father's favorite son, is a boy blessed with prophetic dreams. When he is sold into slavery by his jealous brothers and taken to Egypt, Joseph endures a series of adventures in which his spirit and humanity are continually challenged. He is purchased by Potiphar where thwarting advances from Potiphar's wife lands him in jail. When news of Joseph's gift to interpret dreams reaches the Pharaoh (wryly and riotously depicted as Elvis), Joseph is well on his way to becoming second in command. Eventually his brothers, having suffered greatly, unknowingly find themselves groveling at the feet of the brother they betrayed but no longer recognize. After testing their integrity, Joseph reveals himself leading to a heartfelt reconciliation of the sons of Israel. Set to an engaging cornucopia of musical styles, from country-western and calypso to bubble-gum pop and rock 'n' roll, this Old Testament tale emerges both timely and timeless. This version of JOSEPH?DREAMCOAT features extended songs and dances. The Megamix is available as a separate rental with this version. Lyrics by
Tim Rice
; Music by
Andrew Lloyd Webber
For more information on Contra Costa Musical Theatre, click hereFor more information on Joseph...Dreamcoat (93' U.K. Tour w/Optional `Megamix`), click here
Click Here for More Information
---
SINGIN' IN THE RAIN
GOOD COMPANY PLAYERS
9/20-11/11/2012
You remember the plot. You love the characters. You know "the song." It's no less than the stage adaptation of one of the most celebrated and beloved films of all time.brbr1920's Hollywood is the setting for this zany, light-hearted romantic comedy about the early days of sound film, when many a movie studio found itself scrambling to salvage the career of its chipmunk-voiced silent picture star.brbrThe MGM classic has been faithfully and lovingly adapted by Broadway legends a href="http://mtishows.com/biography.asp?writerid=3526"
Betty Comden
/a and a href="http://mtishows.com/biography.asp?writerid=3543"
Adolph Green
/a from their original award-winning screenplay. Each unforgettable scene, song and dance, is accounted for, including the showstopping title number, complete with an onstage rainstorm! Hilarious situations, snappy dialogue, and a hit-parade score of Hollywood standards make strongSINGIN' IN THE RAIN/strong the perfect entertainment for any fan of the golden age of movie musicals.
Click Here for More Information
---
THE ARABIAN NIGHTS
California State University, Theatre Deparment
11/6-11/11/2012
For more information, visit the website.
Click Here for More Information
---
CREATION
Boston Court Performing Arts Center
10/13-11/11/2012
When Sarah's husband, Ian, an evolutionary biologist, is struck by lightning and suffers a near-death experience, he develops an obsession with music. This strange new twist in their ordered lives sends them to seek answers from others about the ways in which people transform, and whether a marriage can endure monumental change. Four lives unexpectedly entwine as they wrestle with the mysteries of the human mind and heart, the alchemy of the creative process, and that single spark that can to change it all.
Click Here for More Information
---
DISNEY'S BEAUTY AND THE BEAST JR
CHRISTIAN YOUTH THEATER SAN DIEGO
11/2-11/11/2012
Step into the enchanted world of Disney's BEAUTY AND THE BEAST JR. Featuring songs from the Academy-Award winning animated feature, this stage version includes music by
Alan Menken
and the late
Howard Ashman
, along with new songs by Mr. Menken and
Tim Rice
. Your audiences will be transported to the heart of provincial life in a lovely French town. When Maurice becomes lost in the woods on the way to the fair, he seeks shelter in an old castle, but the master of the castle is a horrible beast that takes him captive. Maurice's daughter, Belle, must then give up her freedom to save his life. Belle's taming of the unfortunate Beast and his ultimate transformation back into a handsome prince is a beloved fairy tale about very different people finding strength in one another and learning how to love. This "tale as old as time" is filled with spectacular costume and set opportunities. Even more simply staged, Disney's BEAUTY AND THE BEAST JR. offers students a great introduction to musical theatre, using familiar songs and characters to guide them through their production.
Click Here for More Information
---
THE SEAGULL
Azusa Pacific University, Department of Theatre,
Mary Hill
Theater
11/8-11/17/2012
"People's destinies are so different. Some people drag along, unnoticed and boring—they're all alike, and they're all unhappy. Then there are others, they are one in a million. They are happy —." On a 19th-century Russ
Ian Lake
side estate, the magic of summer evokes passion in three generations of self-doubting artists. Masha pines for the young writer Kostya, but Kostya yearns for the aspiring actress Nina, who is infatuated with the older novelist, Trigorin. Trigorin "loves" both Nina and theater diva, Irina. Irina decidedly loves herself. And everyone aches for recognition, as artists and as human beings. Written in 1896, The Seagull is widely regarded as Chekhov's first masterpiece, subtly dissecting the affairs of the heart and the demands of a life in the arts, while balancing the comic, the lyric, and the tragic in a manner that has become the hallmark of his work. Recommended for kids 14+ due to mood and complexity of the show. Directed By: Rachel Tracie
Mary Hill
Theater November 8–17, 2012 November 8–10 and 15–17 at 7:30 p.m. November 17 at 2 p.m.
Click Here for More Information
---
A YEAR WITH FROG AND TOAD
CHRISTIAN YOUTH THEATER SAN DIEGO
11/9-11/17/2012
Arnold Lobel
's well-loved characters hop from the page to the stage in Robert and
Willie Reale
's Tony-nominated musical A YEAR WITH FROG AND TOAD. This whimsical show follows two great friends -- the cheerful, popular Frog and the rather grumpy Toad -- through four, fun-filled seasons.Waking from hibernation in the Spring, Frog and Toad plant gardens, swim, rake leaves, go sledding, and learn life lessons along the way. The two best friends celebrate and rejoice in their differences that make them unique and special. Part vaudeville, part make believe, all charm, A YEAR WITH FROG AND TOAD tells the story of a friendship that endures, weathering all seasons.The jazzy, upbeat score of A YEAR WITH FROG AND TOAD bubbles with melody and wit, making it an inventive, exuberant, and enchanting musical for the whole family. It is a perfect show to be performed by an ensemble group of actors and can be produced with either simple or extravagant staging and sets.
Click Here for More Information
---
ANNIE JR
CYT SACRAMENTO INC.
11/9-11/17/2012
Leapin' Lizards! The popular comic strip heroine takes center stage in one of the world's best-loved musicals. With equal measures of pluck and positivity, little orphan ANNIE charms everyone's hearts, despite a next-to-nothing start in 1930s New York City. She is determined to find her parents, who abandoned her years ago on the doorstep of a New York City Orphanage run by the cruel, embittered Miss Hannigan. With the help of the other girls in the Orphanage, ANNIE escapes to the wondrous and magical world of NYC. In adventure after fun-filled adventure, ANNIE foils Miss Hannigan's evil machinations and befriends President Franklin Delano Roosevelt. She finds a new home and family in billionaire Oliver Warbucks, his personal secretary
Grace Farrell
, and a lovable mutt named Sandy.ANNIE JR. is ideal for productions involving different grade levels, or for middle schools where students may be maturing at different rates. The cast size and age range of the parts are flexible and the bright, tuneful score is easy to sing and filled with familiar numbers.
Click Here for More Information
---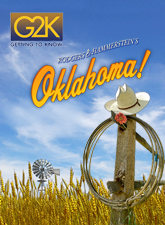 OKLAHOMA!
Pepperdine University
11/8-11/17/2012
The 'G2K' Getting To Know Series: Uniquely adapted musicals specifically for youth performers.
Rodgers & Hammerstein
's first collaboration remains, in many ways, their most innovative, having set the standards and established the rules of musical theatre still being followed today. Set in a Western Indian territory just after the turn of the century, the high-spirited rivalry between the local farmers and cowboys provides the colorful background against which Curly, a handsome cowboy, and Laurey, a winsome farm girl, play out their love story. Although the road to true love never runs smooth, with these two headstrong romantics holding the reins, love's journey is as bumpy as a surrey ride down a country road. That they will succeed in making a new life together we have no doubt, and that this new life will begin in a brand-new state provides the ultimate climax to the triumphant OKLAHOMA! In this adaptation for pre-high school students, the content has been edited to better suit younger attention spans, but all the elements that make this show a classic are still in place. You and your students will be enchanted by the timeless story and the dazzling score, while at the same time learning about theater and its production. PLEASE NOTE: All schools wishing to peruse or perform a G2K musical should apply through theMusic by Rodgers, Richard; Book and Lyrics by
Oscar Hammerstein
II; Based on the play GREEN GROW THE LILACS by
Lynn Riggs
; Original Dances by
Agnes De Mille
For more information on Pepperdine University, click hereFor more information on Oklahoma!, click here
Click Here for More Information
---
MISS SAIGON
CANDLELIGHT PAVILION DINNER THEATRE
10/5-11/18/2012
A classic love story is brought up-to-date in one of the most stunning theatrical spectacles of all time. In ?Miss Saigon,?
Alain Boublil
and Claude-Michael Schonberg (the creators of ?Les Miserables?), along with
Richard Maltby
, Jr., bring Puccini's ?Madame Butterfly? to the modern world in a moving testament to the human spirit and a scathing indictment of the tragedies of war. BRBRIn the turmoil of the Vietnam War, an American soldier and a Vietnamese girl fall in love, only to be separated during the fall of Saigon. Their struggles to find each other over the ensuing years ends in tragedy for her and a fighting chance for the child he never knew he had. BRBRAn international sensation, ?Miss Saigon? is an epic, daring pop opera that is universal in its emotional power even as it deals with controversial, contemporary issues. Its sung-through pop-inflected score gives a multi-ethnic cast of strong pop singers an opportunity to shine, in showstopping numbers like ?I Still Believe,? ?Why God Why?? and ?The American Dream.? Meanwhile, its fluid cinematic structure gives directors and designers a field day. BRBRRaw and uncompromising, ?Miss Saigon? is an intensely personal story of the losses we suffer and the sacrifices we make in a world gone mad.
Click Here for More Information
---
XANADU
PALM CANYON THEATRE
11/9-11/18/2012
XANADU follows the journey of a magical and beautiful Greek muse, Kira, who descends from the heavens of Mt. Olympus to Venice Beach, California in 1980 on a quest to inspire a struggling artist, Sonny, to achieve the greatest artistic creation of all time - the first ROLLER DISCO! (Hey, it's 1980!) But, when Kira falls into forbidden love with the mortal Sonny, her jealous sisters take advantage of the situation and chaos abounds. This hilarious, roller skating, musical adventure about following your dreams despite the limitations others set for you, rolls along to the original hit score composed by pop-rock legends
Jeff Lynne
and
John Farrar
, and includes, "Magic", "All Over The World", "Suddenly", "I'm Alive", "Evil Woman", "Have You Never Been Mellow" and "Xanadu", to name a few, and is based on the
Universal Pictures
' cult classic movie of the same title, which starred
Olivia Newton-John
and
Gene Kelly
. It's hilarity on wheels for adults, children and anyone who has ever wanted to feel inspired, as one of Broadway's master storytellers,
Douglas Carter Bean
e, weaves a moving, electrifying tale of endless fun that will keep you in stitches, while the original, legendary chart-topping tunes lift you out of your seat. You'll want to keep the music in your head, and XANADU in your heart, forever.
Click Here for More Information
---
LEGALLY BLONDE
PRESENTATION HIGH SCHOOL
11/3-11/18/2012
Sorority star Elle Woods doesn't take "no" for an answer. So when her boyfriend dumps her for someone "serious," Elle puts down the credit card, hits the books, and sets out to go where no Delta Nu has gone before: Harvard Law. Along the way, Elle proves that being true to yourself never goes out of style.
Click Here for More Information
---
GODSPELL JR
ECLECTIC COMPANY THEATRE
10/26-11/18/2012
This best loved musical by two-time Academy Award-winner
Stephen Schwartz
is now available in a Broadway Junior version! Drawing from various theatrical traditions, such as clowning, pantomime, charades, acrobatics and vaudeville, GODSPELL JR. is a groundbreaking and unique reflection on the life of Jesus, with a message of kindness, tolerance and love. Featuring the international hit "Day By Day," GODSPELL JR. can be performed virtually anywhere with the simplest of sets, costumes, lights and music.
Click Here for More Information
---
MIRACLE ON 34TH STREET THE MUSICAL
CHRISTIAN ARTS AND THEATRE OF CORONA
11/2-11/18/2012
Kris Kringle takes on the cynics among us in this musical adaptation of the popular holiday favorite. In his inimitable style,
Meredith Willson
(THE MUSIC MAN, THE UNSINKABLE
Molly Brown
), tells us the classic story of the year. A white-bearded gentleman claiming to be the real
Santa Claus
brings about a genuine MIRACLE ON 34TH STREET, spreading a wave of love throughout New York City, fostering camaraderie between Macy?s and Gimbel?s Department Stores, and convincing a divorced, cynical single mother, her somber daughter and the entire state of New York that
Santa Claus
is no myth.Filled with humor, spectacle (the opening scene takes place at none other than Macy?s famous Thanksgiving Parade) and such beloved songs as ?Pinecones and Hollyberries,? ?It?s Beginning To Look A Lot Like Christmas? and ?My State, My Kansas,? this joyous, heart-warming musical is pure family entertainment, wholesome without being cloying. With its built-in audience base, MIRACLE ON 34TH STREET THE MUSICAL is the perfect holiday treat for any theatre!
Click Here for More Information
---
SEMINAR
Center Theatre Group
/
Ahmanson Theatre
10/10-11/18/2012
In SEMINAR four aspiring young writers sign up for private writing classes with Leonard (played by
Jeff Goldblum
), an international literary figure. Under his recklessly brilliant and unorthodox instruction, some thrive and others flounder, alliances are made and broken, sex is used as a weapon and hearts are unmoored. The wordplay is not the only thing that turns vicious as innocence collides with experience in this provocative new comedy.
Click Here for More Information
---
DISNEY'S THE JUNGLE BOOK KIDS
THEATER 150
11/1-11/19/2012
The jungle is jumpin? with jazz is this exciting Disney classic! Join Mowgli, Baloo, King Louie and the gang as they swing their way through madcap adventures and thwart the ferocious tiger, Shere Khan. Specially adapted from the beloved film, this musical includes all your favorite Disney tunes, like ?The Bare Necessities,? and ?I Wan?na Be Like You.? With colorful characters and that toe-tapping jungle rhythm, Disney's THE JUNGLE BOOK KIDS is sure to be a crowd-pleaser for audiences of all ages.
Click Here for More Information
---
DISNEY'S THE JUNGLE BOOK KIDS
OJAI YOUTH ENTERTAINERS STUDIO
11/1-11/19/2012
The jungle is jumpin? with jazz is this exciting Disney classic! Join Mowgli, Baloo, King Louie and the gang as they swing their way through madcap adventures and thwart the ferocious tiger, Shere Khan. Specially adapted from the beloved film, this musical includes all your favorite Disney tunes, like ?The Bare Necessities,? and ?I Wan?na Be Like You.? With colorful characters and that toe-tapping jungle rhythm, Disney's THE JUNGLE BOOK KIDS is sure to be a crowd-pleaser for audiences of all ages.
Click Here for More Information
---
COMPANY
WILLOWS THEATRE COMPANY
10/25-11/25/2012
The clashing sounds and pulsing rhythms of New York City underscore this landmark "concept" show, considered by many to have inaugurated the modern era of musical theatre. strongCOMPANY/strong follows our anti-hero bachelor Robert as he makes his way through a series of encounters with April (the stewardess), Kathy (the girl who's going to marry someone else), Marta (the "peculiar" one), as well as with his married friends. brbrOn the night of his 35th birthday, confirmed bachelor
Robert Conte
mplates his unmarried state. In vignette after hilarious vignette, we are introduced to "those good and crazy people," his married friends, as Robert weighs the pros and cons of married life. In the end, he realizes being alone is "alone, not alive."brbrAn honest, witty, sophisticated look at relationships, strongCOMPANY/strong is as contemporary and relevant as ever (witness the recent hit revivals on Broadway and the West End). It features a brilliant energetic score containing many of a href="http://www.mtishows.com/show_detail.asp?showid=000030#"
Stephen Sondheim
/a's best-known songs (including "Another Hundred People," "The Ladies Who Lunch" and "Being Alive").br
Click Here for More Information
---
SPRING AWAKENING
ACTORS REPERTORY THEATRE OF SIMI
10/27-12/2/2012
Winner of 8 TONY Awards, including BEST MUSICAL, strongSPRING AWAKENING/strong celebrates the unforgettable journey from youth to adulthood with a power, poignancy, and passion that you will never forget.divbr/divdivAdapted from
Frank Wedekind
's 1891 expressionist play about the trials, tears, and exhilaration of the teen years, it has been hailed as the "Best Musical of the Year" by thespan style="font-style: italic;" New York Times/span, span style="font-style: italic;"New York Post/span, span style="font-style: italic;"Star Ledger/span, span style="font-style: italic;"Journal News/span, span style="font-style: italic;"New York Observer/span, and span style="font-style: italic;"USA Today/span./div
Click Here for More Information
---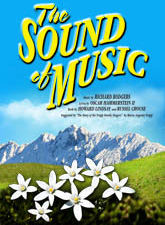 THE SOUND OF MUSIC
Berkeley Playhouse
10/27-12/2/2012
The final collaboration between Rodgers & Hammerstein was destined to become the world's most beloved musical. When a postulant proves too high-spirited for the religious life, she is dispatched to serve as governess for the seven children of a widowed naval Captain. Her growing rapport with the youngsters, coupled with her generosity of spirit, gradually captures the heart of the stern Captain, and they marry. Upon returning from their honeymoon they discover that Austria has been invaded by the Nazis, who demand the Captain's immediate service in their navy. The family's narrow escape over the mountains to Switzerland on the eve of World War II provides one of the most thrilling and inspirational finales ever presented in the theatre. The motion picture version remains the most popular movie musical of all time.Music by Rodgers, Richard; Lyrics by
Oscar Hammerstein
II; Book by
Howard Lindsay
&
Russel Crouse
; Suggested by For more information on Berkeley Playhouse, click hereFor more information on The Sound of Music, click here
Click Here for More Information
---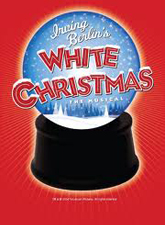 WHITE CHRISTMAS
The Western Stage
11/10-12/8/2012
Based on the beloved, timeless film, this heartwarming musical adaptation features seventeen
Irving Berlin
songs and a book by
David Ives
and
Paul Blake
. Veterans Bob Wallace and Phil Davis have a successful song-and-dance act after World War II. With romance in mind, the two follow a duo of beautiful singing sisters en route to their Christmas show at a Vermont lodge, which just happens to be owned by Bob and Phil's former army commander. The dazzling score features well known standards including Blue Skies, I Love A Piano, How Deep Is the Ocean and the perennial favorite, White Christmas. WHITE CHRISTMAS is an uplifting musical worthy of year-round productions.Music and Lyrics by
Irving Berlin
; Based Upon the
Paramount Pictures
Film Written For the Screen by
Norman Krasna
,
Norman Panama
and
Melvin Frank
; Book by
David Ives
&
Paul Blake
For more information on The Western Stage, click hereFor more information on White Christmas, click here
Click Here for More Information
---
FIDDLER ON THE ROOF
YOUNG ACTORS THEATRE
11/1-12/11/2012
In the
Little Village
of Anatevka, Tevye, a poor dairyman, tries to instill in his five daughters the traditions of his tight-knit Jewish community in the face of changing social mores and the growing anti-Semitism of Czarist Russia. Rich in historical and ethnic detail, FIDDLER ON THE ROOF has touched audiences around the world with its humor, warmth and honesty. The universal theme of tradition cuts across barriers of race, class, nationality and religion, leaving audiences crying tears of laughter, joy and sadness.The show features a star turn in Tevye, among the most memorable roles in musical theatre. Original director/choreographer
Jerome Robbins
' staging is legendary, and available from MTI in a comprehensive choreographic guide. Its celebrated score by
Jerry Bock
and
Sheldon Harnick
, features songs loved the world over: "Sunrise, Sunset," "If I Were A Rich Man" and "Matchmaker," to name a few. FIDDLER ON THE ROOF is simply Broadway at its very best.
Click Here for More Information
---
ANYTHING GOES
Ahmanson Theatre
9/22-12/22/2012
Roundabout Theatre Company's acclaimed Tony Award winner ANYTHING GOES sails into the Ahmanson in the Fall of 2012. Winner of three 2011 Tony Awards® including Best Revival of a Musical and Choreography, Roundabout Theatre Company's ANYTHING GOES continues on Broadway with
Sutton Foster
and
Joel Grey
at the
Stephen Sondheim
Theatre. Director and choreographer
Kathleen Marshall
won the 2011 Tony Award® for Best Choreography. New Yorker Magazine says "I challenge you to find a natural high greater than the first-act finale of ANYTHING GOES, a giddy layer cake of tap-dancing sailors atop droll
Cole Porter
lyrics. Of course, ANYTHING GOES is from the golden age of musical comedy, a genre that is doggedly committed to manufacturing joy." Roundabout Theatre Company's ANYTHING GOES features music and lyrics by
Cole Porter
; original book by P.G. Wodehouse &
Guy Bolton
and
Howard Lindsay
&
Russel Crouse
; and new book by
Timothy Crouse
and
John Weidman
.
Cole Porter
's roundup of nostalgic hits in the production include "You're the Top," "Friendship," "I Get a Kick Out of You," "It's De-Lovely," "Blow, Gabriel, Blow" and, of course "Anything Goes." This 1934 musical comedy about the lovers, liars and clowns on a transatlantic cruise is "a daffy, shipshape romp!" - Variety. When the S.S. American heads out to sea, etiquette and convention head out the portholes as two unlikely pairs set off on the course to true love… proving that sometimes destiny needs a little help from a crew of singing sailors, an exotic disguise and some good old-fashioned blackmail. The New Broadway Cast Recording of Roundabout Theatre Company's ANYTHING GOES, nominated for a 2012 Grammy Award for Best Musical Theatre Album, is available on
Ghostlight Records
.
Click Here for More Information
---
View All Show Listings for Los Angeles
Click Here to View BroadwayWorld.com Los Angeles Calendar
Related Articles
From This Author BWW