Now Playing Onstage in Las Vegas - Week of 5/11/2014
View All Show Listings for Las Vegas
Click Here to View BroadwayWorld.com Las Vegas Calendar
DISNEY'S PETER PAN JR
SOMERSET ACADEMY OF LAS VEGAS SKY POINTE CAMPUS
5/8-5/16/2014
Click Here for More Information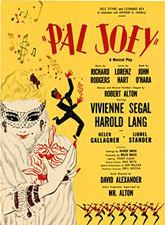 PAL JOEY
Damonte Ranch High School
5/9-5/17/2014
The penultimate Rodgers & Hart collaboration introduced the first anti-hero to propel a musical. Joey is an opportunistic cad, but he always seems to land on his feet. He elbows his way into a job at a seedy Chicago nightclub and is soon juggling the affections of a naive chorus girl and a wealthy society dame who just happens to be married. Once Joey has charmed the socialite into setting him up in his own joint, he ditches the chorine and is riding high, playing the big-time operator. When a punk threatens to spill the whole business to the socialite's husband, she decides that she's bored with Joey anyway, dumping him and the club. Having had a taste of his own medicine, you'd think Joey would head back to the sweet kid who really loves him. Wrong. Some things never change, but you know what? He's still on his feet.Music by Rodgers, Richard; Lyrics by
Lorenz Hart
; Book by
John O'Hara
Click Here for More Information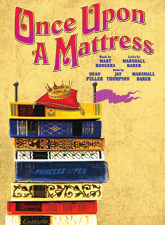 ONCE UPON A MATTRESS
Meadows School
5/16-5/17/2014
If you thought you knew the story of 'The Princess and The Pea,' you may be in for a walloping surprise! Did you know, for instance, that Princess Winnifred actually swam the moat to reach Prince Dauntless the Drab? Or that Lady Larken's love for Sir Harry provided a rather compelling reason that she reach the bridal altar post haste? Or that, in fact, it wasn't the pea at all that caused the princess a sleepless night? Carried on a wave of wonderful songs, by turns hilarious and raucous, romantic and melodic, this rollicking spin on the familiar classic of royal courtship and comeuppance provides for some side-splitting shenanigans. Chances are you'll never look at fairy tales quite the same way again.Music by
Mary Rodgers
; Book by
Jay Thompson
&
Dean Fuller
&
Marshall Barer
; Lyrics by
Marshall Barer
Click Here for More Information
ONCE
The Smith Center For Performing Arts
5/20-5/25/2014
The producers of ONCE, the acclaimed new Broadway musical, announced today that
The Road Company
is putting together a US national tour that will launch in the summer of 2013. The most nominated new musical of the season, with more Tony Award nominations (11) than any other show, ONCE opened on at the
Bernard B. Jacobs
Theatre (242 West 45th Street) on Sunday, March 18, 2012 to rave reviews. ONCE features a book by award-winning Irish playwright & screenwriter,
Enda Walsh
(Penelope, Hunger, The New Electric Ballroom), the Academy Award-winning music and lyrics of
Glen Hansard
and Marki¿½ta Irglovi¿½, direction by the acclaimed
John Tiffany
(Black Watch), movement by
Steven Hoggett
(Black Watch, American Idiot) and music supervision and orchestrations by
Martin Lowe
(Mamma Mia!).
Click Here for More Information
View All Show Listings for Las Vegas
Click Here to View BroadwayWorld.com Las Vegas Calendar
Related Articles
From This Author BWW