Now Playing Onstage in Kansas City - Week of 6/08/2014
View All Show Listings for Kansas City
Click Here to View BroadwayWorld.com Kansas City Calendar
MONTY PYTHON'S SPAMALOT
The Little Theatre of Jefferson City
6/12-6/14/2014
Click Here for More Information
THE WIZARD OF OZ
Kansas City Starlight Theatre
6/10-6/15/2014
Andrew Lloyd Webber
's new production of The Wizard of Oz is an enchanting adaptation of the all-time classic, totally reconceived for the stage. Click your heels together and join Scarecrow, Tin Man, Lion, Dorothy and her little dog Toto, as they journey through the magical land of Oz to meet the Wizard and obtain their hearts' desires. Watch out for the Wicked Witch of the West and her winged monkeys as you rediscover the real story of Oz in this fantastic musical treat for all the family.
Click Here for More Information
THE WIZARD OF OZ
Starlight Theatre
6/10-6/15/2014
Andrew Lloyd Webber
's reworked stage musical The Wizard of Oz is set to launch a North American tour in fall of 2013. After its run at the
Ed Mirvish
theatre in Toronto this December, The Wizard of Oz will take its entire cast across Canada and into the United States, hitting cities such as Chicago and Los Angeles.
Andrew Lloyd Webber
a€™s new production of The Wizard of Oz is an adaptation of the all-time classic, totally reconceived for the stage by the award-winning creative team of the revival of The Sound of Music. Developed from the ever popular MGM screenplay, this new production contains all the songs from the Oscar-winning movie score, all the favourite characters and iconic moments, plus a few surprises along the way, including new songs by
Tim Rice
and
Andrew Lloyd Webber
.
Click Here for More Information
BOB AND BING
Chestnut Fine Arts Center
5/15-6/22/2014
Bob and Bing celebrates the music and comedy of two iconic Hollywood stars.
Bob Hope
&
Bing Crosby
were great friends and in 1940, they were cast in a film called Road To Singapore. The magic of their personal friendship came to life on the screen and led to a series of "Road" pictures starring the two pals. Bob & Bing features their humor and duos - Road to Morocco, Put It There Pal, The Whiffenpoof Song and more..
Click Here for More Information
OF MICE AND MEN
Journeyman Theatre Company
6/12-6/22/2014
Two drifters, George and his friend Lennie, with delusions of living off the "fat of the land," have just arrived at a ranch to work for enough money to buy their own place. Lennie is a man-child, a little boy in the body of a dangerously powerful man. It's Lennie's obsessions with things soft and cuddly, that have made George cautious about who the gentle giant, with his brute strength, associates with. His promise to allow Lennie to "tend to the rabbits" on their future land keeps Lennie calm, amidst distractions, as the overgrown child needs constant reassurance. But when a ranch boss' promiscuous wife is found dead in the barn with a broken neck, it's obvious that Lennie, albeit accidentally, killed her. George, now worried about his own safety, knows exactly where Lennie has gone to hide, and he meets him there. Realizing they can't run away anymore, George is faced with a moral question: how should he deal with Lennie before the ranchers find him and take matters into their own hands.
Click Here for More Information
WE WILL ROCK YOU
Kansas City Starlight Theatre
6/17-6/22/2014
We Will Rock You features the greatest hits of the legendary British rock group, Queen. Now in its 11th year in London and seen by a staggering 15 million people worldwide, this hilarious, multi-award-winning and record-breaking phenomenon boasts a fantastic score of killer Queen tunes that you just can't resist singing along to, such as "Another One Bites The Dust," "Crazy Little Thing Called Love," "We Are The Champions," "Bohemian Rhapsody" and, of course, "We Will Rock You." It's the world champion of musicals and the show that rocks harder than any other, so don't miss the party!
Click Here for More Information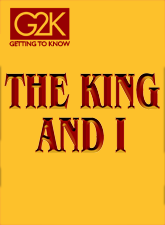 THE KING AND I
Metropolitan Ensemble Theatre
6/5-6/22/2014
The 'G2K' Getting To Know Series: Uniquely adapted musicals specifically for youth performers. East versus West makes for a dramatic, richly textured and ultimately uplifting tale of enormous fascination. It is 1862 in Siam when an English widow,
Anna Leon
owens, and her young son arrive at the Royal Palace in Bangkok, having been summoned by the King to serve as tutor to his many children and wives. The King is largely considered to be a barbarian by those in the West and he seeks Anna's assistance in changing his image, if not his ways. With both keeping a firm grip on their respective traditions and values, Anna and the King grow to understand and, eventually, respect one another, in a truly unique love story. In this adaptation for pre-high school students, the content has been edited to better suit younger attention spans, but all the magic and beauty of the original are still in place. You and your students will be enchanted by the timeless story and the dazzling score, while at the same time learning about theater and its production. Music by Rodgers, Richard; Book and Lyrics by
Oscar Hammerstein
II
Click Here for More Information
WE WILL ROCK YOU
Starlight Theatre
6/17-6/22/2014
A futuristic, sci-fi musical featuring the songs of Queen. In a world where globilization has wiped out individuality, everything is spoon-fed to you. You are told what music to listen to, what movies to watch, what clothes to wear, and even what thoughts to think. However, a group of youths search for instruments to play music the way they want it played.
Click Here for More Information
BY THE WAY, MEET VERA STARK
Unicorn Theatre
6/4-6/29/2014
An irreverent look at Hollywood's racial stereotypes as an African-American maid auditions for the same 1930's movie as her employer, a white starlet. This hilarious comedy is a change from the serious themes in previous
Lynn Nottage
works like Ruined (Pulitzer Prize Winner) seen here in 2011... and it's winning rave reviews.
Click Here for More Information
MONTY PYTHON'S SPAMALOT
Columbia Entertainment Company
6/12-6/29/2014
Click Here for More Information
CHITTY CHITTY BANG BANG
The
Coterie Theatre
6/17-8/3/2014
Take a fantastic musical adventure with an out-of-this-world car that flies through the air and sails the seas. The sensational songs include "Truly Scrumptious," "Toot Sweets," "Hushabye Mountain," and the Oscar-nominated title song, "Chitty Chitty Bang Bang."
Click Here for More Information
View All Show Listings for Kansas City
Click Here to View BroadwayWorld.com Kansas City Calendar
Related Articles
From This Author BWW