Now Playing Onstage in Jacksonville - Week of 12/09/2012
View All Show Listings for Jacksonville
Click Here to View BroadwayWorld.com Jacksonville Calendar
Forbidden Broadway
: Greatest Hits Volume 1 in Broadway" border="0" bheight="100" width="100" align="right">
Forbidden Broadway: GREATEST HITS VOLUME 1
Theatre Jacksonville
11/30-12/15/2012
In this long-running Off-Broadway hit musical revue, Broadway's greatest musical legends meet Broadway's greatest satirist in this hilarious, loving, and endlessly entertaining tribute to some of the theatre's greatest stars and songwriters. The show pokes good-natured fun at such Broadway hits as Spamalot, Annie, West Side Story and Les Miserables among many others. If you're looking for something lighthearted to do during the holiday season, this is it!
Click Here for More Information
WHITE CHRISTMAS
Alhambra Theatre
11/28-12/24/2012
For more than 20 years, the Alhambra has been Jacksonville's home-grown Christmas Tradition. The tradition continues with our production of "White Christmas!" After leaving the Army after W.W.II Bob Wallace and Phil Davis team up to become a top song -and-dance act. Davis plays matchmaker and introduces Wallace to a pair of beautiful sisters (Betty and Judy) who also have a song-and-dance act. When Betty and Judy travel to aVermont lodge to perform a Christmas show, Wallace and Davis follow, only to find their former commander, General Waverly, is the lodge owner. A series of romantic mix-ups ensue as the performers try to help the General. With classic songs "White Christmas" and "Baby its cold outside"
Click Here for More Information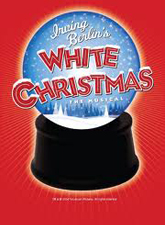 WHITE CHRISTMAS
Theatre Partners
, LLC
11/28-12/24/2012
Based on the beloved, timeless film, this heartwarming musical adaptation features seventeen
Irving Berlin
songs and a book by
David Ives
and
Paul Blake
. Veterans Bob Wallace and Phil Davis have a successful song-and-dance act after World War II. With romance in mind, the two follow a duo of beautiful singing sisters en route to their Christmas show at a Vermont lodge, which just happens to be owned by Bob and Phil's former army commander. The dazzling score features well known standards including Blue Skies, I Love A Piano, How Deep Is the Ocean and the perennial favorite, White Christmas. WHITE CHRISTMAS is an uplifting musical worthy of year-round productions.Music and Lyrics by
Irving Berlin
; Based Upon the
Paramount Pictures
Film Written For the Screen by
Norman Krasna
,
Norman Panama
and
Melvin Frank
; Book by
David Ives
&
Paul Blake
For more information on
Theatre Partners
, LLC, click hereFor more information on White Christmas, click here
Click Here for More Information
FOREVER PLAID: PLAID TIDINGS
Limelight Theatre
12/7-1/6/2013
The Forever Plaid boys are back in action when the heavenly
Rosemary Clooney
calls on them to add a little of their posthumous harmony to the world. Christmas classics delight as well as audience favorites featuring
The Rockettes
and the Chipmunks! This holiday show is truly heaven-sent!
Click Here for More Information
View All Show Listings for Jacksonville
Click Here to View BroadwayWorld.com Jacksonville Calendar
Related Articles
From This Author BWW