Now Playing Onstage in Houston - Week of 9/08/2013
View All Show Listings for Houston
Click Here to View BroadwayWorld.com Houston Calendar
XANADU
The Hobby Center
9/13-9/14/2013
TUTS' Humphreys School of Musical Theatre (HSMT) is excited to announce the Houston premiere of Xanadu as the 2013 Summer Conservatory production. The comical, roller skating musical based on the
Universal Pictures
film which starred
Olivia Newton-John
and
Gene Kelly
, is about following your dreams despite the limitation others set for you. Xanadu follows the journey of a magical and beautiful Greek muse, Kira, who descends from the heavens of Mt. Olympus to Venice Beach, California in 1980 on a quest to inspire a struggling artist, Sonny, to achieve the greatest artistic creation of all time - the first ROLLER DISCO! But, when Kira falls into forbidden love with the mortal Sonny, her jealous sisters take advantage of the situation and chaos abounds. Rolling along to the original hit score composed by pop-rock legends
Jeff Lynne
and
John Farrar
, Xanadu's catchy score includes, "Magic", "All Over The World", "Suddenly", "I'm Alive", "Evil Woman, and "Xanadu", to name a few.
Click Here for More Information
SCHOOL HOUSE ROCK
Playhouse 1960
9/7-9/15/2013
Schoolhouse Rock! is an American interstitial programming series of animated musical educational short films that aired during the Saturday morning children's programming on the U.S. television network ABC.
Click Here for More Information
HOW TO SUCCEED IN BUSINESS WITHOUT REALLY TRYING
Beaumont Community Players
9/6-9/21/2013
A hilarious satire of big business in the sixties and all it held sacred, this musical follows the rise of J. Pierrepont Finch, who uses a little handbook called "How To Succeed In Business Without Really Trying" to climb the corporate ladder, skipping gaily from lowly window washer to high-powered executive, while avoiding the familiar dangers of the day: the "company man," backstabbing coworkers, the office party, and even caffeine addiction, only to be tripped up by of all things, true love.
Click Here for More Information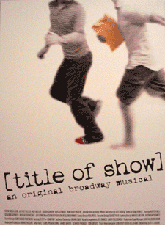 THE REAL THING
Main Street Theater
8/31-9/29/2013
Tom Stoppard
; dir: Re
Becca Greene
Udden.
Click Here for More Information
ARSENIC AND OLD LACE
The Garza Main Stage
9/6-9/29/2013
A mild-mannered and conventional theatre critic is driven to madness by the murderous habits of his sweetly charitable aunts. There are lots of laughs among all the bodies in this wickedly funny farce!
Click Here for More Information
View All Show Listings for Houston
Click Here to View BroadwayWorld.com Houston Calendar
Related Articles
From This Author BWW