BWW Reviews: Spectacular SECRET GARDEN Blossoms at Slow Burn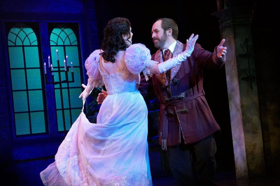 Unearthing and blossoming in the rising halls of the Broward Center, in the cooling winter winds and unbearable streets, lies an uncompromising spectacle of wonder. As the year ends in the throes of holiday anxiety, Patrick Fitzwater opens a show that digs into the psyche of a child and thrusts the experience onto aged adults who have truly forgotten those pangs - innocence isn't simply joyous, but confusing and destitute. Hal Prince's Company, Norman Jewison's Jesus Christ Superstar, and Patrick Fitzwater's Secret Garden are all tied together by the simplest, most unusual of connection - an undeniably ferocious cast that functions as a unit, and remains inseparably important to each other. Fitzwater's Secret Garden moves through Lucy Simon's score as he carves through swathes of childish bewilderment; Burnett's classic novel and Marsha Norman's book creep through as his cast grows and wraps around; the immersion of Secret Garden is beyond what you could find at any garden, and deeper than the grandest of canyons.
The Secret Garden remains one of the most influential British children's tales ever written, forming children's' minds since its publication in 1911. Mary Lennox is found orphaned in the midst of a cholera epidemic and brought to her relatives in England, a family helmed by someone all too familiar with loss and grief.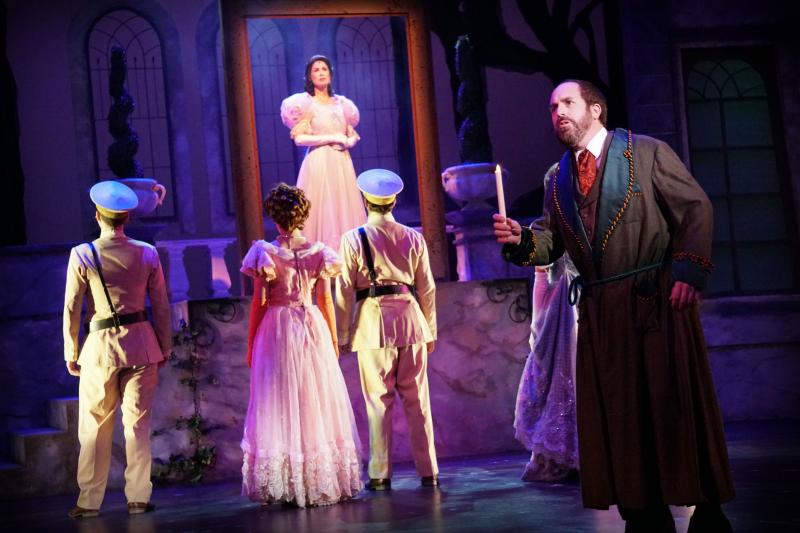 The manor, brought to life by the gorgeous mind of Michael McClain, is as Victorian Gothic as any, but incredibly chilling in the incoming growth of the foliage and darkness balanced. That darkness, Thomas M. Shorrock's initial teasings into Secret Garden's potential as his lighting design expands, brings shadows to chill, but also highlights that which shines. Shorrock moves his scheme through the show, favoring specials and haunting forest-tinges in the opening sequences, but brightening the stage as Mary's mind finds its way.
The mind of ten-year old Mary is all too vivid a journey for Fitzwater's audience, a turmoil riddled adventure we have forgotten childhood entails. In this, perhaps, is the most harrowing of parts his production. Who among us remembers the confusion, the blind trust in authority figures that we gave as young children? Lennox, brought to life by Alexa Lasanta, is an emotionless wall to those around her, but audience members are treated to the souls who haunt her, the nightmares that plague her, and the hopes that destroy her.
And Lasanta is as fine a starting point as any to a discussion of Fitzwater's performers. Only eleven herself, Lasanta blossoms across Secret Garden, erupting in warmth and the childlike wonder of yore within 'Come Spirit, Come Charm', but holding in that fear we forget in her 'Final Storm'. So young, to bring such nostalgia (both positive and negative lights), is a feat of true notice. Her counterpart, Christo Joseph Amygdalitsis as the frustratingly adorable Colin, is none the worse for wear in her brilliance. If anything, her performance doesn't find it's shine before he points his lights towards her - they work so well off each other it's hard to believe they aren't related. Who else could argue so convincingly? In the second act, as they use each other to understand, Amygdalitsis shines in 'Come to My Garden', a chilling dirge.
Alongside them is a revolving cast reminiscent of Fitzwater's ghostly choir in Hunchback, a cavalcade of stunning solos and characters. Returning stars, Matthew Korinko as Neville Craven, Rick Pena as Fakir, Ann Marie Olson's Rose or Stephanny Noria's Ayah, are all in more minor roles than Slow Burn fans may have expected. Instead, new stars are brought forth in Fitzwater's vision, while the brilliant veterans sew the tapestry in the forefront.
Any who see Secret Garden's grace will grant that Michael Ursua is a power to be reckoned with. As Archibald Craven, Ursua feels a well-aged and honed Ben Platt, succinct in subtlety and emotional nuance. He, in turn, brings out a tenor belt that shoots agonizing grief and misery into the story - an adult grief to match the youthful Lasanta. Alongside him, as his deceased wife Lily, Elizabeth Sackett reigns. Opening the show and spotting the show with operatic arias, Sackett dances around the manor's tragedy with love. Sackett and Ursua are immense figures, both so hidden amongst the crowds, but bursting with pain. When the forces overflow in 'How Could I Ever Know', the show reaches a peak as high as Everest.
Another newcomer joining the fray, Kyle Kemph's Dickon, a feisty, bouncy figure in Lasanta's youthful adventure. His scenes are wonderful, joyous occasions to break the darkness of her world, and his ' Winter's on the Wing' brings a breeze back into the settling grief of the theatre. He and Anne Chamberlain, playing the comedic and endearing Martha, are stars of the show, certain to be the performances most fondly remembered by the youngest and oldest audience members. Chamberlain's voice is beautiful and flowing, her 'Hold On' a song best experienced repeatedly.
What of those old Slow Burn veterans? Korinko, as Ursua's on stage brother, is an indomitable force. The first act's highest point is 'Lily's Eyes', a harmony achieved between the men that rings true in my ear hours after the show. Pena's motif as Fakir is the show's basis, and he joins Noria as a prominent figure behind Lasanta as she grows with them. Olson pairs with Michael Cartwright as Lasanta's parents - let their 'A Bit of Earth (Reprise)' shout their talents to the hills.
Fitzwater's Secret Garden is not a show, nor is it theatre - it is art, in the way that real art is difficult to discuss because there is too much to say and not enough to say at all. There is a lyric in Passing Strange:
"You know how when the music goes right over your head and straight into that part of you which is most beautiful? I mean when your mind can't grasp the music's math and your heartbeat has no clue, your pilgrim soul just follows the melody's path, looks back and says, I wanna thank you, brother. Thank you for this fugue. And it just is and is and is and is so much that whether you get it or not - it's got."
Fitzwater's Secret Garden is that music, is that art, is that fugue. Children and adult alike will fall into it, will experience it over these performances, and crawl out having become this pilgrim. Adults will wipe tears from eyes, children will enjoy the warmth as they enter the garden with Mary and Colin. And you will have blossomed into that which you need.
The Secret Garden plays December 14th-31st at the Broward Center for the Performing Arts. Tickets may be purchased online or at the door.
Photo Credit: Rodrigo Balfanz
Related Articles View More Fort Lauderdale

Stories

Shows
Trevor Durham has been covering theatre for years, starting off as a Cappies Critic before he became a staff writer for ULoop, the FSView, working (read more...)