BWW Reviews: Slow Burn's BRIDGES OF MADISON COUNTY Gripping Experience of Desire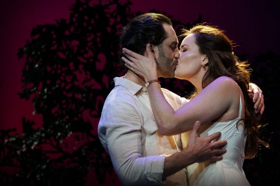 The passionate fires of a Harlequin romance can never compare to flaming desire lit onstage. Such truth need not be born of a unique story, or a gripping sequence of twisting devices - the most humanly engaging story is that of simply love. One of the 20th century's most beloved love stories has been brought to life with a score shining with every bit of that ferocious fire in The Bridges of Madison County, Jason Robert Brown's musical adaptation of the acclaimed novel. Making its regional premiere at the Broward Center, under the wistful and attentive direction of Patrick Fitzwater, Bridges is a lyrical, wrenching tour de force certain to wring the hearts of thousands.
Many theatregoers will remember Bridges from either the 1992 Robert James Waller novel, or the 1995 Meryl Streep and Clint Eastwood film. The narrative spans the four day affair of Italian war bride Francesca Johnson when her husband Bud takes her two children to the fair. National Geographic photographer Robert Kincaid stumbles into her door, and the four day affect their fundamental being, in a harrowing examination of human experience and desire.
Fitzwater has been a proclaimed fan of Brown's score for years, proclaiming desire to stage the show since the soundtrack's release. Bringing a handful of successful Brown productions into Bridges, he runs circles around the textured score. The nine piece orchestra is a celestial, melodic center to the show as it soars - thanks to them, and two leading performers capable of reducing even the hardest heart to a quivering emotional mess, Fitzwater's Bridges is his most relatable and real show in years.
Anna Lise Jensen's characterization of Francesca is reminiscent of opera in a black box. There's no escaping the waves of sorrow and desolation she experiences; Jensen makes her pain feel personal and intimate despite the space. Her soprano, breath-taking and overwrought with sentiments she shares, fills the heart just as it fills the room. 'Almost Real' gnaws and gnaws away for hours after curtain, a testament to a woman's determination to survive in tragedy no matter how great.
Playing her sultry lover, Cooper Grodin is as though from a dream. Following his journey in Madison County, as he opens and unfolds before Jensen, is a narrative worth exploring. At first his Robert Kincaid seems seductive and predatory, before he truly opens and opens to Francesca. His voice is a honed gem, a tenor soar best enjoyed in his expansive 'It All Fades Away.' The grit and realism of his conflicted nature and full blown passion for her is natural - not electric, but fiery.
Those flames smolder between them, a true slow-burn, an unbearably sensational experience more akin to Jennifer Holliday's 1982 Tony performance than Streep or Eastwood. The opening songs of the second act blend their unbreakable chemistry with the inevitability of Francesca's husband's return. The culmination in 'One Second and a Million Miles', beginning with Grodin's a capella plea, makes me dream of a new cast recording with these two at the helm. Thomas Shorrck's dark sunset in the background, Eric Alsford's orchestrations coming in, and Jensen's pain create a cataclysmic event in the climactic duet, a once in a lifetime number.
One certainly would agree with Newsday's critique of the original production, pointing out that each side character seems to be written to pad the driving love plot. Despite the book's failing, Fitzwater has utilized smartly performing cast in each role, from Leah Sessa's gorgeous off-shoot number, 'Another Life' to Margot Moreland bringing the house down in her humorous (yet soulful) 'Get Closer.' When Francesca's husband, played by Mark Sanders, gets his valued time to shine, he does not disappoint from his 'Home Before You Know It' to his 'When I'm Gone,' with the bright-eyed and light-hearted Michael Cartwright.
Two great performers slotted into a confusing situation are Francesca's children, Michael (Kyle Kemph) and Carolyn (Julia Dale). Each is spectacular, a mix of hilarious relief and childish conflict each to their own, but some questionable costuming in the final scenes turns what should have been a dramatic moment into something nearly laughable. Dale plays off her role splendidly and doesn't once falter - only technical issues are there to be mentioned.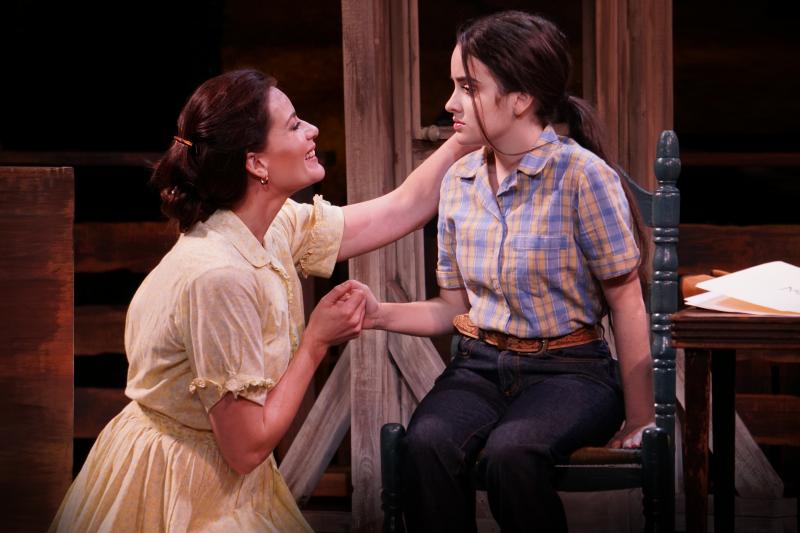 Far from being a consistent issue, Fitzwater's technical abilities otherwise glow. Shorrock's aforementioned lighting is the best yet seen, an ingenious use of circles and individual colors to showcase the character's isolation, changes in Jensen's Another Life', and, most powerful of all, lifelike Iowa skyline. The stars, the sunsets, the sunrises, all add to the "flat" landscape that opens and encloses the life of Francesca, somehow becoming the most beautiful of liberations in the second act. Rich Szczublewski's sound design is wise, a perfect mixing of Jensen and Grodin's powerful deliveries together all while giving rise to the orchestration.
All my life I've been hoping to see a production as lyrical and fulfilling in romance, rather than the melodrama that many imagine, as Fitzwater's Bridges. His love of the music along with his cast member's naturalistic love create an unmissable production of an unreal musical.
---
The Bridges of Madison County runs from January 18th-February 4th at the Broward Center for the Performing Arts. Tickets can be purchased online or at the door.
Photo Credit: Rodrigo Balfanz
Related Articles View More Fort Lauderdale

Stories

Shows
Trevor Durham has been covering theatre for years, starting off as a Cappies Critic before he became a staff writer for ULoop, the FSView, working (read more...)