BWW Reviews: PETER AND THE STARCATCHER Reminds Audiences to Fly with a Smile
Large scale satire rushes around the intimate setting, dashing between the boards of scenery with fast paced wit, and spraying pixie dust over those with faith in the nostalgic wonder. Slow Burn Theatre, that musical kingpin of crisp theatricality in south Florida, has finally put on its first play (though with a smattering of musical numbers). Patrick Fitzwater brings us a world made of faith, trust, and pixie dust in his rendering of Peter and the Starcatcher, the side-splitting show that brings Pan to Peter. Throughout his cast's non-stop delivery dancing about, or the unending surprises of Rick Elice's script, Fitzwater's Peter of a hundred heart-warming grins takes flight.
The challenges inherent to Starcatcher are amongst the many journeys each performer takes, from the unending cavalcade of characters each inhabits to the set pieces they embody, down to the musical numbers or drag extravaganza of the second act's opening. The script, based on Dave Barry and Ridley Pearson's 2004 novel of a similar name, is a genius contemporary comedy that Fitzwater shows as beautiful and sincere. Peter and the Starcatcher tells of a young orphan on the S.S. Neverland, soon to be taken over by a black mustachioed pirate, with the fate of the world hanging in the balance. On this great adventure, the orphan finds his home, his family, and in time, his name.
All within this adorable retelling resides modern reference, pop culture allusion, and shifts between reality that throw audiences about like the S.S.
Neverland in a gale. Fitzwater gives his cast a spark of unity, a dash of comradery and compassion between even the most grueling of foes, that has the show feel more a well-oiled machine than a cast of characters. As each character weaves their own story even in the background's shadows, as each interaction bustles about and performers encourage each other, the Starcatcher cast calls upon a troupe's foundations in the most wondrous of ways.
Hands on hips and smile plastered firmly, Jordon Armstrong flies as the titular Boy. His contagious smile brightens even the darkest corners of the island of Rondoon, his boyish charm bouncing off of the grimy opposition, an innocent naiveite that can overcome even the rudest of truths. Whenever he's onstage with Krystal Millie Valdes' Molly or Clay Cartland's Black Stache, he seems a brilliant bulb that will one day become the loved icon. Cartland, as the villainous Stache, especially connects with the reclusive Boy, the duo's scenes being absolute show stoppers in the second half of each act. Valdes is sticky sweet and endearing as the adolescent Molly, throwing a dash of pure childhood competitiveness to Armstrong, and helping him grow through the second act.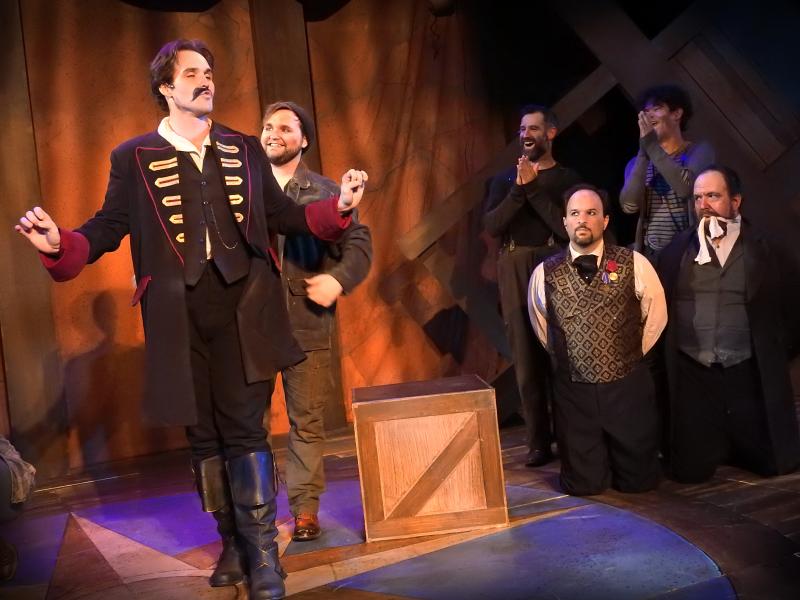 Cartland chews the scenery, chews the malapropisms, and chews out each joke. His giant performance, a beautiful mess, never fails expectations of fans of Starcatcher and still manages to surprise. With his faithful Smee (Cameron Jordan, Costello to Cartland's Abbott) in tow, he cuts swathes of every line and punches even the most obscure Philip Glass joke with a smile.
It's unbelievable that Fitzwater's cast manages, from the lowliest deck-hand to the bustling Betty Bumbrake, to shine brilliance. Each over the top ham, every muted recluse, every character is brought to life with lightning and efficiency. Andrew Rodriguez-Triana's Sanchez/Gomez is just as hilarious as his crucial Fighting Prawn, Noah Levine's reserved Bumbrake takes terrific humor out of the trusty Teacher (bravissima towards the Scottish strategy), and Johnbarry Green's various turns are criminally brief.
In truth, Fitzwater's Peter and the Starcatcher presents the strongest supporting cast the show could dream of. Never have Ted and Prentiss (Corey Vega and Robert Fritz, respectively) been such an equal to the Boy; Vega could well be a standout comedic performance of the year with his food-obsessed finesse, and Fritz is none worse for wear with his frenetic power grabs. And Cameron Jordan's aforementioned Smee, a bright-eyed, bushy tailed star, brings the music, brings the laughter, and brings the one-liners like sniper shots.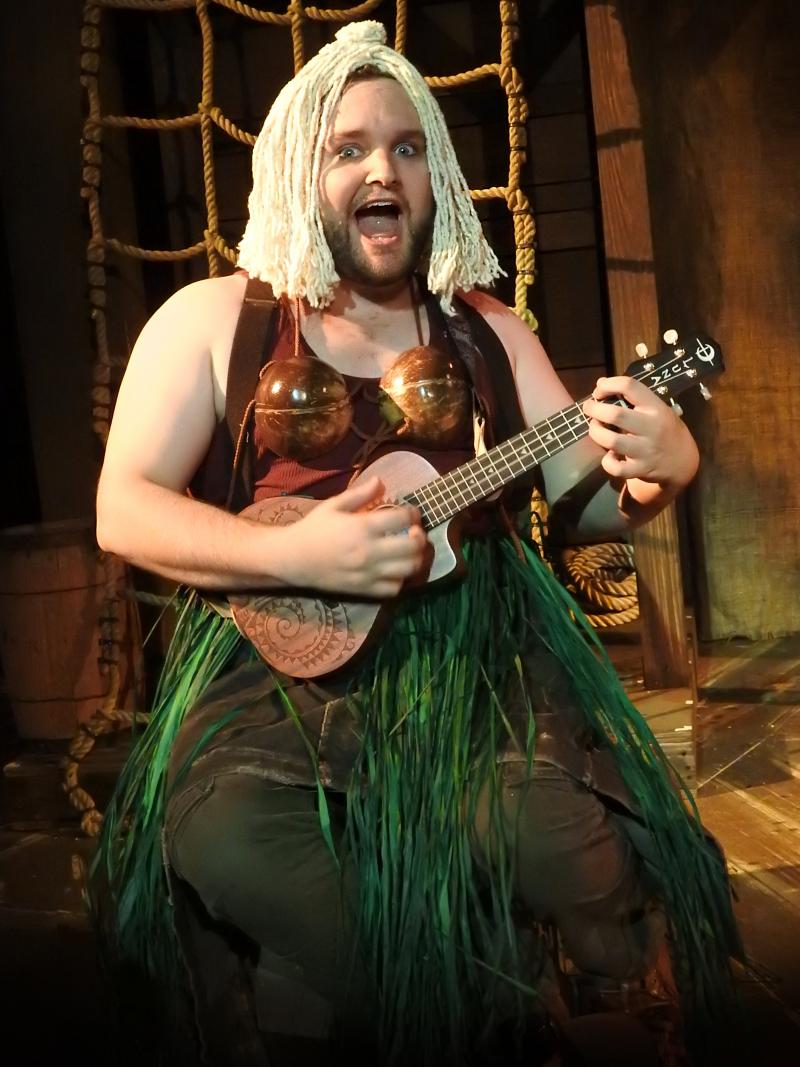 Along with returning technical designers, like Rick Pena as costume designer (who gives each character a more defined character than any grimy Starcatcher has yet seen), Fitzwater has enlisted new creative team members who come on the scene with a punch. While Starcatcher does depend strongly on the cast performing as set pieces and scenery in many scenes, Michael McClain's scenic design truly frames Fitzwater's action with smart corners, thought out levels, and an outline that works smartly with Jose Santiago's lighting. Rich Szczublewski's sound design is just as succinct, hiding the oceans waves behind the show, and raising each scene with his intrigues, something sound is oft to err in attempting.
With the heart of a show this sincere, and a cast so comedy savvy, Fitzwater's first play is playing with genius. Soon to tour south Florida venues, Peter and the Starcatcher is only just beginning to hit funny bones and inner children. With Cartland and Jordan alone necessitating a second viewing for each of their unending punchlines, Fitzwater's Starcatcher belongs on everybody's to-do list. Within this awfully big adventure, you may just remember how as a child, you could fly.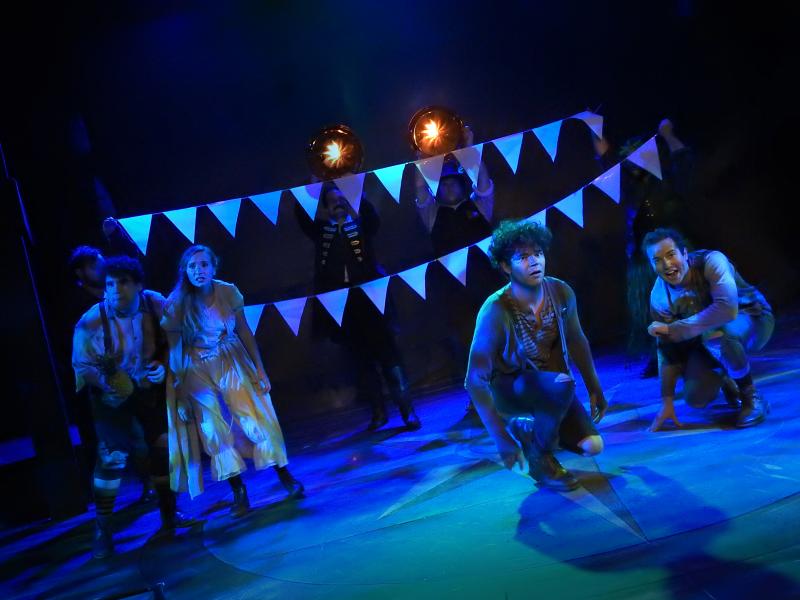 Peter and the Starcatcher plays November 9th-26th at the Broward Center for the Performing Arts. Tickets may be purchased online or at the door.

Related Articles View More Fort Lauderdale

Stories

Shows
Trevor Durham has been covering theatre for years, starting off as a Cappies Critic before he became a staff writer for ULoop, the FSView, working (read more...)