BWW Previews: SECRET GARDEN at Slow Burn Theatre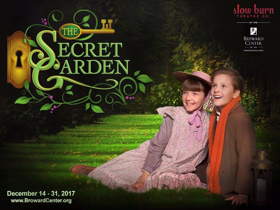 Poised like a statue bearing the weight of art itself, Patrick Fitzwater freezes to aim his chisel at the blocking of assorted spirits and ghosts around a frustrated young girl. "Let's block this opening number and hope it doesn't kill me." In all grey, rocking a Hamilton hoodie and youthful basketball shorts, he works out visions of picture-esque wonder, with a focus on the astonishing beauty only children know. His Secret Garden is a week into rehearsals, with vocals almost smoothed to completion and blocking well into the first act, and the production is already prominent and promising as a show could possibly be.
Fitzwater lowers his hands now, humming and singing Marsha Norman's lyrics, moving his cast to where he needs them next in the score. His absurd falsetto is warming while his direction is stoic and precise - the room feels less full of Equity actors hard at work than it does a troupe preparing a new show for their repertoire.
The Secret Garden is one of England's most beloved children's tales, repeatedly adapted over the years in film, television, and eventually, in 1989, on stage. The show follows young Mary Lennox, orphaned at ten by an outbreak of cholera in her Indian home, as she adapts to new life in Yorkshire. As the dead revisit her and her relatives, as she grows in the home of distant relatives, Lennox finds joy in a garden and her new-found friends.
---
Rehearsal resumes, Elizabeth Sackett twirls and pirouettes over to her place, and Fitzwater calls out, "You're very Fastrada right now!" She doesn't catch the Pippin reference, but many other cast do, and the work begins, once again, with excited joy. Brad Simmons, musical director, begins to play Lucy Simon's unforgettable score.
Instantly, Michael Ursua has my full attention in his opening phrases of "I Heard Someone Crying". As the rehearsal goes on, and the opening sequence begins in full, I'm overcome by Elizabeth Sackett's operatic soprano, reminiscent of a modern Betsy Josyln's Johanna, along with leading actress Alexa Lasenta's endearing performance.
­­­­­­­­­­­­­­­­Alexa Lasanta's performance as Mary delights in youthful insistence and crass delivery. Her impatience and frustration in a hearty London accent clashes with her bubbly joy between scenes, the smile and flashing eyes inherent in an artist yet to burst forth. Lasanta certainly burns bright, with only some piano and colorful sneakers to help in rehearsal, and still managing to explode with sincerity, voice, and intrigue that Secret Garden demands of such a young actress.
Fitzwater's utilization of his ghostly Greek chorus is as powerful as his last ghostly choir, if not more firm vocally. The "Dreamers", as he calls them, number less than a dozen, yet layer even the simplest harmonies like a Sondheim finale. Voices fluctuate, with each member standing out in turn, a rarity of ensemble successes. Even this far into the rehearsal process, Chris Robertson chills in "The House Upon the Hill," and Rick Pena's Fakir is a testament to his powerful rock voice. Michael Cartwright (last seen as the non-singing Clayton in Tarzan) proves his vocal dexterity alongside the marvelous Ann Marie Olson, and Johnbarry Green's Major Holmes is a character I'm thrilled to see more of when the show is delivered in full.
---
"Bum bum bum. I don't know if there's a 'bududum' but yeah sure." Fitzwater continues to prove himself a director who absolutely refuses to stay seated when he could be spending every minute on his feet creating - a verb rarely attributed to directors south of the Lincoln Tunnel. He's up and around, moving between his cast, each step a stroke of his portrait. Consistently splitting the line of asymmetry and balanced spectacle, Fitzwater has begun a vast tapestry of rounded curves and inspiring harmonic sensibilities.
This menacing, predatory, and damning use of circles and rounding movement is a sharp turn from typical theatrical expectation. Fitzwater, as usual, is happy to subvert wearing his cruel, devious smile. Secret Garden is his Grimm's fairy tale, one he writes with a smirk on for each pen stroke. The deathly opening chant is instantly memorable, as fans know, but even die-hards are sure to enjoy the overthrow Fitzwater has in store. Each of his spirits flutters around the living like curtains to a window left ajar, bustling around those remaining and reminding you the chilling nature of the Secret Garden's nature.
Fitzwater's harmonies (courtesy of Simmon's merry musical direction) are breath-taking, throwing back to his massive musical success last year with Menken's Hunchback score. The harmony at the end of his opening number is, still only just being finessed, already flesh crawling in his layering of the eleven initial voices. As the score builds, adding in the orchestra for production, these voices will enter a supernova-form. It was worth closing my eyes, feeling them layer one by one with only keys supporting them, and truly understanding the adroit direction put forth - the potential that this may, in turn, improve before opening night awes me.
---
In the halls of the Broward Center, there's no initial stumbling, only intent production. Piece by piece, Fitzwater installs and develops an elaborate design over an hour, finally releasing the players who function with ease. This fashion of intimate, detail-oriented direction and meticulous manipulation of the stage is already making his Secret Garden a thrilling, sensational work.
The Secret Garden opens December 15th at the Broward Center for the Performing Arts and runs through December 31st. Tickets can be purchased online or at the door.

Related Articles View More Fort Lauderdale

Stories

Shows
Trevor Durham has been covering theatre for years, starting off as a Cappies Critic before he became a staff writer for ULoop, the FSView, working (read more...)