Photos: Theatre NOVA Presents Michigan Premiere of THE DEVIL'S MUSIC: THE LIFE AND BLUES OF BESSIE SMITH
Theatre NOVA, Ann Arbor's professional theatre with an exclusive focus on new plays and playwrights, presents "The Devil's Music: The Life and Blues of Bessie Smith" by Angelo Parra.
Theatre NOVA presents the Michigan premiere of this hit Off-Broadway musical celebration of the legendary Bessie Smith, whose life was as large and outrageous as her talent. "The Devil's Music" re-imagines Bessie's final electrifying evening after she and her band are turned away by a whites-only theatre. This is a musical celebration not to be missed, packed with a trove of Bessie's all-time hits, with songs like "I Ain't Got Nobody," "St. Louis Blues," and "Tain't Nobody's Biz-ness If I Do."
"The Devil's Music" features K Edmonds as Bessie and Brian Buckner as her piano player, Pickle and is directed by Lynch Travis. The production team includes Forrest Hejkal (scenic design), Daniel C. Walker (lighting design), Brian Buckner (music direction), Haley Cook (costume design), and Michelle Resnick (stage manager).
"The Devil's Music" will run March 30 through April 22, 2018, at Theatre NOVA (410 W. Huron, Ann Arbor), a downtown performance space. Performances are Thursday through Saturday at 8:00 p.m., and Sunday matinees at 2:00 p.m. Theatre NOVA features free parking for patrons, as well as quick access to the city's restaurants, bars, bakeries, and coffee shops.
Tickets are $25, and Theatre NOVA continues its commitment to making theatre accessible by offering pay-what-you-can tickets for those who need them. For tickets, visit TheatreNOVA.org, call 734-635-8450 (Tuesdays through Fridays from noon until 3 p.m.), or buy them in person at the box office one hour before show time.
Theatre NOVA is Ann Arbor's resident professional theatre company. Its mission is to raise awareness of the value and excitement of new plays and playwrights and provide resources for playwrights to develop their craft by importing, exporting, and developing new work.
Angelo Parra (Playwright) is an American playwright. His first produced play, "Casino," won a 1989 New York Foundation for the Arts (NYFA) Fellowship in Playwriting and an Arts International grant (sponsored by the National Endowment for the Arts, U.S. Information Agency, Rockefeller Foundation, and The Pew Charitable Trusts). His work, "The Devil's Music, The Life and Blues of Bessie Smith" was named "one of the top-10 Off-Broadway experiences" by the New York Daily News, "Best Solo Show" by Florida's Broward/Palm Beach New Times, won a second NYFA Playwriting Fellowship (2000), and was nominated by the Lucille Lortel Awards for Best Solo Show in 2012. Parra has production credits in New York, Los Angeles, Chicago, Washington, D.C.; at Florida Stage (Palm Beach), The Hartford Stage (Hartford, Connecticut), Theatre Memphis, at the Cape Playhouse (Cape Cod); George Street Playhouse, Florida Rep, Royal Manitoba Theatre Center, Milwaukee Rep, among others. Parra is a member of the Dramatists' Guild and member of The Actors Studio Playwrights/Directors Unit. He was a Tennessee Williams Scholar at the 2000 Sewanee Writers Conference, teaches playwriting, performing arts, and English at SUNY Rockland. In addition to his BA in Communication Arts at Fordham, he earned an MA in Political Science at the New School in New York, and an MFA in Playwriting at Brooklyn College. He is currently president of the Penguin Rep Theatre Board of Trustees and director of the Hudson Valley Professional Playwright's Lab.
LYNCH R. TRAVIS (Director) is a member of AEA and SAG/AFTRA and is the recipient of theatre awards from the Ann Arbor News, Detroit News, Detroit Free Press, Lansing City Pulse, Oakland Press, Wilde Awards and the Theatre Examiner for his work as an actor and director. He has also won Subscriber Awards at the Performance Network and Detroit Repertory Theaters. Lynch is a resident artist at the Purple Rose Theatre, a company member of the Detroit Repertory Theater and a board member of the Jewish Ensemble Theatre. He has instructed actors at the Michigan Actors Studio, Mosaic Youth Theatre, Ann Arbor Public Schools, Cranbrook Summer Theatre School, The Detroit Repertory Theatre, and at Vista Maria's Residential Program for Girls.
K EDMONDS (Bessie) is excited to be back at Theatre NOVA as "The Empress of the Blues." She has appeared in dozens of productions in Michigan, most recently here in "The Revolutionists," in "Good People" at Open Book Theatre and in "Rosie the Riveter" at Wild Swan Theatre. On stage isn't the only place K shines; she is also an accomplished musician, writer, as well as an award-winning director (Boxfest Detroit 2011), which enabled her to begin her Production Company, K Edmonds Media. A graduate of Second City Detroit and the International Academy of Design and Technology, K is one of the newest artists in residence at The Purple Rose Theatre in Chelsea and will be appearing in "Willow Run" there this summer.
Photos by Angelo Parra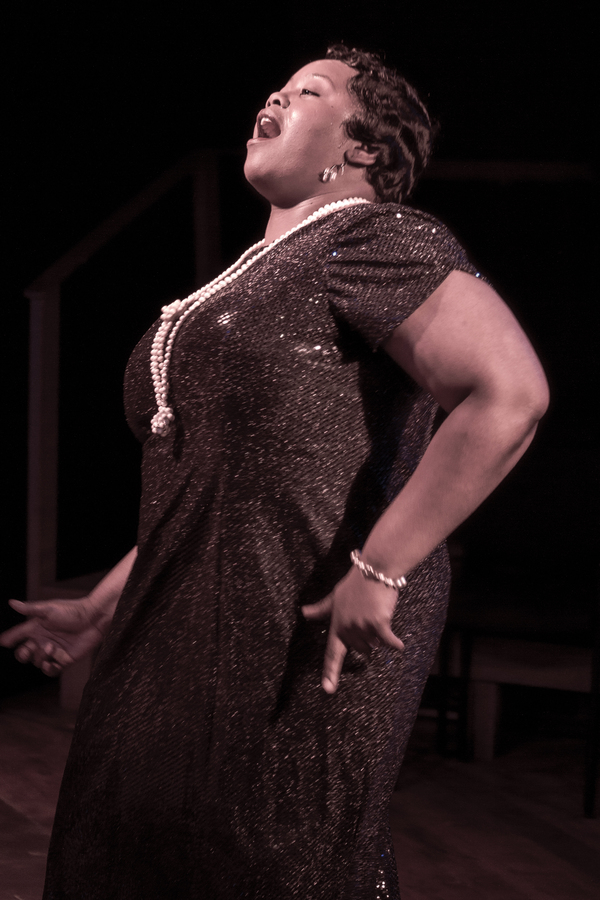 K Edmonds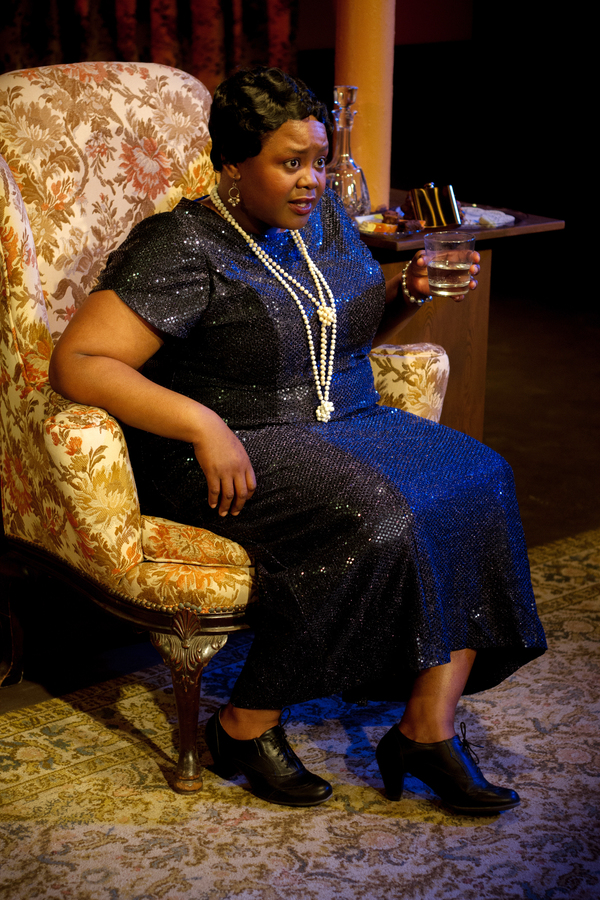 K Edmonds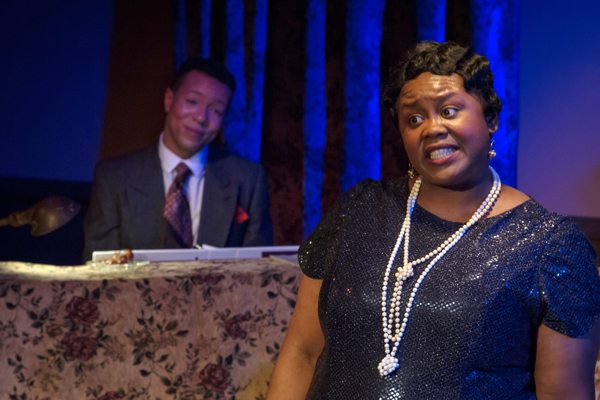 K Edmonds, Brian Buckner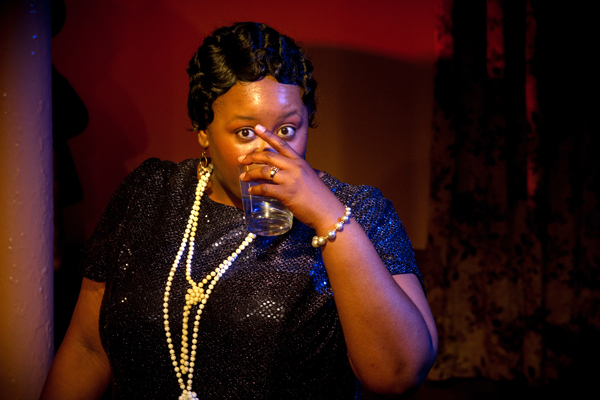 K Edmonds