Photo Flash: In Rehearsal for Penny Seats Theatre Company's URINETOWN
"Urinetown: The Musical!," the Tony-award-winning hit from 2001, will be performed by Ann Arbor's Penny Seats Theatre Company July 30, 31, Aug 1, 6, 7, 8, 13, 14, and 15. Set in an admittedly absurd dystopian future where one must pay to pee, the show lampoons corporate bureaucracy, pie-in-the-sky optimism, revolution without a plan, and the musical theatre genre itself. With a full pit orchestra (led by Richard Alder) on the band shell stage, the action takes place around the audience in the park. Featured performers include Brendan Kelly (Ypsilanti), Roy Sexton (Saline), David Kiley (Ann Arbor), John DeMerell (Walled Lake), Sarah Leahy (Ann Arbor), Paige Martin (Ann Arbor), Cathy McDonald (Plymouth), Christina McKim (Albion), Jenna Pittman (Royal Oak), Linda Rabin Hammell (Detroit), Jeff Stringer (Jackson), Maika Van Oosterhout (Ann Arbor), and Daniel Bachelis (Howell).
Director Lauren London (who also serves as The Penny Seats' President) says the piece is a natural for the group: "Since its turn on Broadway, "Urinetown" has been a favorite of performers, for its snappy score and hilarious, wink-to-the-audience feeling. It's a perfect show to place in our park, where the cast can interact up close with the audience, and take them into the show's silly world. Our cast is filled with performers who excel at just this type of theatre, and we're thrilled to bring it to the park."
Advance tickets are available at the group's website, www.pennyseats.org. For the first time this year, the group is also selling package tickets, where patrons can purchase tickets to both shows and save a dollar per ticket. Although the curtain goes up at 7:00pm each evening, pre-show picnicking is encouraged, and the group will sell water and concessions at the park as well.
Also, the Penny Seats current run of The Complete Works of William Shakespeare [Abridged] continues for two more weeks - July 17, 23, 24, and 25 at 7:00pm, and on July 19th at 2:00pm. (There is no show July 18th.). This hilarious parody features three actors attempting valiantly to perform every Shakespearean work in a mere 90 minutes. It was first performed by its authors, Adam Long, Daniel Singer, and Jess Winfield, at the Edinburgh Festival Fringe in 1987, and it has gained meteoric fame in the years since, becoming one of the world's most popular shows. The actors move frantically from piece to piece, donning and doffing costumes and wigs, hurling well-timed insults at one another, and frequently interacting with the audience. The show will star Matt Cameron, Artun Kircali, and Leanne Young, and is directed by Anne Levy. Advance tickets are available for $10 at www.pennyseats.org, or at (734) 926-5346. They will also be available at the door.
Photo by Gabriella Rundall

BrenDan Kelly, Maika Van Oosterhout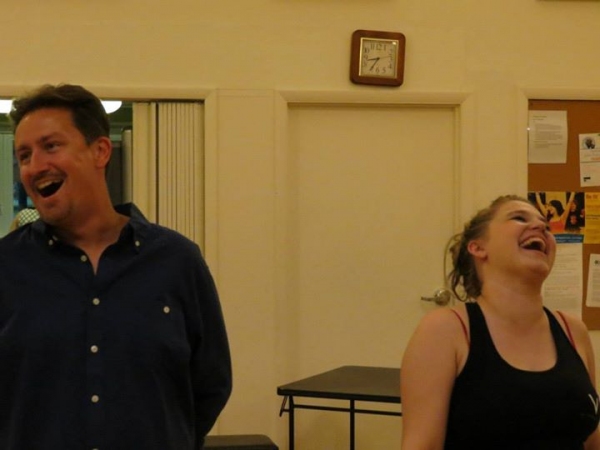 Roy Sexton, Sarah Leahy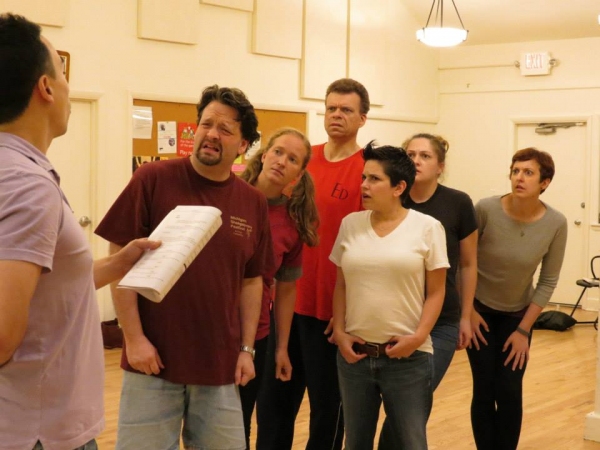 Daniel Bachelis, Jeff Stringer, Paige Martin, John DeMerell, Cathy McDonald, Christina McKim, Jenna Pittman

BrenDan Kelly, Maika Van Oosterhout

Roy Sexton, Paige Martin

BrenDan Kelly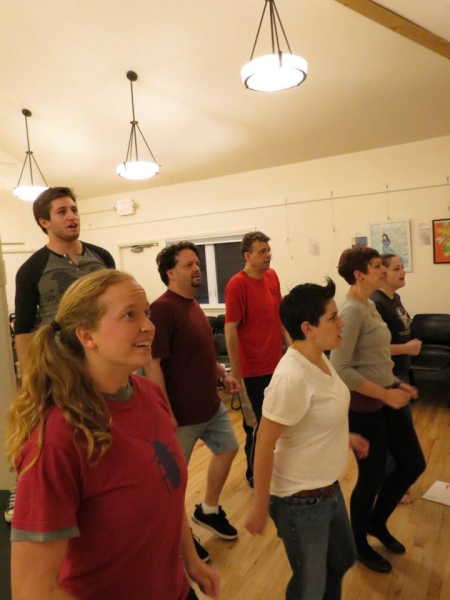 Paige Martin, BrenDan Kelly, Jeff Stringer, John DeMerell, Cathy McDonald, Jenna Pittman, Christina McKim