Detroit Repertory Theatre 's EVIDENCE OF THINGS UNSEEN Opens 11/1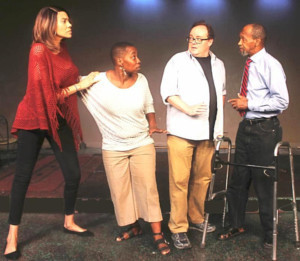 The Detroit Repertory Theatre enthusiastically announces the opening of Season #62 on Thursday, November 1, 2018 with the Midwest Premiere of Evidence of Things Unseen by Katie Forgette. Curtain opens at 8:30 pm and guests are invited to stay after the performance and enjoy a free champagne afterglow with the cast and crew. Tickets for opening night, and all performances, are still the lowest for professional theatre in the region, $17 - $20, and can be purchased by calling the Theatre box office at (313) 868-1347 or online at detroitreptheatre.com. Evidence of Things Unseen will run Thursdays through Sundays, November 1 to December 23, 2018.
Evidence of Things Unseen by Katie Forgette is about two sisters, Abigail, an investigative journalist and atheist, and Jane, a stay-at-home mom and born again Christian, and their differing responses to grief, revenge, sorrow and faith.
Evidence of Things Unseen is a story about how life is complicated, for everyone, and takes that simple truth and tells a story about the raw pain of grief and the release of humor, in our search to understand the actions of those nearest to us.
Evidence of Things Unseen is directed by Lynch Travis. His directing credits are extensive in the Southeast Michigan area and he has received many nominations and awards. This is Mr. Travis' sixth DRT directorial adventure after Brother Of All, White Ash Falling 9/11, Homeless and How We Got That Way, Firepower and Ghost Gardens.
His cast for Evidence of Things Unseen includes newcomer to the Rep stage Nicole Levey-Hunt as Abigail, veteran Rep actors Yolanda Jack, Cornell Markham, and returning to the Rep stage 20 years after his first appearance is David Wolber.
The production team for Evidence of Things Unseen includes stage manager Kelly Pino; set design by Harry Wetzel; costume design by Mary Copenhagen; and light design by Thomas Schraeder.
Evidence of Things Unseen playwright Katie Forgette spent most of her professional life as an actor and has a long list of acting credits. Her play, A Facility for Living had its Midwest Premiere on the Detroit Repertory Theatre stage in 2013.
Her scripts have been produced at the Seattle Repertory Theatre, Detroit Repertory Theatre, ACT Theatre, Manitoba Theatre Centre, People's Light, Park Square Theatre, Barter Theatre, Austin Playhouse, Cortland Repertory Theatre, The Dorset Theatre Festival, Vertigo Theatre, Taproot Theatre, Centenary Stage, Milwaukee Chamber Theatre, and Theatre 40. She lives in a tiny, brick house in Seattle with her favorite husband, actor R. Hamilton Wright, and a big, gray cat named Eddie.
The first, longest running, professional (Union), nonprofit theatre in the State of Michigan, the Detroit Repertory Theatre's mission is guided by the belief that the sense of community is stronger than the forces that splinter and that efforts to preserve unity deserve the same attention and support as the justly cultivated efforts to retain diversity. The implicit goal in all the theatre's efforts is to produce the best possible professional theatre while fostering cultural democratization of the arts, and fighting, by example, the disturbing level of racism that still exists.

Detroit Repertory Theatre is located in the geographical heart of the city at 13103 Woodrow Wilson, Detroit, MI 48238 Parking is Attended, Lighted, Fenced-In and Free. (313) 868-1347 detroitreptheatre.com

Related Articles View More Detroit

Stories

Shows
More Hot Stories For You