Celebrate 90 Years Of World Class Dance At Wayne State University's December Dance Concert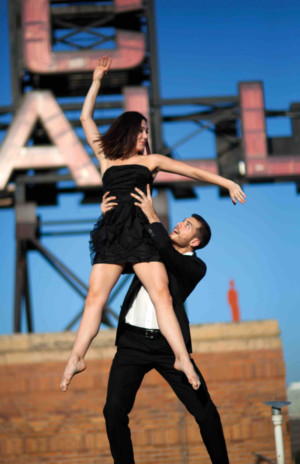 The Maggie Allesee Department of Theatre and Dance, a program within the College of Fine, Performing and Communication Arts at Wayne State University, is thrilled to kick off our year-long 90 Years of Dance at Wayne celebration with the annual December Dance Concert, December 7 and 8 at Detroit's Music Hall Center for the Performing Arts. This year's show promises diverse and moving works showcasing highlights of dance through the decades. Dance students have the pleasure of working with a variety of talented artists, including invited guests, esteemed faculty, and talented student choreographers.

Wayne State is proud to present Twyla Tharp's "The One Hundreds" as a grand celebration of Dance at Wayne's 90th year. Of the piece, Tharp says "'The One Hundreds' is a hundred eleven-second segments that are performed by two dancers in unison separated by four seconds between each segment...Five people each do twenty different segments simultaneously so that the one hundred are represented one-fifth of the time and then one hundred each do one in eleven seconds, right? You follow me? Let's go through it again. Five people do twenty representing all the phrases in one fifth of the time. And then one hundred people each do one simultaneously. In eleven seconds." This famous work will feature 100 people from the Metro Detroit community, as they join the Wayne Dancers to create a dynamic and exciting work of art.

Ballet great Gerald Arpino's "Valentine" will be brought to life once more, staged by Director of Dance, Meg Paul and featuring live music by Charles V. Paul. In what the "Houston Chronicle" described "A saucy, witty, wacko interplay between...antagonists in a whimsical boxing ring," this duet with live solo double bass will entertain and delight.

To Sangana, Wayne State's African dance company joins the mix, thrilling audiences with an African-derived dance and drum performance guaranteed to inspire, refresh, educate, and entertain. The company celebrates rich cultural traditions from African heritage, as well as the contemporary African-American experience.

Theatre and Dance at Wayne is proud to present works by guest artist Pilobolus in collaboration with faculty member RAS Mikey Courtney. Also featuring works by Eva Powers, Karen Prall, Jennifer Harge, Kristi Faulkner, and alumnae Liz Schmidt along with pieces choreographed by current students, Leah O'Donnell, Rachel Andes, and Maddy Petz. This is sure to be an inspiring and invigorating evening of dance, honoring and celebrating the 90th anniversary of Dance at Wayne State University. In addition to opening night on December 7th, there is a special reception at 6 p.m. Tickets for the concert and reception are available for purchase online by visiting theatreanddanceatwayne.com, by calling the Theatre and Dance at Wayne Box Office at (313) 577-2972, or by visiting the box office at 4743 Cass Avenue at the corner of Hancock Street.

About the Wayne State University
Wayne State University is one of the nation's preeminent public research universities in an urban setting. Through its multidisciplinary approach to research and education, and its ongoing collaboration with government, industry and other institutions, the university seeks to enhance economic growth and improve the quality of life in the city of Detroit, state of Michigan and throughout the world. For more information about research at Wayne State University, visit http://research.wayne.edu/

Pieces included in the December Dance Concert

CONVERGE
Choreographers: Mark Fucik & Dr. RAS Mikey Courtney (2018 Allesee Artist in Resident)
in collaboration with the performers
Music: Nosaj Thing, Tycho, and Dustin O'Halloran (mixed by: Dr. RAS Mikey C)
Dancers: Amanda Benjey, Isabella Brown, Natalie Cantalino, Renee Dempsey, Camryn Eaglin, Joella Fitzpatrick, Max Golden, Cydney Hunter, Arnell Kinney, Joseph Mattar, Kathryn McNarney, Brooklyn Park, Maddy Petz, Lena Shuptar

SURVEY SPACE AND FINDING TIME (FRIDAY ONLY)
Choreographer: Eva Powers
Composer: FIRST LAST
Dancers: Kaylee Adair, Rylee Aranosian, Eric Blovits, Olivia Bonich, Kendall Ciantar, Brianna Clark, Taylor Craft, Stephanie Dobra, Madelyn Duhr, Racquel Dunneback, Alexandra Failoc, Evie Gaines, Kayla Gonzalez, Emily Hooper, Makaela Martin

I LOVE SURPRISES (SATURDAY ONLY)
Choreographer: Kristi Faulkner in collaboration with the dancers
Music: "I'll Cry if I Want To" by Lesley Gore
Dancers: Makena Junttonen, Olivia Kimes, Payton Kozlowski, Alex Lee, Andersen Liauw, Joseph Mattar, Lisa McCabe, Jessica Mossner, Samantha Penive, Jayda Powell, Alexis Rose, Brianna Schmidt, Devany Scott, Gabe Steffey

COURAGE
Choreographer: Karen Prall
Music: Black Coffee Ft. Toshi-Buya - Monique Bingham Deep in the Bottom
Dancers: Micah Bolden, Brianna Clark, Taylor Craft, Stephanie Dobra, Alyssa Grabinski, Olivia Kimes, Joseph Mattar, Alexis Rose

DANCE OF THE ANCESTORS
Choreographer: Leah O'Donnell
Music: Youtube uncredited: "Chorus Girls 1934", David Chernyavski: "Tsu Der Hupe/A Redi/Karak hod", Lakatos: "Klezmer Csardas", Fanny Brice: "The Song of the Sewing Machine", Benny Weinbeck: "Body and Soul", Florence Meltzer: "Body and Soul", Anonymous: "Sentimental Journey", instrumental. Music edited by Leah O'Donnell
Dancers: Kaylee Adair, Amanda Benjey, Olivia Bonich, Natalie Cantalino, Taylor Craft, Racquel Dunneback, Kayla Gonzalez, Emily Hooper, Jessica Mossner, Maddy Petz, Jayda Powell, Gabe Steffey

NOT YET, IT'S OK JUST GO
Choreographer: Rachel Andes
Music: "Claire de Lune" by Claude Debussy
Dancers: Amanda Benjey, Hannah Bialecki, Renee Dempsey, Joey Mattar, Hannah Rittmueler, Shannon White

VALENTINE
Choreographer: Gerald Arpino
*In celebration of the Joffrey/Arpino Festival, courtesy of the Arpino Foundation
Staged by Meg Paul
Composer: Jacob Druckman; Contrabass musician; Charles V. Paul
Dancers: (Dec. 7) Amanda Zawisza, Brandon Koepsell; (Dec. 8) Natalie Cantalino, Brandon Koepsell

THE ONE HUNDREDS
Choreographer: Twyla Tharp
Staging by Benjamin Bowman (2018 Allesee Artist in Resident)
Dancers: Rachel Andes, Hannah Bialecki, Olivia Bonich, Isabella Brown, Haley Candela, Taylor Craft, Rachel Dunneback, Kayla Gonzalez, Emily Hooper, Cydney Hunter, Abby Niemi, Joseph Mattar, Christy McAuliffe, Mady Petz, Lena Shuptar, Molly Sute, Ashley Taravella, Shannon White, Amanda Zawisza, Juliana Zuech
Dance Captain/Understudy: Amanda Benjey
Understudy: Max Golden

COME IN, TAKE A SEAT
Choreographer: Maddy Petz
Music: "She's A Handsome Woman" by Panic! At The Disco
Dancers: Abby Givens, JoElla Fitzpatrick, Hannah Rittmueler, Amanda Zawisza, Katy Mcnarnie

THE LINE BETWEEN HEAVEN AND HERE (2013)
Choreographer: Jennifer Harge
Music: Bobby McFerrin, Steve Reich, Mike Wall, Brooklyn Parks;
arr. by Jennifer Harge
Dancers: Kristine Anderson, Rachel Andes, Kendell Burks, Renee Dempsey, Dominique
Denson, Maxwell Golden, Kyrah Gradford, Gabby Heabeart, Emily Hill, Cydney Hunter, Brooklyn Parks, Sarah Renko, Lena Shuptar, Juliana Zuech

Bend
Choreographer: Liz Schmidt
Music: "Heading Home" by Julianna Barwick,
"First Self- Portrait Series" by Rachel Grimes
Dancers: Amanda Benjey, Hannah Bialecki, Sara Burman, Haley Candela, Natalie Cantalino, Camryn Eaglin, Kayla Gonzalez, Emily Hooper, Christy McAuliffe, Madeline Petz, Hannah Rittmueller, Molly Sute, Ashley Taravella, Shannon White, Amanda Zawisza

TO SANGANA performs AFRO CUBAN MOVEMENT
Choreographer: Danys "La Mora" Perez
Musicians: Chinelo Amen-Ra and Basira Norris
Dancers: Cameron Blackwell, Micah Bolden, Leah Brown, Taylor Craft, Olivia Kimes, Devany Scott, Anthony Toney

PRODUCTION TEAM

Stage Manager, Jocelyn Levadoux
Assistant Stage Manager, Sally Bremer
Costume Designer, Tony Toney
Lighting Designer, Andrew Holderfield
Sound Designer, Aidan Smith
Assistant Lighting Designer, Megan O'Brien

BIOGRAPHIES

RACHEL ANDES (Not Yet, It's Ok to Go) is a native of metro Detroit. She is currently training in dance at the renowned Wayne State University. She studies as a BFA student at the university, as well runs as the Vice President of the student-run dance company, Dance Workshop. Rachel is thrilled to present work in the 2018 annual December Dance Concert.

Gerald Arpino (Valentine) was born in Staten Island, New York, and died in 2008 in Chicago. He received his early dance training in Seattle by Mary Ann Wells. He co-founded The Joffrey Ballet with Robert Joffrey in 1956 and served as Associate Director for many years. Upon Joffrey's death in 1988, Arpino succeeded him as Artistic Director. In 1995, he moved The Joffrey Ballet to Chicago. A leading dancer with the company in its early years, Arpino choreographed his first work for The Joffrey, Ropes, in 1961. Shortly thereafter, he became The Joffrey's resident choreographer and to date has created more than one-third of the company's repertoire. His amazingly diverse work ranges from social commentary to pure dance gems. His ballets are in the repertoires of companies around the world. Arpino is the first choreographer commissioned to create a ballet honoring the Office of the American Presidency: The Pantages and the Palace Present Two-A-Day. He was the first American commissioned to choreograph a ballet for a city, San Antonio, Jamboree. In 1993, Arpino produced America's first full-evening rock ballet, Billboards, set to the music of Prince. In addition, Arpino is the only choreographer to have had four of his ballets performed at the White House. Arpino served on numerous boards and councils including the national advisory council of the ITI/USA International Ballet Competition and the board of the Dance Notation Bureau. He was a member of the Arts Advisory Committee of the New York International Festival of the Arts. He served as an advisor to the Artists Committee for The Kennedy Center Honors.

BENJAMIN BOWMAN (Twyla Tharp's The One Hundred) was introduced to dance through an outreach program instituted by the North Carolina School of the Arts' (UNCSA) Ballet department, studying under Sonja Tyven and, later, with Duncan Noble, Melissa Hayden, Gina Vidal, Frank Smith and Gyula Pandi. He attended multiple summer sessions at both the San Francisco Ballet School and the School of American Ballet (SAB), while continuing training with the staff of the Kansas City Ballet. Mr. Bowman was accepted to SAB as a full-time student, following his sophomore year at UNCSA and joined the Kansas City Ballet in 1986. He then joined the Fort Worth Ballet in 1988, where he became a Principal Dancer in 1990. He joined the New York City Ballet in 1993, performing with the corps de ballet and in many soloist and principal roles, until leaving the company in the spring of 2000. After NYCB, Mr. Bowman was invited to join a select group of dancers that Twyla Tharp put together to create two new works for the American Dance Festival. The group continued to tour and create work for the next two years, while generating the material that formed the basis of "Movin' Out", Twyla's hit Broadway show set to the music of Billy Joel, in which Mr. Bowman originated the role of "James". Post- "Movin' Out", Mr. Bowman worked freelance for a number of choreographers, and wrapped a long career working with Martha Clarke on the revival of her Obie award-winning show, "The Garden of Earthly Delights". Mr. Bowman lives in New York City and freelances as a teacher, choreographer, and both acts and is represented by Access Talent as a voice-over artist. He has been setting work for the Twlya Tharp Dance Foundation since 2010.

DR. RAS MIKEY COURTNEY (Converge) is a critically acclaimed dance professional whose life mission to spread universal understanding to communities and cultures across the globe through sharing his gift of the arts. Dr. RAS is currently an Assistant Professor at Wayne State University and holds a BFA in Modern Dance from the University of the Arts in Philadelphia and an Advanced MA degree in Ethnochoreology from the University of Limerick in Ireland where he also completed his PhD in Arts Practice Research. Dr. RAS toured extensively with Pilobolus as a performer/choreographic collaborator for ten years and he has also produced works with his company Fore Im a Versatile Entertainer (F.I.V.E.) LLC., in the USA, Ethiopia, Ireland and other countries around the world. "Movement is life and I am a Lifist"

KRISTI FAULKNER (I Love Surprises) is a choreographer, performer, filmmaker, educator, and activist based in Detroit. She is the Artistic Director of Kristi Faulkner Dance - a queer-identified contemporary dance company based in Detroit that dares to be different. Performing everywhere from warehouses to community centers, from museums to the middle of the street, Faulkner believes in making dance accessible and empowering audiences to connect with their world. Faulkner is known for highly physical and humorously theatrical work that challenges and excavates ideas about sensuality, strength, authority, disgust, attraction and objectification while authentically representing LGBTQ identity. Community engagement and collaboration is integral to her practice. Her work has been commissioned and presented throughout Michigan, Ohio, Illinois, Minnesota, Missouri, Kentucky and New York. Faulkner is a 2018 Maggie Allesee Choreography Award finalist for "Women's Work" and a 2016 finalist for "OBject/obJECT". She received the 2017 MCACA New
Leader Award. Her winning Knight Arts Challenge project to engage and inspire LGBTQ youth through performance and storytelling titled "Not In My House" premiered October 2018.

MARK FUCIK (Converge) is a native of Walnut Creek, California. He earned his BA in Theater Arts at Rutgers University. Mark joined Pilobolus in 2001 and danced with the main company until 2005. He has worked with the company in many different capacities performing with Pilobolus Creative Services, teaching, and serving as Associate Creative Director. He toured with the original Shadowland cast for two years as the Dance Captain and Associate Creative Director.

JENNIFER HARGE (The Line Between Heaven and Here, 2013) is a Detroit-based movement artist, choreographer, and educator. Her creative work insists on honoring blackness as a way of writing in a history that has often been misnamed or gone unnoticed. Harge has been recognized by various institutions across the country in the form of choreography, performance and residency invitations, including: Dayton Contemporary Dance Company, Detroit Institute of Arts, Museum of Contemporary Art Detroit, Pulitzer Arts Foundation,
Washington National Cathedral, Atlantic Center for the Arts, Djerassi Resident Artists Program, University of Michigan, Duke University, and Wayne State University. In 2017 she was awarded the Kresge Arts in Detroit Fellowship in Performance Art.

LEAH O'DONNELL (Dance of the Ancestors) studied at the Joffrey Ballet School. She has danced with The Metropolitan Opera, Washington National Opera, in musicals, and on tour. Other credits include Saturday Night Live, The Tonight Show, Trainwreck, Beyoncé, and more.

MADDY PETZ (Come In, Take A Seat) is a senior BFA dance major. Throughout her years in the department, she has participated in Dance Workshop, To Sangana and Company One, as well as musical theatre productions Oklahoma! and Legally Blonde. Maddy is extremely excited to be premiering her capstone work at her last December Dance Concert with Wayne State.

Meg Paul (Valentine) brings a wealth of significant professional experience in ballet and Broadway performance, as well as in teaching at the national level and has worked closely with important dance pioneers and choreographers in the field; from the repertoire and artistic direction of Gerald Arpino and Robert Joffrey, to works by Sir Frederick Ashton, George Balanchine, William Forsythe, Dwight Rhoden, and Alonzo King. Her thirty-year career encompasses a wide range of national and international experience in performance, choreography, directing, teaching, program development, community engagement, and arts management. She previously was a principal dancer with the world- renowned Joffrey Ballet, including vast national and international touring credits with the company. For Twyla Tharp's Tony award-winning Broadway musical, Movin' Out, she served as dance captain and lead performer from 2001-2005. Her extensive credentials are of the highest caliber and her awards include The Princess Grace Award, winner of The International a Competition of the Americas, Detroit Renaissance Hero Award, Sue Nine Endowment for Faculty Achievement Award, and the Copperfoot Award. Ms. Paul has curated and directed the department's highly successful Detroit Complexions Summer Intensive and the department's Dance Workshop company. Currently, Ms. Paul is Director of Dance for the department and serves as the BFA advisor and coordinator of dance recruitment and ballet curriculum.

EVA POWERS (Survey Space and Finding Time), Associate Professor, former Department Chair of Dance has appeared as guest artist, choreographer/master teacher statewide, nationally and internationally. In her first years at Wayne, she directed and choreographed for the WSU Dance Workshop/Company creating over 50 original works, often working in collaboration with visual artists and composers. Currently her research interests focus on dance science and medicine and dance education. She has presented her research
teaching master classes nationally and internationally for Dance Master Class throughout Europe, Stott Pilates International, and at conferences of the International Association for Dance Medicine & Science and for the National Dance Education Organization.

KAREN PRALL (Courage, To Sangana) is currently an instructor/lecturer at Wayne State University, instructing central African and modern dance since 2000. Director of the African dance company at W.S.U. "To Sangana". Prall's training began in Finney high school of Detroit, moving on to N.Y. studying African and Modern dance from the Ailey school, Dance Theatre of Harlem, LaMama Theatre. Conducting extensive research traveling to Kongo, Senegal, Liberia, Ghana, Suriname, Paris, Maui, the past 3 years independent study in Cuba, instructing this past year. Performing with the first Congolese company in states "Tanawa", and "Bichini Bia Congo of Michigan. Artistic director and founder of the Art of Motion Dance Theatre. A member of the International Association of Blacks in Dance. Prall is known for integrating explanations of the most important values of the culture into her courses on Congolese dance styles, helping students to better understand the relationship between dance and culture. She is dedicated to the idea that young people hold the key to the future of our society, and this idea is apparent in her works.

LIZ SCHMIDT (TBD) has served as the Artistic Director of Spotlight Dance Works in Chesterfield, Michigan since 2000. During her tenure at SDW, her pre-professional training program has grown to the honorable status
of "Top 20 Studios" in North America as named by Dance Spirit Magazine in 2011. One year later this achievement was followed by Liz 's selection as Dance Teacher Magazine's, 2012 Dance Teacher of the Year Award. Liz was also a 2012 and 2013 finalist in the Capezio ACE Awards for choreographic excellence and was recently named by Wayne State University as the 2012-2013 recipient of the Arts Achievement Award in dance. Since receiving her Bachelor of Science in dance from Wayne State University in 2004, Liz has served on the faculty at Wayne State University and University of Michigan, as well as guest teaching positions at Oakland University and Western Michigan University. Liz joined The Dance SESSIONS as full faculty in 2007
and has also enjoyed guest teaching and mentoring positions at many workshops and studios throughout the United States and Canada. In the spring of 2016, Liz earned the title of Mother to her beautiful, smart and silly daughter, Kara Violet Mazurkiewicz.

Twyla Tharp Since graduating from Barnard College in 1963, Ms. Tharp has choreographed more than one hundred sixty works: one hundred twenty-nine dances, twelve television specials, five Hollywood movies, four full-length ballets, four Broadway shows and two figure skating routines. She has also written three books. She received one Tony Award, two Emmy Awards, nineteen honorary doctorates, the Vietnam Veterans of America President's Award, the 2004 National Medal of the Arts, the 2008 Jerome Robbins Prize, and a 2008 Kennedy Center Honor. Her many grants include the John D. and Catherine T. MacArthur Fellowship. She is a member of the American Academy of Arts and Sciences and an Honorary Member of the American Academy of Arts and Letters. In addition to choreographing for her own company Twyla Tharp Dance, she has created dances for
companies worldwide, where her works continue to be performed. Today, Ms. Tharp continues to
create.