BWW Review: THOROUGHLY MODERN MILLIE at Riverbank Theatre In Marine City is Thoroughly Delightful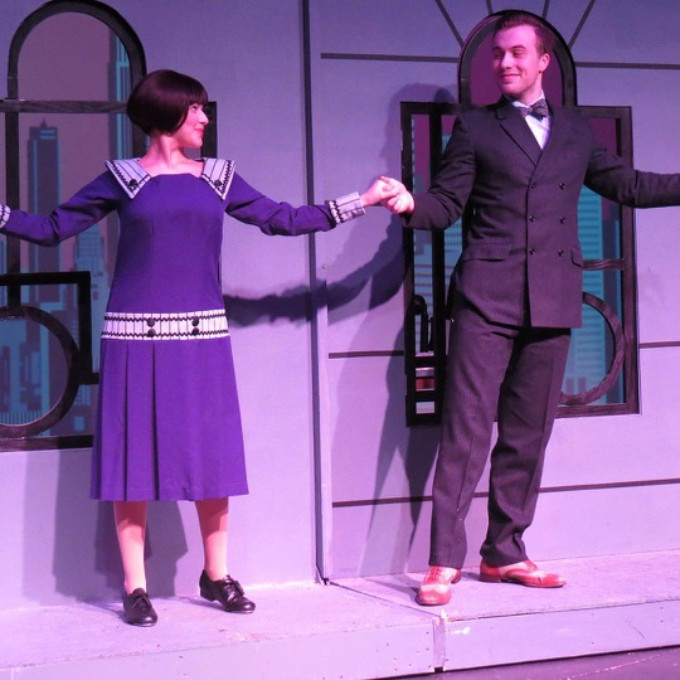 If you've seen and enjoyed the musical 42nd Street, you'll undoubtedly love Thoroughly Modern Millie, now playing at the Riverbank Theatre in Marine City through July 22.
The premise starts the same: With suitcases in hand, Peggy Sawyer leaves her hometown of Allentown, Penn. in search of stardom in New York City in 42nd Street. In Thoroughly Modern Millie, Millie has just left Salinas, Kansas for NYC in search of a more modern life that, to her, means finding and marrying a rich boss. After being robbed, merely minutes after getting off the bus, Millie (Caroline Conceison) meets the oh-so handsome Jimmy Smith (Matt Copley) who sends her to the Hotel Priscilla, a boarding house, of sorts, for single women, particularly orphaned actresses, who ultimately get sold off into white slavery by Hotel Priscilla's proprietor Mrs. Meers (Nancy Penvose). And while the storyline could eerily sound like a headline in today's news, Thoroughly Modern Millie, directed by Lisa Copley, is a full-blown musical comedy--tap-dancing, glitz, glamour, romance and all.
Let's start with the adorable Caroline Conceison as Millie. An about-to-be senior at Marymount Manhattan College, Conceison has spent the summer in Marine City mastering the plum role. Conceison combines sweet, feisty and determined into a perfect package of amazing vocals and precision dancing. While she shines in every scene--and is onstage the majority of the show--the "Speed Test" number where she leads the female ensemble in a tap-dancing/typewriting frenzy is priceless. As the Stenographer Pool taskmaster, Colleen Wood Ellery as Miss Flannery handles comedy schtick with ease and rocks in fuchsia tights and eyeglasses. Choreographer Brittany Everitt Smith's dance numbers are clever and intricate, a testament to her talented ensemble comprised of college students, many of whom have extensive dance backgrounds (Lauren MacKenzie Riggs, Madeline Ringvelski, Hannah Halifax, Carrie Meusling, Lauren Howard, Evans Bicum, Tyler Bolda and Michael Motkowski).
Copley is as easy on the eyes as he is on his dancing feet. In the perpetual quest of boy wants girl (Millie), Copley exudes charm, charisma and has an excellent voice. Conceison's and Copley's chemistry and spark are undeniably perfect. As a fun side note, you can catch Copley in another starring role as bartender extraordinaire after the show serving up creative craft cocktails, beer and wine at the new Inn on Water Street.
The "senior" members of the cast, and long-time Riverbank audience favorites, excel in their pivotal roles. While British is her native language, Nancy Penvose, as the villainess Mrs. Meers, flawlessly goes from Chinese to Bronx dialects. She leads well over her sidekicks--newcomers Dylan Pham and MacKenzie Watson--who play brother and sister, Ching Ho and Bun Foo, in roles that are typically cast as two brothers. Penvose joyfully leads Pham and Watson in the comedic showstoppers "Not for the Life of Me" and "Muquin." Christy Kreidler plays chanteuse and heiress Muzzy Van Hossmere with motherly sincerity while effectively singing her sultry numbers. And, Kreidler gets to wear the blingiest costumes, fitting of a cabaret star.
Costume kudos goes to Kathy Vertin for expertly putting together authentic pieces from the 1920s and punctuating them with subtle pops of color to help define and connect characters. The coordinating beige costumes in the opening dance tableau number kicks off the wow-factor of what continues throughout the show. In what was probably an exhausting, but gratifying component to this outstanding production, Aaron Dennis Smith played dual roles--both onstage and off--as the Musical Director and Millie's clueless boss, Trevor Graydon. As Graydon, Smith has two prime numbers that he hysterically performs with Conceison and his true love interest Dorothy (Luciana Piazza who nails the role with gorgeous operatic charm and just the right amount of comedy schtick, making Smith and Piazza a fun couple to watch). As the Music Director, Smith had his four-person band (Colleen Everitt, Rick Everitt, Joe O'Mara and Brian Golden) create a full-power backdrop to the beautiful score. While the music was integral to the show, there were a few times that the level could have been brought down to better hear the actors' dialogue.
With only four more shows left in the run, you should hurry and order tickets before they're all sold out. Performances are at 7:30 p.m. Thurs. July 19 through Sat. July 21 and the closing performance is at 3:00 p.m. Sun. July 22. Tickets are $28.00 for reserved seating and are available online at www.riverbanktheatre.com or by phone at (810) 278-1749. Next up is The Dixie Swim Club, August 3 - 26, 2018 at The Snug Theatre. Thoroughly Modern Millie is performed at the Riverbank Theatre, 358 S. Water St., Marine City, Mich. Guests can enjoy a delicious brunch before the show or an elegant dinner afterwards at the Inn Kitchen on Water Street. Or, make a weekend of it at the new Inn on Water Street boutique hotel which just opened in May. For reservations and to find out about theatre/spa hotel packages go to www.InnOnWaterStreet.com or call (810) 676-5200.