BWW Review: ON YOUR FEET at Broadway Grand Rapids Will Have You Dancing The Night Away With Jukebox Style Tunes and Latin Music!
A dance number from Gloria Estefan's dancers leads to backstage with Gloria (Christie Prades), Emilio Estefan (Eddie Noel), and their son, Nayib (Jeanpaul Medina Solano) before a concert in 1990 "Rhythm is Gonna Get You." In a flashback, Gloria is younger (Ana-Sofia Rodriguez). She is playing the guitar and singing, making a recording to her father José Fajardo (Jose Rosario, Jr.), who is stationed in Vietnam, sending him the song "Cuando Salí de Cuba." Gloria grows up in the Little Havana neighborhood of Miami, with her mother, Gloria Fajardo (Nancy Ticotin), and grandmother, Consuelo (Debera Cardona.) As time progresses, Gloria is introduced by her grandmother to Emilio Estefan, who is a part of a group called the Miami Latin Boys. Emilio invites Gloria to perform one of the songs she has written at their upcoming rehearsal. Gloria, who is studying and spending most of her extra time caring for her father through his battle with multiple sclerosis, does not initially like the idea of performing. With pressure from her grandmother, she attends the rehearsals, and brings her sister, Rebecca (Claudia Yanez,) mother, and grandmother. Gloria performs and has her sister come with her on stage for emotional support singing, "Anything For You." Despite being shy, and not wanting to be in the spotlight, she finds comfort in performing after being given advice from Emilio using the musical number "1-2-3". Along the way Gloria realizes she is falling for Emilio, and Emilio is feeling the same way
Gloria's mother is initially not on board with Gloria joining the Miami Latin Boys and Gloria is frustrated that her mother doesn't like Emilio. It is then that her grandmother confesses to her that when her mother was younger she wanted to be a singer too, and in fact was offered a contract to be the Spanish voice of Shirley Temple, but her father forbade it. Later, Gloria and Emilio propose a new song to Phil, who is a record label executive, but he refuses to publish it because it is in English. Then, on July 4th, Emilio and Gloria go on a date where Gloria kisses Emilio for the first time. They try to discuss the single, but Gloria is lost in Emilio and her love for him in "Here We Are."Gloria is spending time with her father, and although he cannot speak, she wishes she could hear what he would say about Emilio. She imagines the advice he would give her through the song "When Someone Comes into Your Life." Gloria then writes a song using the encores they played on tour in Holland with all the lyrics in English. Chris is initially not backing it, and won't propose it to Phil, so they have to bring Phil to the song, before they can release it. Gloria initially performs her new song at a Bar Mitzvah for a boy named Jeremy and Phil refuses to attend. Then she performs it at an Italian wedding and Phil still will not come. It is not until she performs it at a Shriner's convention in Las Vegas that Phil wants to attend and hears "Conga."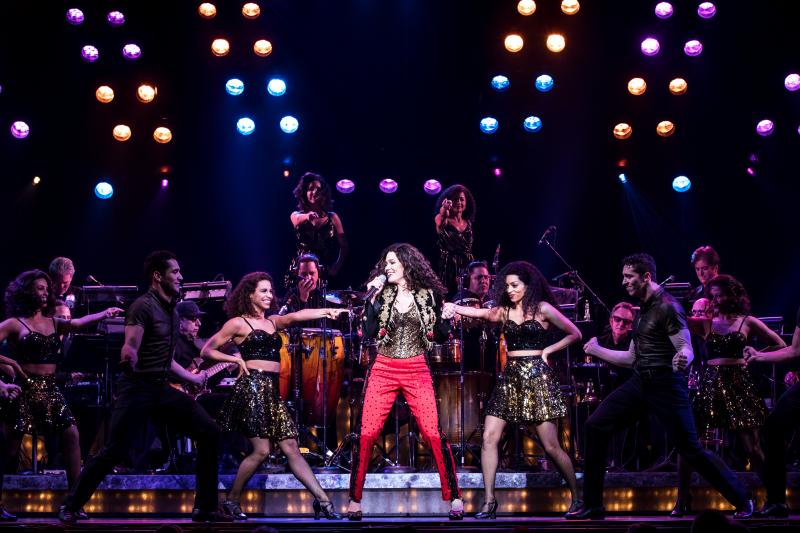 Gloria and Emilio hit the top of the music charts and launch a worldwide tour based on the song "Get On Your Feet." Gloria is thankful for the fact that her grandmother had encouraged her to pursue a music career and even calls her grandmother on stage during one of her performances "Live for Loving You." However, on the side, Gloria struggles with the exhausting schedule and the fact that her mother has become estranged due to her disapproval and jealousy of Gloria's fame. Even though Gloria is exhausted and wants to take a couple of days off, Emilio encourages her to take on one other concert in Syracuse. On the road, the Estefan's bus collides with a semi-truck during a snowstorm. Gloria breaks her back in the accident and is flown to NYC for emergency spinal surgery. Gloria's mother rushes to the hospital after hearing about Gloria's accident on the news and Emilio and her bond over their love for Gloria in the powerful number, "If I Never Got to Tell You." Emilio worries Gloria might not survive the surgery and sings the moving "Don't Wanna Lose You."
Will Gloria come out of surgery? Will she reconcile with her mother? Will she ever be able to rehab and perform again? You'll find out the answers to these questions when you come see On Your Feet at DeVos Performance Hall!
On Your Feet is an electric performance you will not want to miss. From the countless dance numbers played live by an on-stage Latin band, to the very plentiful Latin and ballroom style dance numbers. If you are a fan of Latin dancing or music or just love a good club style beat, this is a show you definitely will want to see while it is in town as part of the Broadway Grand Rapids Series. I promise this is definitely one you can go to with limited knowledge of the music or the life of Gloria and Emilio Estefan and you will be at least humming one or two numbers as you leave the show.
On Your Feet runs until February 14th at DeVos Performance Hall in Grand Rapids. For more information and tickets, visit https://www.ticketmaster.com/promo/tci6be.
Friday, February 22, 2019 - 8:00 PM
Saturday, February 23, 2019 - 2:00 PM and 8:00 PM
Sunday, February 24, 2019 - 1:00 PM and 6:30 PM
Don't forget we also have three more impressive shows closing out this year's Broadway season in Grand Rapids, and tickets are still available for them all. Coming March 19th-24th The Book of Mormon, April 30th-May 5th Waitress, and closing out this season June 25th-30th Anastasia.
You will also want to check out the 2019/2020 Season bringing two of the hottest tickets currently on tour, when Broadway Grand Rapids presents Hamilton and The Lion King, and to round out the season with three equally good shows, a Roger and Hammerstein classic Fiddler on the Roof, Roald Dahl's Charlie and The Chocolate Factory, and Escape to Margaritavillea musical with music by the legend Jimmy Buffett.
Connect with On Your Feet on Twitter at twitter.com/OnYourFeetBway, on Facebook at Facebook.com/OnYourFeetTheMusical, and www.onyourfeetmusical.com.
Connect with Broadway Grand Rapids for complete info for On Your Feet and the rest of the season at www.broadwaygrandrapids.com, on Twitter at @BroadwayGR, on Instagram at @broadwaygr, and on Facebook at facebook.com/BroadwayGR.
Related Articles