Click Here for More Articles on THE BOOK OF MORMON
BWW Review: BOOK OF MORMON at Broadway Grand Rapids, Will Have You Laughing and Using Your Imagination Start To End!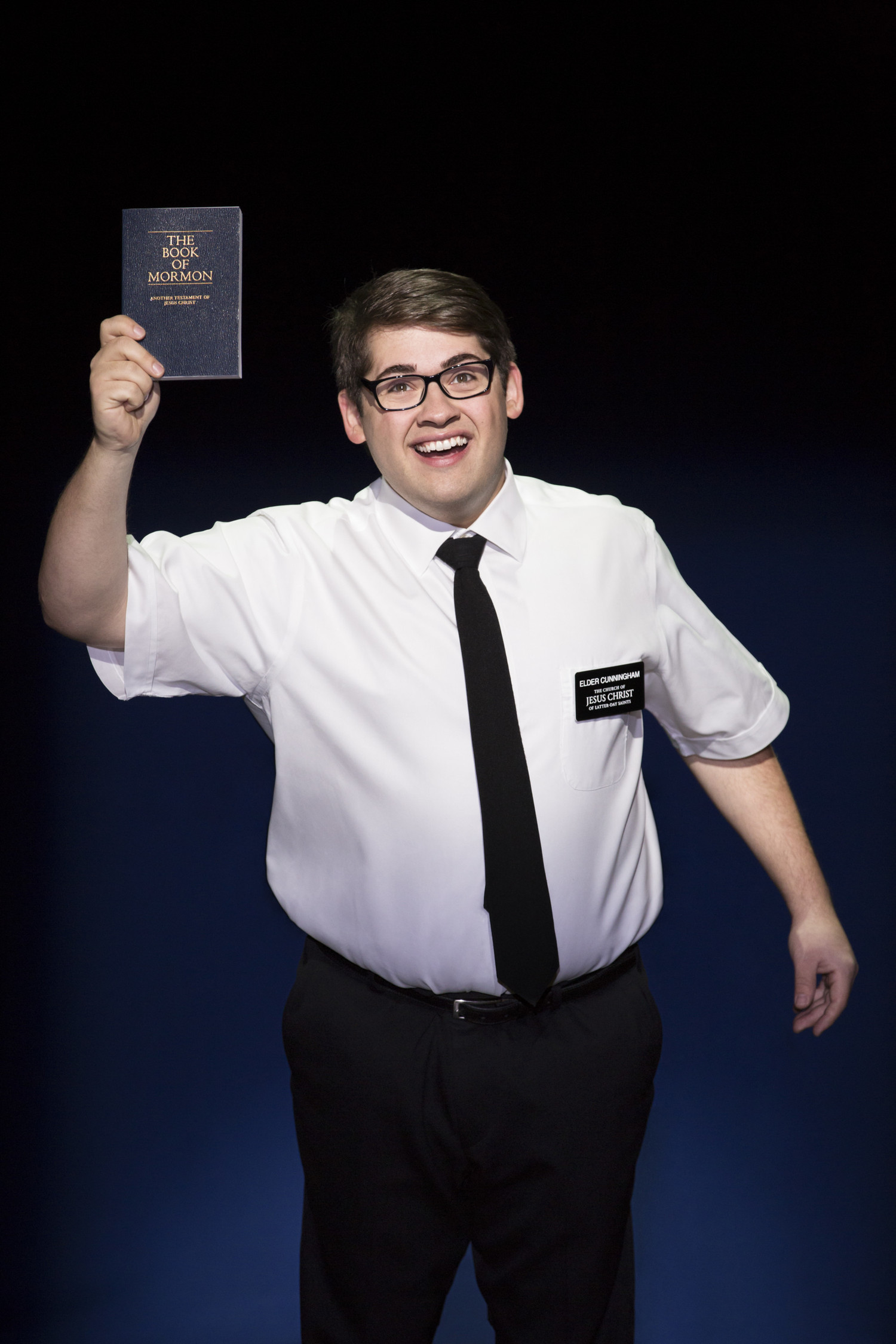 The Book of Mormon, the nine-time Tony Award-winning Best Musical makes a special engagement run back for its second time to Grand Rapids playing a limited engagement until March 24that DeVos Performance Hall. With script, lyrics, and music by Trey Parker, Matt Stone and Robert Lopez, and Parker and Stone being known for creating the animated comedy South Park.
The show starts out with a brief history of The Church of Jesus Christ of the Latter-Day Saints, after which we find a group of Mormon Elders, ready to be sent out into their personal mission field. Elder Kevin Price (Liam Tobin) leads his classmates in a song demonstrating the method of going door to door, demonstrating how to convert people to the church in singing the hilarious number "Hello." He prays very hard as he was taught if you do good things the Heavenly Father will reward you and give you good things. He has been praying he will get sent to his dream place on his mission because he enjoyed it so much as a kid. He becomes disappointed when he gets paired with Elder Arnold Cunningham (Connor Peirson,) who has a very active imagination, and they are sent to Uganda. There they meet a very unique cast of characters, who live in horrible living conditions, that are being controlled by the General (Corey Jones.)
Elders Price and Cunningham are led to their living quarters by a young woman named Nabulungi (Kayla Pecchioni,) where they meet the other missionaries that have been unable to convert anyone to the Church. Shocked by the execution and the reality of Africa, Elder Price decides to abandon his mission and requests a transfer. Elder Cunningham vows to stay by his side, but Elder Price refuses him. In the meantime, the locals want to hear more about the teachings, so Elder Cunningham quickly starts to teach them. When they become frustrated with the teaching of The Book of Mormon and start to leave, he makes up stories by combining what he knows about The Book of Mormon with make believe and fiction stories to make them stay and convert. He rationalizes that if it helps people, it surely cannot be wrong. He then announces that several Ugandans are interested in the church, and after finishing his preaching they are baptized with Nabulungi. Will the people of Uganda realize that Elder Cunningham is stretching the truth? With many awesome musical numbers, you find yourself laughing and humming along to, if you don't mind some stronger language and suggestive comedy, this is a show for you!
This show will have you laughing from the first number all the way to the end. If you are there on a Broadway Cares night they even have a funny line they use in that, to help get donations to those fighting the AIDS and AIDS-related causes across the United States. With voices that blend and music you are sure to have playing over and over for days after, go see Book of Mormon this Weekend at DeVos Hall!
Please note that The Book of Mormon contains explicit language.
There is a pre-show lottery for The Book of Mormon for $25 tickets. Entries will be accepted at the box office beginning two and half hours prior to each performance; each person will print their name and the number of tickets (1 or 2) they wish to purchase on a card that is provided. Two hours before curtain, names will be drawn at random for a limited number of tickets priced at $25 each. Only one entry per person. Cards are checked for duplication prior to drawing. Winners must be present at time of drawing and show valid ID to purchase tickets. Limit one entry per person and two tickets per winner. Tickets are subject to availability.
The Book of Mormon is currently running for a limited engagement through Sunday, March 24th at DeVos Performance Hall in Grand Rapids. For more information and tickets, visit https://www.ticketmaster.com/promo/tci6be.
Don't forget we also have two more impressive shows closing out this year's Broadway season in Grand Rapids, and tickets are still available for them all. Coming to Grand Rapids April 30th-May 5th Waitress, and closing out this season June 25th-30th Anastasia.
Connect with Book of Mormon on Twitter at https://twitter.com/BookofMormon, on Facebook at https://www.facebook.com/TheBookOfMormonOnBroadway, on Instagram at https://www.instagram.com/bookofmormon, and https://bookofmormonbroadway.com/tour.
Connect with Broadway Grand Rapids for complete info for Book of Mormon and the rest of the season at www.broadwaygrandrapids.com, on Twitter at @BroadwayGR, on Instagram at @broadwaygr, and on Facebook at facebook.com/BroadwayGR.
| | | |
| --- | --- | --- |
| | Donations | Arts Orgs |
Related Articles