BWW Preview: THE WILD PARTY on Stagecrafters Main Stage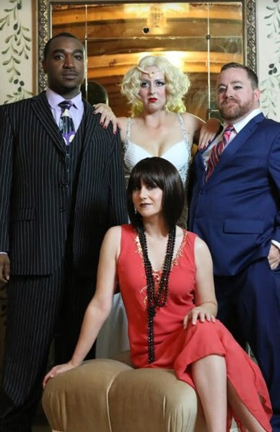 Stagecrafters proudly presents THE WILD PARTY, at the Baldwin Theatre in downtown Royal Oak, Friday, September 7, through Sunday, September 30, 2018.
With book, music and lyrics by former Oak Park resident Andrew Lippa, THE WILD PARTY is set in the Roaring Twenties, a time of explosive social and cultural upheaval. It's the Jazz Age, Prohibition is in full swing and postwar America is booming, with a seemingly insatiable appetite for new fashions, fads and excitement. Amidst this backdrop, vaudeville stars Queenie and her lover, Burrs, live a desultory, decadent life. To relieve their boredom, they decide to throw a sizzling party at their Manhattan apartment. As everyone drinks and parties with abandon, Queenie and Burrs begin a dangerous flirting game, taunting each other to the brink of violence. Pushed to the limit, Burrs is close to losing control, and he has a gun. Winner of several industry awards, The Wild Party is a darkly brilliant show with a thrilling, pitch-perfect score.
Lippa says in an email that he is "gobsmacked, chuffed and delighted to know Stagecrafters [is] presenting a production of The Wild Party." Born in England, Lippa grew up in Oak Park and graduated from the University of Michigan. "Who knew a Jewish boy from Oak Park could grow up to write Broadway musicals that would then be produced across the world until they wound up next door?" he marvels. Lippa's other credits include The Addams Family (Tony Award for Best Musical Score), Big Fish and I Am Harvey Milk.
Stagecrafters director Jerry Haines has been eagerly awaiting his opportunity to do Lippa's show (there is another Broadway production by Michael John LaChiusa based on the same source material). Says Haines, "The music of the Lippa version, in my opinion, is more in line with what I like about musical theatre.... incredible dance numbers, great singing, show-stopping performances and a story that is very much like the old film noir, full of intrigue, jealousy and suspense." Haines promises audiences a high quality, professional production.
For his part, Lippa is excited. "I hope all my friends from the area go, and I know those dazzling Stagecrafters are going to throw the party of the season!"
Tickets for THE WILD PARTY are now on sale at Stagecrafters.org, or by calling the ticket office at 248-541-6430, Monday through Friday, 10:00AM to 2:00PM. Ticket Prices are $23 on Thursdays and $27on Fridays, Saturdays and Sundays. Discounts on Thursdays and Sundays for Seniors and Students 17 & under. Call to inquire about additional discounts.
Photo 1: Black (Dez Walker of Royal Oak), Queenie (Randi Hamilton of Berkley), Kate (Nancy Ingles of Grosse Pointe Park), and Burrs (Josh Allor of Grosse Pointe Woods). Photos by Mike Hanson