BWW Interview: Travis W. Walter & Mary Robin Roth of ARSENIC AND OLD LACE at Meadow Brook Theatre Say It's Filled with Laughter and Surprises!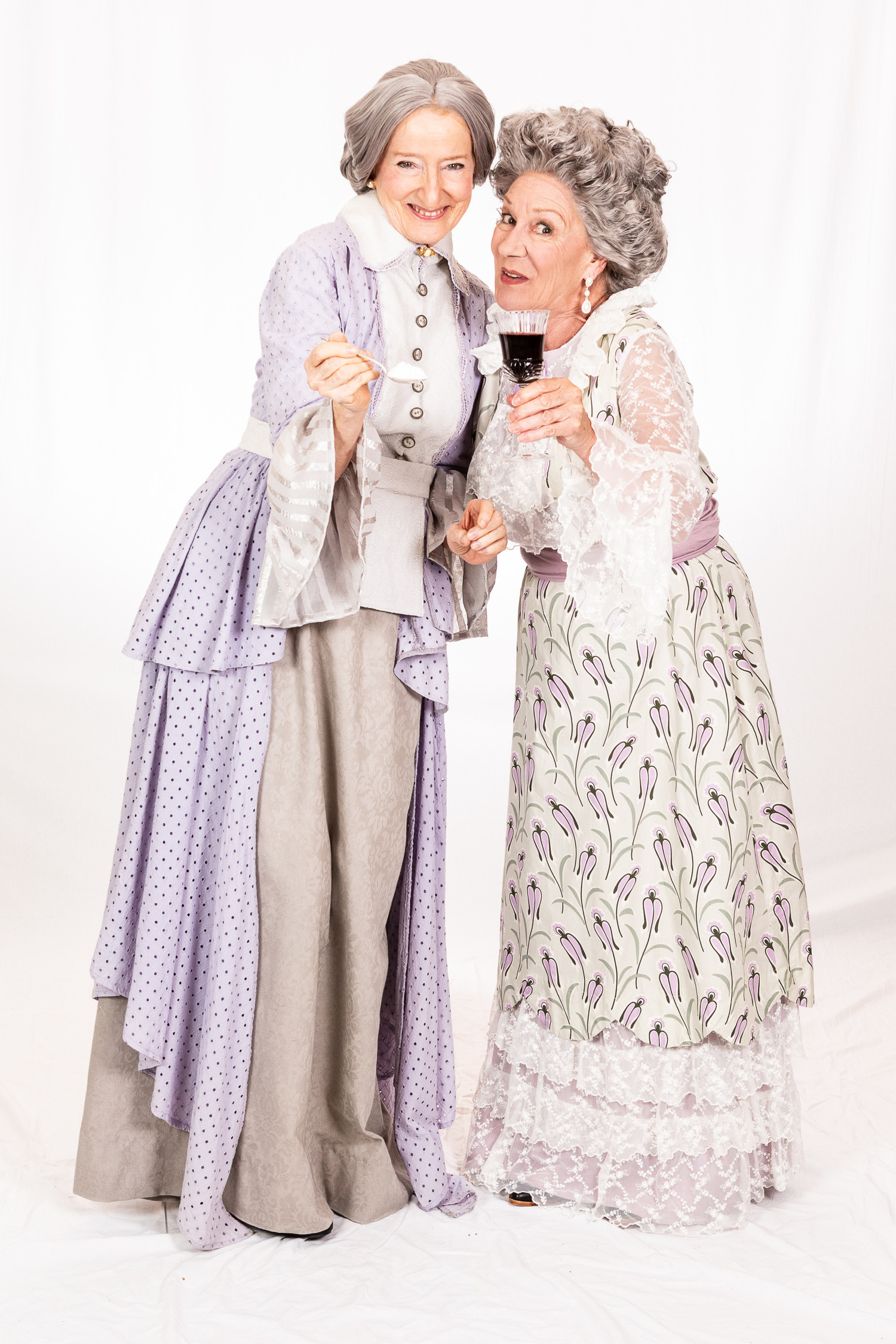 The classic comic face, Arsenic and Old Lace, by Joseph Kesselring is kicking off Meadow Brook Theatre's 53rd season is opening this week and running through October 28th in Rochester. Two sweet, older ladies who look like they wouldn't hurt a fly have been adding a dash of something special to their elderberry wine - poison. But what happens when their nephew, his fiancée, his uncle (who thinks he's Teddy Roosevelt), and a bunch of other colorful characters come to visit? Hysterical chaos, that's what! BroadwayWorld Detroit had chance to talk with director, Travis W. Walter, and Mary Robin Roth, who plays the role of Abby, about the hilarious Arsenic and Old Lace before it opens this week.

BroadwayWorld Detroit: Can you give our readers a brief background of yourself and then your theatre career as an introduction?
Travis W. Walter: I graduated from Oakland University in 2002 with a Bachelor of Arts degree in Theatre Performance. After that I was fortunate enough to be cast at Meadow Brook Theatre in five shows the next season. I stayed on as an intern at the theatre and worked in many departments, from the scene shop to the box office and, eventually, worked my way up to Artistic Director. This is my ninth year as Artistic Director at the theatre and, last season, I directed my 50th show for the company.
Mary Robin Roth: I received my Bachelor of Arts degree in theatre from the College of St. Catherine in St. Paul, Minnesota. Shortly after graduation, I joined the Actors Equity Union during the production of The Robber Bridegroom. I moved to Chicago in 1980 where I was cast in the first national production of Evita under the direction of Hal Prince. The show in Chicago was to begin its U.S. tour, but I left Evita to do the lead in Annie Get Your Gun. After playing Annie Oakley, I was offered Zorba (Leader),West Side Story (Anita), and Mack and Mabel (Mabel). I rejoined the cast of Evita and continued with them during the Scandinavian tour. In 1983, I moved to New York City. My dream was to be on Broadway and in 1986, I was cast in the Tony Award-winning musical, The Mystery of Edwin Drood, where I understudied the role of Princess Puffer played by Cleo Lane. The cast was selected to perform on the Tony Awards that year. A dream come true! The second Broadway show I did was Senator Joe. I had the female lead of playing Joseph McCarthy's wife. A few roles I am most proud to have played: Fanny Brice (Funny Girl), Mama Rose (Gypsy), Mame (Mame), Dolly Levi (Hello Dolly) and Carlotta (Follies) for which I received the Chicago Jeff Award and the After Dark Award. Arsenic and Old Lace is my seventh show here at Meadow Brook Theatre.
BWW Detroit: How would you describe Arsenic and Old Lace in your own words?
Travis W. Walter: Everyone thinks their family is the craziest, but the Brewster family is even crazier! This show has so many twists and turns you won't know what to expect. Mortimer Brewster has come to see his two aunts who have killed a man with poisoned elderberry wine - he isn't the first and probably not the last. How will Mortimer hold it all together and get his aunts out of trouble?
BWW Detroit: How would you describe your character, Abby Brewster?
Mary Robin Roth: She has lived in Brooklyn in the same Victorian home all her life. Her sister, Martha, and her are both spinsters, and rather disturbed, eccentric ladies who believe their charitable mission is to murder lonely old men by poisoning their homemade elderberry wine with arsenic.
BWW Detroit: Do you see any similarities between your character of Abby and yourself?Mary Robin Roth: Similarities between me and my character? Well, I don't poison people, but Abby has a great deal of love towards her family and compassion for everyone and, I hope, I too, have those characteristics.
BWW Detroit: What made you want to direct Arsenic and Old Lace?
Travis W. Walter: I love directing comedies. It is always so fun to me to see how far you can push an audience or try new thing they are not expecting to make them laugh. That was a huge draw of this show, but also because it is written so well.
BWW Detroit: Did you do any special research in preparing to direct the show?
Travis W. Walter: Well, I have seen the play multiple times at different venues and the movie is quite famous and on TV late at night quite often, but for me the most important thing is keeping the feel of this classic comedy intact. I made sure we cast the show well and with actors that are going to put their whole hearts into creating these characters that audiences have grown to love. I want it to really feel like you are watching the play in its original setting back in 1941.
BWW Detroit: Do you have a favorite moment in the show?
Travis W. Walter: Not a specific moment, but I think how sweet, honest, and earnest the aunts are is so much fun. When Mortimer, their nephew, discovers what's been happening in the house, we are just as stunned as he is. The women who play the aunts are truly terrific actors and a delight to watch.
Mary Robin Roth: My favorite scene is when my nephew Mortimer discovers the body we have poisoned and left in the window seat - to be able to read those lines with truth and honesty about poisoning someone is rather comical insanity!
BWW Detroit: What makes Meadow Brook Theatre's production of Arsenic and Old Lace special?
Travis W. Walter: I always say that Meadow Brook Theatre productions are special because of the team that puts the whole experience together, from the box office to the stage, there are many unsung heroes who are constantly working on a unified vision and Arsenic and Old Lace is no different. The staff is tremendous and the love and passion they put into their work shines on the stage and makes it truly something special.
BWW Detroit: What would you say makes your version of Arsenic and Old Lace stand out from other production since it is such a well-known piece of theatre?
Travis W. Walter: We are giving the show the Meadow Brook Theatre touch - lots of love and surprises are in store.
Mary Robin Roth: This particular production of Arsenic and Old Lace is filled with extremely, extremely talented actors. It is very entertaining and will have the audience filled with laughter.
BWW Detroit: Why should people come see Meadow Brook Theatre's production of Arsenic and Old Lace?
Travis W. Walter: Everyone should come see Arsenic and Old Lace, even if you've seen it before. This show is 80 years old and still holds up. If you've never seen it you're in for a treat and if you have seen it, you're in for some surprises!
Connect with Meadow Brook Theatre on Twitter at @MBTheatre and on facebook.com/meadowbrooktheatre.
Arsenic and Old opens October 3rd and runs until October 28th at Meadow Brook Theatre in Rochester. For more information and tickets, visit www.mbtheatre.com.
Related Articles View More Detroit

Stories

Shows