Click Here for More Articles on LOVE NEVER DIES
BWW Interview: Erin Chupinsky of LOVE NEVER DIES at Wharton Center says Audiences will be Surprised at the Twists & Turns!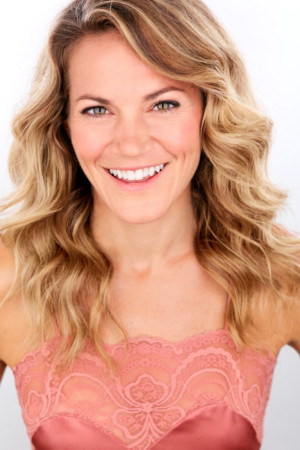 Andrew Lloyd Webber's Love Never Dies will perform in Wharton Center's Cobb Great Hall starting Tuesday, October 9th through Sunday, October 14th as part of the MSU Federal Credit Union Broadway at Wharton Center Series. The brand-new touring production features an extensive re-working of the material by an Australian creative team for the original Australian premiere in 2011. Directed by Simon Phillips, known for Priscilla Queen of the Desert The Musical, with new set and costume designs by Gabriela Tylesova, choreography by 2011 Astaire Awards winner Graeme Murphy, lighting design by Nick Schlieper, and sound design by Mick Potter, the show is one of the few instances of a major West End musical being given a complete makeover for subsequent productions. The year is 1907, ten years after the disappearance of the Phantom from the Paris Opera House and he's escaped to a new life in New York where he lives among the freak shows at Coney Island. He finally found a place for his music to soar, but he never stopped yearning for his one true love, Christine Daaé, and lures her, Raoul, and their young son to New York not knowing what's in store for them. BroadwayWorld Detroit had a chance to interview Erin Chupinsky, who grew up in Michigan and is currently on tour with Love Never Dies, about how much she loves the show and how great it is to be performing in her home state.
BroadwayWorld Detroit: Can you give our readers a brief background of yourself and then your theatre career as an introduction?
Erin Chupinsky: I grew up in Southeastern Michigan - first in Canton and then Novi. I started dancing before I turned three years old, began theatre when I was seven years old at the Marquis Theatre in Northville, and started taking voice lessons when I was in middle school. I graduated from Novi High School and then went to Western Michigan University. I majored in Music Theatre Performance and also studied abroad at LAMDA (London Academy of Music and Dramatic Arts). After college, I did some summer stock and worked for Holland America Cruise Line before making the move to New York City. In the 12 years since I first moved to New York City, I have worked at several regional theatres around the country, returned to Holland America Cruise Line for a second contract, performed Off-Broadway (A Tree Grows in Brooklyn), and have spent about seven years on the road with five different touring shows: Wonderful Town, Dirty Rotten Scoundrels, CATS, Hello, Dolly! and, now, Love Never Dies.
BWW Detroit: How would you describe Love Never Dies in your own words?
Erin Chupinsky: Love Never Dies is the spectacular sequel to The Phantom of the Opera. Ten years have passed since we last saw these iconic characters at the end of the original Phantom and our show allows the audience an even deeper look into their hearts and lives. Christine, Raoul and their son, Gustave, are arriving in New York City from Paris at the beginning of the show. Christine is asked to sing at the opening of Mr. Hammerstein's new Opera House, her first time performing in years. The set and costumes are incredible. The set is lavish and sometimes spooky because of tone of our setting in Coney Island. The score is one of, if not, Andrew Lloyd Webber's greatest and includes glorious, sweeping new melodies with hints of the well-known favorites. Love Never Dies is a love story with some exciting and unexpected twists and turns along the way.
BWW Detroit: How would you describe your job as being Dance Captain/Swing?
Erin Chupinsky: As Dance Captain, I am responsible for maintain the movement and choreography as it was set by our Director and Choreographer. I take and give notes to the company on a regular basis, hold pre-show lift calls whenever a swing or understudy is on in a role where someone is lifted off of the ground, and serve as a representative of all things 'dance' to the other departments on tour (Stage Management, Company Management, etc.). I am also responsible for teaching replacements and rehearsing understudies. As a swing, I am an understudy for the entire female ensemble. I perform any one of eight tracks on a given night when one of the actors cannot perform her track.
BWW Detroit: Do you have a favorite swing track you cover?
Erin Chupinsky: I don't have a favorite. My favorite thing about swinging is the variety. Getting to play so many different characters and do so many tracks keep things fresh and interesting. A lot of my career has been as a swing and Dance Captain and I still love it! Sometimes I've been swung in halfway through a performance and I've also switched tracks mid-show too. Each track has something about it that is the most fun. For example, I'm writing this in between scenes during our Saturday matinee and today I am on for a track that we call "The Fluffy Lady." One of my favorite parts about this track is the quirky costumes and getting to be "The Ghost Lady" during the big number near the end of Act 1. There is a spooky makeup change and I get to use my high soprano range perched on a platform above the stage. As far as picking one favorite track, I don't think I can, I love them all!
BWW Detroit: Do you have special pre-show rituals that you do?
Erin Chupinsky: I like to try to go up to the stage around 15 minutes before the show starts to look over my notes again. I sit and visualize the opening sequence for the track I'm about to perform. Then I'll stretch and mark through the movement and dance for the first few numbers up through what will be my first break during the show.
BWW Detroit: You're a graduate of Western Michigan University, is neat to be back performing in Michigan, albeit a different school?
Erin Chupinsky: It's always wonderful to play my home state! I'm staying at home in Northville as well so I can maximize time with my family. Strangely enough, I actually see them more often on the years when I've been touring than the years when I haven't been. I have also played the touring house on Western Michigan University's campus with previous tours (Dirty Rotten Scoundrels and Hello, Dolly!). This will be my first time playing East Lansing and spending any significant amount of time at Michigan State University.
BWW Detroit: Any fond Michigan memories that you are looking forward to experiencing during your visit?
Erin Chupinsky: Fall is my favorite season and fall in Michigan is hard to beat! I'm looking forward to seeing some of the beautiful fall colors and hope to visit a cider mill or two.
BWW Detroit: Do you have a favorite moment and/or song in the show?
Erin Chupinsky: One of my favorite songs is the title song "Love Never Dies" and one of my favorite moments is getting to sing part of it during our company bows at the end of the show. Often it is only leads that get to sing title songs, so it is such a treat to get to sing it with our entire company every night!
BWW Detroit: Do you think original Phantom of the Opera fans will love the show as a sequel? And new fans will understand the show if they never saw the original?
Erin Chupinsky: I think if you love the original Phantom of the Opera, you will definitely love the sequel! People that know the original well can pick up on the multitude of little insider moments and themes that are sprinkled throughout our show. Those who haven't seen the original don't need to worry, they will still be able to follow the plot as it unfolds. I usually recommend that people read at least a quick synopsis of the original Phantom of the Opera so they are familiar with the character names at the very least. Even without doing that, there is much to soak up and enjoy!
BWW Detroit: What makes Love Never Dies so special?
Erin Chupinsky: Love Never Dies is so special because it is the continuation of a musical that is and has been making musical theatre history on the global level for the past 30 years and this is the first time it has been brought to audiences in America!
BWW Detroit: If given the chance to see something else or this show, why should people come see your Love Never Dies?
Erin Chupinsky: People should come see Love Never Dies purely for the fact that we are one of, if not the most, visually stunning show currently on the road. They should see it because they will be surprised and hopefully moved as well.
Connect with Erin Chupinsky on Instagram at @erinchupinsky and www.erinchupinsky.com.
Connect with Love Never Dies on Twitter at @loveneverdies, on facebook.com/loveneverdies, and www.loveneverdies.com.
Connect with Wharton Center on Twitter at @WhartonCenter, on Instagram @whartoncenter, and facebook.com/wharton.center.
Love Never Dies opens Tuesday, October 9that Cobb Great Hall at the Wharton Center in East Lansing. For more information and tickets, visit www.whartoncenter.com.
Related Articles