BWW Interview: Director Dale Feldpausch of RAPTURE, BLISTER, BURN at Stagecrafters Of Royal Oak Explores Character Development in Contemporary Staged Reading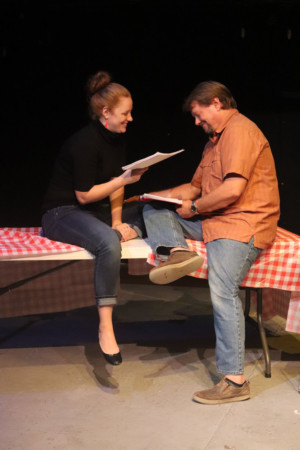 This weekend, an intrepid cast of five will present the staged reading of Rapture, Blister, Burn for two performances only at 8 p.m. Saturday, Aug. 4 and at 2 p.m. Sunday, Aug. 5 on the Second Stage at Stagecrafters in Royal Oak. Rapture, Blister, Burn was a 2013 Pulitzer Prize finalist for playwright and screenwriter Gina Gionfriddo. Gionfriddo was also a 2009 Pulitzer Prize for Drama finalist for her play Becky Shaw. Broadwayworld.com (BBW) caught up with Director Dale Feldpausch to talk about putting on this staged reading. Here's what he had to say:
BWW Detroit: Tell us about the plot.
Dale Feldpausch: The play revolves around three friends who are 14 years removed from grad school. The show opens with their reunion. Catherine (Ashley Lane) is a very successful author and academic; Gwen (Julie Smith Yolles) is a stay-at-home mom; Don (Doug Clark), who was Catherine's boyfriend in grad school, is now married to Gwen, but never came close to the kind of career success that Catherine achieved.
Both women are questioning their life choices. Catherine, whose mom, Alice (Tressa Parmann), has recently had a heart attack, yearns for a family. And Gwen is tired of Don's lackluster lifestyle and wants to finish her degree and embark on a career of her own. So over the course of the play, they essentially switch lives with Don and Catherine starting an affair and Gwen going back to school in New York.
Understandably, things don't go very smoothly and are resolved in a powerful and realistic manner. By the way, the other character, Avery (Nyla Addis), a college student, is Don and Gwen's babysitter. In many ways, she is the most mature and insightful of all the characters.
BWW Detroit: What is a staged reading and how does it differ from a play?
Dale Feldpausch: The Staged Reading format has become more popular in recent years. The actors perform with scripts-in-hand in a minimal setting with limited stage movement or technical elements. They wear clothing that would represent what their character may wear, but there are no formal costumes by any means and they do not use props. This allows for the playwright's words to really become the focus of the performance.
Stage readings are typically done with a very limited amount of rehearsal time. In our case, we had auditions last Monday, had our first rehearsal the next day for a total of only seven rehearsals in a span of 11 days. So, the actors can focus wholeheartedly on their characterizations without the worry of memorization or complex blocking. It's a quick, but intense, dive into a play, and Rapture, Blister, Burn is the kind of character-driven play that works very well in this format.
BWW Detroit: The staged reading will be presented on Stagecrafters' Second Stage. How is this space different from Stagecrafters' mainstage (aka the Baldwin Theatre)?
Dale Feldpausch: The Second Stage is home for Stagecrafters' contemporary play series. These are shows that can deal with edgier, more intense, issues that often have less commercial appeal then the mainstage shows. Second Stage is a smaller venue than the mainstage, which is perfect for these types of shows.
BWW Detroit: Tell us about the rehearsal process.
Dale Feldpausch: It's been brief but intense. With this limited timeframe, we've been focusing on the characters and their relationships. We've added some movements to try to clarify the relationships and actions of the play. I feel that my job as the director is to facilitate an atmosphere in the rehearsals where everyone feels free to express their opinions, experiment with their characters and do their very best work in collaboration with each other and with me.
BWW Detroit: How do you work with the actors to develop their characters?
Dale Feldpausch: I try to provide help, both with an overall perspective on the character, and with some of the specific moments in each performance. I try to help the actors see some of the nuances of their characters and, of course, to let them know if they can be seen, heard and if what they're trying to express is coming across to the audience.
But, I have the greatest respect for anyone who's eager to put themselves up there for all to see, and I am always seeking to encourage collaboration and bring out the very best the actors can supply. I also want to say how pleased and proud I am of my entire cast and crew on this show. Everyone has worked their butts off, and I think the audience will enjoy the results.
BWW Detroit: What can the audience expect?
Dale Feldpausch: This is a very smart, intense and surprisingly FUNNY show that deals with issues in which many people will be able to relate. The audience can expect to be entertained and have lots to discuss on the ride home
Rapture, Blister, Burn will be presented at Stagecrafters in Royal Oak, Mich. at 8 p.m. Sat. Aug. 4 and at 2 p.m. Sunday, Aug. 5. Reserved tickets are $10 and may be purchased online at www.stagecrafters.org or by calling (248) 541-6430. Stagecrafters is located on 415 S. Lafayette, Royal Oak, Mich.
Photo: Ashley Lane and Doug Clark star in Rapture, Blister, Burn.

Related Articles View More Detroit

Stories

Shows