2017 Outdoor Summer Series Welcomes The Detroit PuppetSLAM!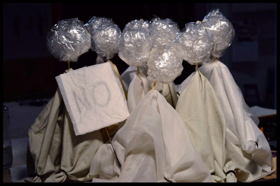 The 2017 Outdoor Summer Series goes out with a BANG with The Detroit PuppetSLAM! On Friday, July 28 at 8:00pm, 2221 Carpenter St, Detroit MI 48212. CMAP closes an event filled summer performance series, with an entourage of local and national theatrical artists and puppeteers who'll bring exemplary and exploratory new works and works in progress to CMAP, for a lively one-night-only production.
Including Works By:
Milissa Orzolek AKA abandoned ships is a New Orleans based geographer, teaching artist, storyteller and puppeteer. She fell into the world of puppetry in 2010 as a puppeteer with a production of Fantastic Mr. Fox in New Orleans. Orzolek has puppeteered in the New Orleans Fringe Festival, the New Orleans Giant Puppet Festival, Potpourri at the National Puppetry Festival in Hartford and Puppet Slamwich in Baltimore. In 2016, she received a Jim Henson Foundation Family Grant for the original production "What Keeps Us".

Orzolek will be presenting "What's Next?" - an original performance about a puppet who values the building blocks of society and becomes distraught when the blocks are stolen and no one else seems to care. The show combines rodded and stringed marionettes and paper puppets in a large, toy-theatre style stage to explore ideas of apathy, collective action and social responsibility.

Torri Lynn Ashford is a Detroit based performance artist. She has collaborated with many artists and theatre ensembles in the area, including PuppetART Theater and currently with CMAP. She is presently exploring shadow/solar puppetry and use of silhouette.
Ashford will be presenting a scene from "The Red Shoes" - an original piece told in shapes, shadows and smells - layering images and movement. Full performance will be presented in its entirety at the
Sidewalk Festival of Performing Arts
on August 5th. Sarah Frechette & Jason Thibodeaux AKA
NIGHTSHADE
is a Portland based artist group blending pocket-lights, hand-cut paper illustration, creepy puppets, composed music, sound-effects, and experimental storytelling into a bewitching form of cinematic theater that flows like film. Frechette is a live-action puppeteer and stop-motion animator, who studied marionettes in Germany with Legendary Master Puppeteer Albrecht Roser and has performed with marionettes around the world. Frechette will be presenting "Oola La La" - an exploratory original solo performance that "can't give you anything but love, baby", using a Roser-style Belly Dancer Marionette. Additionally, NIGHTSHADE will be performing "The Secret of the Spider" - a myseterious and slightly creepy experimental performance using shadow puppetry and chilling sound effects. Shoshanna Utchenik with
Interstate Arts
, which is a Detroit based arts organization that brings creativity to the center of everyday life through interdisciplinary & collaborative art projects. Utchenik is a Detroit based performer, visual artist and was the founding art teacher at the James and
Grace Lee
Boggs School. Utchenik will be presenting "The Gig" which is a sneak peek of her winning Knight Arts Challenge piece "Good Bones" - an original multimedia, shadow puppetry performance that celebrates everyday stories of perseverance and evolution connected by one Detroit building. Maurice Greenia Jr. is a Detroit based "outsider artist" with the wild and original sensibilities of a self-taught artist. He is both a surrealist as well as identifies as a surreal human creature. He is a visual artist and poet, of which he runs a monthly Poetic Express, which features his poetry, drawings and comic strip called Surreal Theatre, since 1985. Most recently he has exhibited at Galerie Jacques in Ann Arbor. Additionally, Greenia has been creating free-form puppet shows and performing with his "Space Band" for years in Detroit.
All performances are free and open to the public, however donations are welcomed and much appreciated. Seating is first come, first served. Performances will be taking place both indoors and outdoors - rain or shine. Invite your friends, here is the Facebook event link! EXTRA EXTRA! CMAP performs at DLECTRICITY!
CMAP is proud to be performing "
The Shadow Puppet Circus Sideshow
" - at DLECTRICITY on September 22 & 23, using light and analog overhead projectors to create a series of interactive display booths that pair the visual iconography of old-style amusement parks with Detroit-centric content.