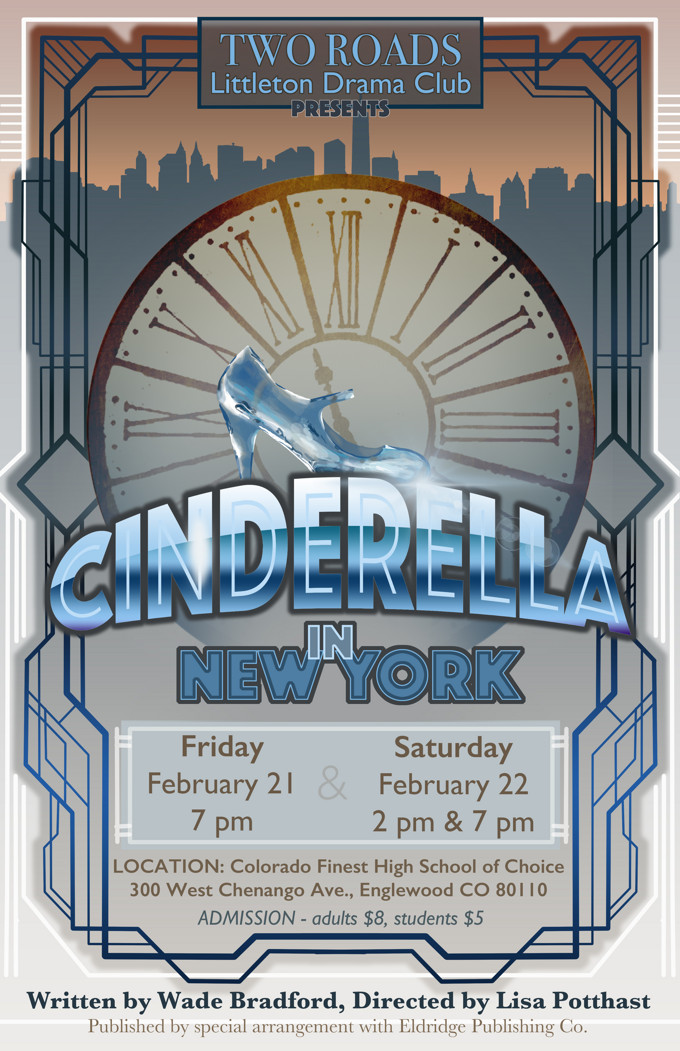 Cinderella in New York at Two Roads Littleton (performed at Colo Finest High School
Dates

2/21/2020 - 2/22/2020

Theatre


300 West Chenango Ave
Englewood,CO 80110


Tickets Info

Adults-$8.00 Students-$5.00
Phone: 303-358-5617




Two Roads Littleton Drama is excited to present Cinderella in New York

Friday, February 21 at 7:00 pm
Saturday, February 22 at 2:00 pm and 7:00 pm

The Brothers Grimm report to you live the news scoop of the year: True Love Conquers All! Or does it? The classic fairy tale has been given a 1930's twist, set in New York City during the time of the Great Depression. Cinderella Fitzgerald, once full of hope, finds herself on an unexpected journey complete with her gangster rats, a dashing film actor, and an eccentric godmother. Cinderella works tirelessly to take care of her entitled stepmother and stepsisters. Hope for happiness appears the moment she bumps into Johnny Prince, but her stepmother will stop at nothing to keep Cinderella from her Happily Ever After. Through a night of ballroom dancing and a race against the clock, will Cinderella realize " the magic" of never losing hope that dreams can come true?

Written by Wade Bradford
Published by special arrangement with Eldridge Publishing Co.